Andretti Autosport partners with Volkswagen for Global Rallycross season
Tue, 14 Jan 2014 19:15:00 EST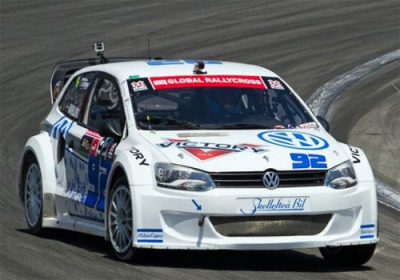 Michael Andretti and Volkswagen have both been involved in Global Rallycross for a couple of years, but not together. Andretti Motorsports Marketing organized the final round of the 2012 GRC series in Las Vegas, and there were rumors then that Andretti was going to get in. Around the same time there were news reports that Volkswagen was preparing a 600-hp Polo Mk5 to race in the SuperCar class; the photo above is racer Anton Marklund in his privateer Marklund Motorsports Polo at the 2013 X-Games round in Los Angeles.

Now it's official: Andretti Autosport will campaign the 2014 GRC season with VWs. That's all that's been said for now, Andretti being busy at the moment launching four entries for IndyCar, two for Indy Lights and two for Pro Mazda. We have a feeling we'll be seeing the MkVII Golf involved, but the cars and the driver lineup will be presented at the Chicago Auto Show on February 6.
---
By Jonathon Ramsey
---
See also: VW promises 7-seat CUV for America in 2016, VW midsize crossover production headed for Chattanooga, VW Jetta TDI Value Edition drops price of diesel ownership to $21,295*.