Amelia Island 2013: 50 years of the Ferrari-slaying Ford GT40
Wed, 13 Mar 2013 19:29:00 EST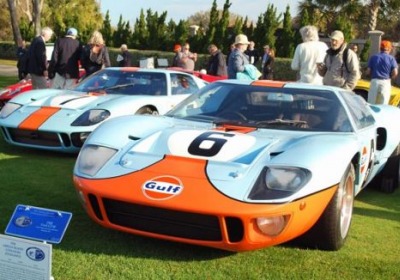 Originally developed with the sole purpose of being a Ferrari rival to compete at the 24 Hours of Le Mans, the Ford GT40 became a prominent racing machine in the 1960s in both Europe and the US. Not wanting to leave such an important car out of the fun, the 2013 Amelia Island Concours d'Elegance also took time out from its other celebrations to recognize the 50-year anniversary of the GT40.

Over its short lifespan, the GT40 was offered in a handful of configurations, but the classic short-tailed (Mk I and Mk II) bodystyles were well represented... especially in Gulf livery. James Glickenhaus (of Ferrari P4/5 fame) had his bright yellow Mk IV in the field, and there were several others in this bodystyle, including one that has seen plenty of time on the track judging by its chipped-up nose.

As a fitting statement for the car's lengthy racing history, GT40 Chassis Number 1075 won this year's Concours de Sport award. This car took home the checkered flag at Le Mans in 1968 and 1969, and racked up a total of six wins in just 11 races.
---
By Jeffrey N. Ross
---
See also: Muscle wins big at 2013 Amelia Island Concours as 1936 Duesenberg, 1968 Ford GT40 take top honors, Submit your questions for Autoblog Podcast #324 LIVE!, Next Lincoln Navigator to drop V8 in favor of V6, but Ford Expedition might get both.