Acura to roll out NSX Prototype for Mid-Ohio IndyCar race
Thu, 25 Jul 2013 17:29:00 EST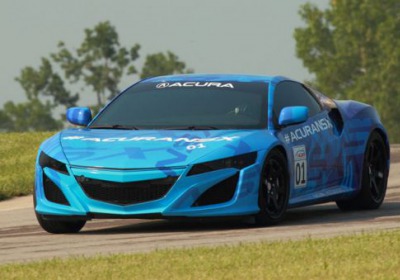 Acura will tease us yet again with its next-gen NSX when it makes an appearance at Mid-Ohio Raceway before the circuit's IndyCar race early next month. To be fair, the car's in-motion debut won't take the form of a production model – that's still a ways off – the vehicle will be a prototype. It'll be sporting custom graphics and an eye-catching paint (wrap?) job to draw the attention of the spectators, but really, we just want to hear this thing rounding the legendary road course at full chat.

The NSX prototype doesn't look to be much different from the various showcars we've seen over the last couple of years, with the same mid-engined, hybrid V6 power and all-wheel drive all present and accounted for.

The display will take place before the Honda Indy 200 IndyCar Series on August 4. The race itself starts at 3:00 pm and will be shown on NBC Sports Network.


Acura NSX Prototype to Break Cover at Mid-Ohio Raceway Prior to Honda Indy 200 IndyCar Race

Acura today released an image of a prototype NSX supercar, announcing that the running prototype will take to the racetrack just prior to the Honda Indy 200 IndyCar Series race at Mid-Ohio Sports Car Course in Lexington, Ohio. The NSX prototype with custom graphics will lap the road course in advance of the race on August 4, 2013. The race will be broadcast live by NBC Sports Network starting at 3 p.m. EDT.

Global development of the NSX, slated for launch in 2015, is being led by engineers at Honda R&D Americas, Inc. in Raymond, Ohio. Additionally, it was announced in May that the next-generation Acura supercar will be produced at the newly established Performance Manufacturing Center in nearby Marysville, Ohio.

The prototype model maintains the styling and proportions of the NSX Concept that debuted at the 2012 North American International Auto Show in Detroit, while packaging the production vehicle's mid-mounted V-6 engine mated to Acura's innovative new three-motor Sport Hybrid SH-AWD (Super Handling All Wheel Drive) system.

About Acura
Acura offers a full line of technologically advanced performance luxury vehicles through a network of 275 dealers within the United States. The Acura lineup features six distinctive models: the TL performance luxury sedan, the TSX sports sedan and Sport Wagon, the ILX luxury compact sedan, the 5-passenger RDX crossover SUV, the just-introduced 7-passenger MDX luxury SUV, and the recently-launched Acura RLX flagship sedan.
---
By Brandon Turkus
---
See also: NHTSA gives okay for three automakers to skirt tire-related recalls, NHTSA gives okay for three automakers to skirt tire-related recalls, Honda renders three-row MPV for Jakarta reveal.