Acura TSX Sport Wagon on the way out?
Fri, 07 Jun 2013 15:59:00 EST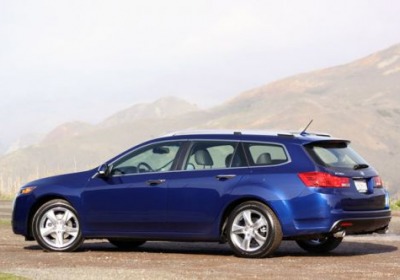 With Acura widely expected to consolidate its TSX and TL sedans into one model line in the near future, the fate of the TSX Sport Wagon is unsurprisingly in doubt. The long-rumored one-for-two sedan replacement is said to be dubbed TLX, and will sit above the Honda Civic-derived ILX, a model that already encroaches on the TSX's pricing and size. According to Ward's Auto, Acura officials are refusing to confirm that today's TSX wagon – effectively a re-schnozzed European-market Accord estate – is facing extinction. Reading the tea leaves, however, things certainly don't look good – the European Accord itself is said to be on the bubble and may not be replaced.

The TSX Sport Wagon was brought to the US as a niche play for the 2011 model year, with Acura of Canada taking a pass on the bodystyle. Officials said at the time that it hoped to shift 4,000 units per annum, roughly a 10-percent sliver of US TSX sales. And while Acura doesn't normally break out the wagon in its sales reports, Autoblog was able to obtain the model's totals for the last two years: the company sold 3,210 Sport Wagons in 2011, improving to 4,234 units last year. The current 2013 model began trickling into showrooms in December, but some dealers are still looking to clear out remaining 2012 models at handsome discounts.
---
By Chris Paukert
---
See also: Acura rejoins with Seinfeld, sponsors Comedians In Cars Getting Coffee [w/videos], 2014 Acura MDX [w/video], 2014 Acura MDX priced from $42,290*.