Acura NSX production car headed for Detroit debut?
Tue, 23 Oct 2012 14:29:00 EST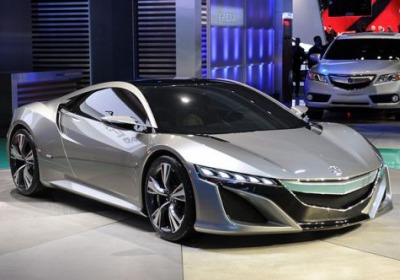 Auto Express is reporting that Honda is set to unveil the production version of its upcoming Acura NSX at the 2013 Detroit Auto Show. The news comes courtesy of an unnamed "top exec" for Honda Brazil speaking at the Sao Paulo Motor Show. The concept version of the Japanese supercar is currently on display there. Interestingly enough, the same unnamed source claims the production iteration will remain aesthetically identical to the show car. You won't hear any qualms from us on that front.

Of course, the timing of the production debut is a little confusing. For starters, when Acura unveiled the concept last year, the company told the world it would be at least three years before production began. That would give the street-worthy model a 2014 or 2015 designation, the latter being cited more often in media accounts. Thus, we'll keep an eye out for the hybrid supercar in Motown, but we're going to stop short of holding our breath... it might be a while.
---
By Zach Bowman
---
See also: 2014 Acura MDX goes for a camouflaged cruise, Acura ZDX getting the axe after 2013 despite new updates [w/poll], NHTSA opens safety investigations into Toyota, GM and Honda crossovers.