2015 Mazda3 shows its shape
Tue, 12 Feb 2013 10:58:00 EST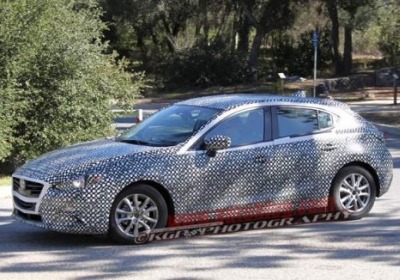 Mazda's new Kodo design language is set to quickly spread across the automaker's entire lineup, judging by these spy shots of the next-generation Mazda3 that show some very familiar styling cues. No matter, we're impressed with what Mazda has done on the CX-5 crossover and Mazda6 sedan in terms of design, and we're happy to see the C-segment hatchback ditching the smile-for-a-mile Nagare design.

It's unclear what sort of architecture is found below the new Mazda3 – our spy shooters suggest that the car could simply be using a heavily massaged version of the Ford C1 platform found under the current car. Our best guess is that it's actually a reworked version of the platform used in the CX-5 crossover, however, chocked full of weight-saving Skyactiv technologies. After all, the CX-5 plays in the compact CUV segment, and those vehicles are commonly based on C-segment platforms. And besides, there's probably some economic savings at work with the new chassis – both in terms of fuel efficiency and economies of scale. Still, no one is totally certain what lies under all that black-and-white paper at the moment.

The new Mazda3 is targeted to arrive for the 2015 model year, meaning we could see a final production car debut as early as this year. We expect the hatch you see here to debut along with a traditional four-door sedan, and unless we hear otherwise, we don't doubt that a Mazdaspeed version will be far behind.
---
By Steven J. Ewing
---
See also: Mazda and Lexus crowned with KBB 5-Year Cost To Own awards, 2014 Mazda CX-5 with 2.5-liter Skyactiv engine, 2014 Mazda6 i Sport.