2015 Ford Mustang revs it up at Cars & Coffee
Mon, 09 Dec 2013 20:01:00 EST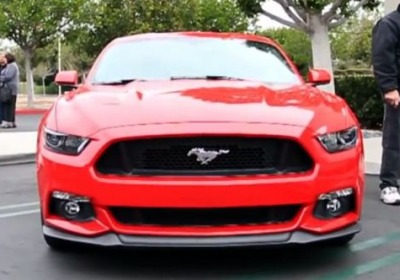 Just because the new 2015 Ford Mustang has officially been released, you didn't think that would be the end of the matter – did you? Of course not. There'll still be plenty of rumors, reports and video footage to bring you. Like this, the first non-official footage of the new pony car in the wild.

Shot by YouTube user SotA1080 and dug up by our friends at CarBuzz, this clip shows the new Mustang posing for photos (alongside other Mustangs) and starting up its engine at the most recent gathering of Cars & Coffee in Irvine, CA. And this being the GT model, it's not packing the V6 or the turbo four, but the red-blooded 5.0-liter V8 that tells us and enthusiasts worldwide that the new Mustang has not lost its way. Scroll on down to watch the footage for yourself.



---
By Noah Joseph
---
See also: Ford open to diesel, hybrid or electric Mustang? [w/poll], Mulally to stay at Ford through end of 2014 at least, 2015 Ford Mustang: Obsessively covered [w/videos + poll].