2015 Ford Mustang prototype spotted on the street
Mon, 10 Jun 2013 13:47:00 EST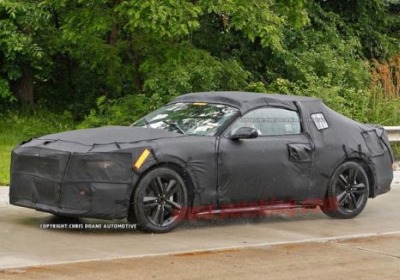 Our trusty spy photographers have snapped the first photos of the 2015 Ford Mustang prototype out on public streets. With nearly every square inch of the machine covered in heavy camouflage, it's difficult to discern details, but we can see smallish horizontal headlamps at work in the coupe's nose. Ford has made it clear that modern lighting technology will allow the company to get away from large, expensive headlamp arrays in the near future, and the 2015 Mustang may very well be the first of the automaker's products to bow with the new tech. The philosophy was first displayed on the very attractive Evos Concept.

The extensive cladding doesn't extend all the way to the prototype's rockers in the instance, giving us a look at the heavily-sculpted sills. Overall, this test car looks considerably smaller than the current generation Mustang, and elements like a short front overhang and beefy dual-piston calipers give us plenty of hope for the future model. Of course, reports that the 2015 Mustang will bow with an independent rear suspension and EcoBoost power certainly don't hurt our feelings, either.
---
By Zach Bowman
---
See also: 2013 Ford Mustang V6, Ford Mustang hit by Moore' Oklahoma's EF5 tornado lives to do another burnout, 2014 Ford Fiesta gets fuel economy bump to 41 mpg.