2015 Ford F-150 spied in the rain
Mon, 10 Jun 2013 16:00:00 EST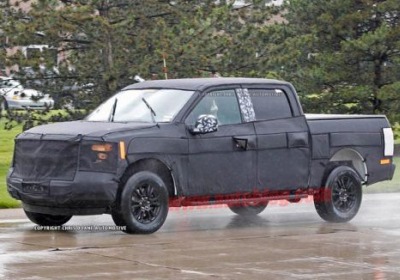 Standing as quite a contrast from the spy shots of the 2015 Ford Mustang we saw earlier today, our spies also sent along these pictures of the next-generation F-150 pickup out testing in its (heavily camouflaged) full prototype body. Much of the new truck's design is hidden under the bulky coveralls, but we expect a lot of its new lines to be inspired by the Atlas concept that debuted at the 2013 Detroit Auto Show.

Perhaps the biggest unknown surrounding the new F-150 is what, exactly, its body will be made of. Earlier reports have suggested that lightweight aluminum materials may be used throughout, offering a serious reduction in weight versus previous models. But Ford engineers will need to be careful, though, as they need to keep a tight rein on costs while preserving class-competitive (if not class-leading) towing and payload capacity.

On the powertrain front, the new F-150 will undoubtedly carry on with EcoBoost engines, and we'd bet on a normally aspirated V8 as well. A diesel option hasn't been confirmed, but we wouldn't be surprised to see one some time in the truck's lifecycle. Mum's the word on when the production F-150 will be revealed, but our best guess is that we'll see it at the 2014 Detroit Auto Show.
---
By Steven J. Ewing
---
See also: 2015 Ford Mustang prototype spotted on the street, 2013 Ford Mustang V6, Ford Mustang hit by Moore' Oklahoma's EF5 tornado lives to do another burnout.