2015 Audi Q7 spotted with a blurry first look
Mon, 12 Aug 2013 19:27:00 EST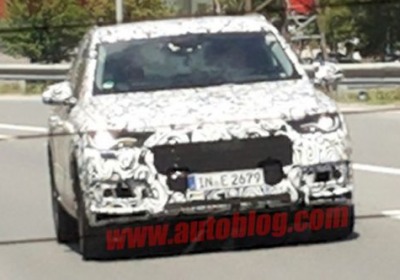 Here's the good news: we finally have visual evidence of the upcoming and all-new 2015 Audi Q7 luxury SUV. A set of photographs show that Audi has been putting the SUV through its paces, with an eye towards an on-sale date sometime late next year.

The bad news is that it was not one of our usual clear-lensed spy photographers that captured these first images, but rather a sycophantic follower of our friends at CarPix. The resulting images are a lot lower resolution than we've come to expect, and there are far fewer angles from which to judge the car.

Still, we can make out the nose of the new Q7 is a bit flatter and wider than the rounded affair of the current car, and wears similar swoopy LED headlights as are found in the rest of the Audi range. We expect the overall dimensions of the 2015 Q7 to stay about the same as the existing model, but rumor has it that the SUV could be 800 to 900 pounds lighter in the next generation.

Getting the formula correct will be important for the Volkswagen Group, too, as the platform seen here will underpin the Q7, VW Touareg, Porsche Cayenne and the upcoming Bentley SUV.
---
By Seyth Miersma
---
See also: Audi waxes poetic about Le Mans, European RS6 Avant ad features diesel-hybrid R18 racecar, Audi designs science fiction car for Ender's Game movie [w/video].