2014 Porsche Cayman S
Thu, 29 Aug 2013 11:57:00 EST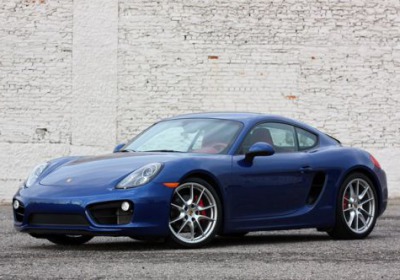 Second Fiddle Moves To First Chair



In the interest of full disclosure and a bit of bloodletting, allow me to admit that while I've always coveted the Porsche Boxster and its hard-hatted Cayman cousin, I've never really warmed to them visually. They've always had a certain push-me, pull-you, can't-decide-which-way-they're-going aesthetic that I've never really wrapped my head around. Porsche achieved the same thing with the original 550 Spyder's overturned bathtub bodyshell that would come to inspire the Boxster, but somehow that classic's even more symmetrical nature works for me. Fast-forward to this third generation, and at least for this enthusiast, Porsche's manchild has well and truly come of age as a design.

It's all there – a piercing stare thanks to squircle headlamps inspired by the 918 Spyder hypercar, newfound directional thrust afforded by a longer wheelbase and elongated greenhouse, and muscular rear haunches with a wider stance emphasized by larger side ductwork and snubbed overhangs. The body's teardrop shape terminates with an active spoiler that integrates into a gorgeous arc with the taillamps like a budding ducktail nod to 1973 911 Carrera RS. Despite casting a longer shadow than its predecessor, the 2014 Cayman still looks tidily proportioned, smooth and wieldy, the perfect skipping stone to ricochet down a canyon river road.




The Cayman's 46/54 weight split strikes just the right balance of blade to handle.
It's not all for the sake of appearances, either – this Cayman features more aluminum-intensive construction that cuts its body-in-white weight by 100 pounds, yet torsional rigidity – never really a weak spot to begin with – is up by 40 percent. Some of that weight loss has been eaten away by increases in standard equipment, but even with a 2.4-inch longer wheelbase, which now spans longer than a 911 Carrera, Porsche says this Cayman S is still a useful 66 pounds lighter than last year's model.

There were things to carp about with the second-generation model – some marginal interior trimmings, usurious option prices – but handling never came up on the Cayman's report card under 'Needs Improvement.' Even so, the stiffer chassis and larger footprint sets the table for better handling and stability. Enthusiasts regularly blather on about the perfection of 50/50 weight distribution, but for my money, a little more junk in the trunk of a rear-wheel drive performance car isn't a bad way to go, particularly when you have to add occupants' weight into the equation ahead of the engine. The Cayman's 46/54 weight split strikes just the right balance of blade to handle, and there are bagfuls of grip – the rear end may be the pendulum, but with our car's optional Pirelli P-Zero rubber, it takes a strong cocktail of bravado and stupidity to get the rear end well and truly unhinged, especially if stability control is in place.




The rear end is as painlessly catch and release as an overstocked and underfed pond.
Brainstem-straining traction is great, but there's a lot more fun to be had in cars that muster enough power to overcome their tires' purchase, too. To that, Porsche says, thumb the Sport button. Can I kick it? Yes, you can. This now-standard bit of switchgear curbs the stability control and puts the throttle on high alert, deactivating the engine's start-stop and fuel-saving coasting software in the bargain. Loosening the collar on Cayman's e-nannies is the way to go for B-road fun, yet even with the stability control all the way off, the rear end is as painlessly catch and release as an overstocked and underfed pond. That's particularly true with a model spec'd with Porsche Torque Vectoring ($1,320), which incorporates a mechanical locking differential and brake-actuated torque redistribution to induce greater yaw angles.

Normally with a sports car, the headlining details focus on the engine's specifications, yet here we are, over 500 words in, and nary a column-inch has been expended on the particulars of this Porsche's flat-six heart. What gives? It's not disappointment – it's just that the Cayman is so all-of-a-piece, so organic, that the engine is just another ingredient in the mix. But what an ingredient it is. Unlike the 2.7-liter-powered standard Cayman, the S snags the 3.4-liter six from the base 911, tuned to deliver 325 horsepower (so as not to overshadow the rear-engined icon's 350 ponies) at 7,400 rpm and 213 pound feet of torque is available from 4,500 rpm. Even though that works out to a specific output of 101.6 hp/liter, that max power total is an admittedly pretty pedestrian-sounding number.




This engine finally sounds great on boil, particularly when fitted with the switchable sport exhaust.
But don't be put off – Porsches are rarely about pants-dropping power figures, they just get the job done through a balanced portfolio of virtues, and this Cayman is no exception. If pressed, I might wish for a bit more low-end torque, but overall this is a jewel of a powerplant. Like the new 991-generation Carrera, this engine finally sounds great on boil, particularly when fitted with the switchable sport exhaust, which unfortunately runs a scarcely believable $2,825. It's still on the uncultivated and truckish side while idling to warm, however.

Porsche's peerlessly unpronounceable seven-speed Doppelkupplungsgetriebe is the quickest way to fling 'round a racetrack, and as a dual-clutch gearbox, it's damned enjoyable – yet I was only too pleased to see the standard six-speed manual setup fitted to this test car. There are small penalties for rowing your own – 0-60 falls in 4.7 seconds instead of 4.6 with the PDK (4.4 with the optional Sport Chrono's launch control feature), and fuel economy sits at 20 miles per gallon city and 28 highway instead of the two pedal setup's 21/30 – but you do get a single-digit edge with a 175-mph top speed. The clutch has a nicely linear action with easy takeup and good weighting, and the high-mounted gearshift lever is a faithful friend, happy to either lope along or be grabbed by the scruff in anger. If anything, the cogswapper's throws could be a bit shorter, but they're not out-of-step long, either.



Given that this car has all manner of adjustable and active things – moveable aerodynamics, sport modes, dynamic engine mounts, and so on – you might think there'd be a risk of losing fidelity and ultimate driving enjoyment because of some servo motor or software program sticking its nose in and corrupting the lines of communication, but the Cayman isn't that way at all. That's particularly true with a manual-transmissioned example like this S, but it's also worth noting that Porsche hasn't mucked about with the steering extensively, either. While the action has gone from hydraulic to electric in order to sap less power from the engine (and in turn, improve fuel efficiency), and it's still a properly accurate and communicative setup. If you don't opt for Power Steering Plus (PSP) – and I wouldn't – it doesn't have various modes for added weight and assist, it just gets it right all the time.


The Cayman is one of only a few cars today that can pull off a crimson hide interior without looking like a cheap bordello.
The brakes – a longtime Porsche stronghold – are something the Cayman always gets right as well. Firm yet feelsome, S models receive 330-mm front and 299-mm rear vented discs, with four-piston aluminum monobloc clampers front and rear (non-S models make do with 315 mm discs up front).

This Aqua Blue-over-Carrera Red natural leather example was a showstopper wherever it went. As non-traditional color combinations go, it's very odd but not altogether unpleasant, as the Cayman is one of only a few cars today that can pull off a crimson hide interior without looking like a cheap bordello. The high center console design that the company has been favoring as of late works well here, giving the cockpit a more intimate feel, and there are fewer buttons present than on other Porsche models, which helps keep one's focus on driving. In case the engine doesn't provide enough music, Porsche now offers ancillary tunes from German audiophile brand Burmester in the form of a 12-speaker stereo with over 800 watts of power emanating through a set of flashy engraved speaker grilles. The audio is predictably great (at a breathless $6,730 packaged with navigation, it had better be), but I was perfectly happy with the 3.4-liter concert hall mounted behind the headrests.




The argument to spend your extra mazuma for the ever-amazing 911 Carrera looks more threadbare by the day.
You'll only save $270 by skipping out on PSP, but as per usual, Porsche has a cavalcade of options to bloat your Cayman's bottom line, so exercising good judgment is key. A 2014 S starts at $63,800 (plus $950 delivery) and it's a wonderful thing, but you're unlikely to ever see one leave the factory that way. This car rolls up just under $24,000 in options, and that's not atypical for the brand, nor does it come across as gilding the lily with a ridiculous amount of creature comforts – hell, there isn't even a proximity key (Entry & Drive in Stuttgart-speak) or a set of redundant controls on the steering wheel (this, despite the aforementioned $6,730 infotainment bundle).

Now that the Cayman has a set of stunning new duds and a handsomely updated interior to go with its scintillating performance, the argument to spend your extra mazuma for the ever-amazing 911 Carrera looks more threadbare by the day. That's both an incredible accomplishment and something of a shame, but as long as it means Porsche continues to turn out peerless driver's cars, we're okay with where this is headed. Yes, at this price point, there are any number of other sports cars that offer more impressive spec sheets to impress those bench-racing buffoons back at the office, but who cares? In an industry seemingly hell-bent on delivering an altogether different sort of "connected drive experience," we're still glad that the Cayman is dedicated to firing our synapses the old-fashioned way.
---
By Chris Paukert
---
See also: How Porsche got Patrick Dempsey into the driver's seat for Le Mans, Porsche releases new images of LMP1 racecar, Motor Trend holds World's Greatest Drag Race for the third time.