2014 Porsche 911 Turbo Cabriolet spotted testing in the nude
Tue, 16 Jul 2013 13:31:00 EST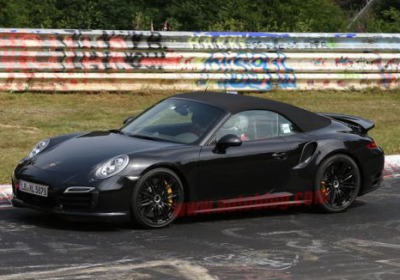 The Porsche 911 wouldn't be the Porsche 911 unless there were twenty-something different models to choose from (note: we are not complaining), and the latest one was just spied by our trusty photographers out on Germany's Nürburgring. Feast your eyes on the 911 Turbo Cabriolet – the droptop version of the new Turbo wonder that debuted in May – looking all sorts of stealth in its black-on-black-on-black prototype scheme.

Mechanically, the 911 Turbo Cab should be identical to the fixed-roof version, meaning a twin-turbo 3.8-liter flat-six engine will live in the car's rump, putting out something like 520 horsepower. Of course, there's also the hotter Turbo S version of the coupe, and we expect that to get the droptop treatment, as well, with 560 horsepower on tap. The added weight of the folding top and additional structural supports will likely make for slightly slower 0-60 times for both cars, though considering the base Turbo will hit 60 miles per hour in 3.2 seconds, "slower" is a very relative term indeed. All that force will run to the ground via all-wheel drive, managed by Porsche's seven-speed PDK dual-clutch transmission.

The wide stance of the 911 Turbo Coupe carries over to the Cabriolet, no doubt fitted with the same (standard) 20-inch wheels. Inside, the usual luxury amenities will be on hand, along with nearly endless customization options.

Given that the Frankfurt Motor Show isn't too far off in the future, we expect to see the Turbo Cabriolet officially bow before then. For now, check it out in the high-res spy shot gallery above.
---
By Steven J. Ewing
---
See also: Seinfeld takes Seth Meyers out in the perfect Porsche, 2013 Goodwood Festival of Speed statue unveiled, 2014 Porsche Panamera S E-Hybrid.