2014 Mercedes-Benz CLA order guide leaked
Wed, 06 Feb 2013 11:00:00 EST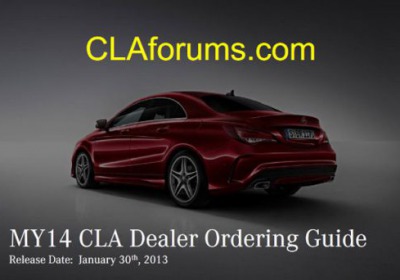 The dealer order guide for the 2014 Mercedes-Benz CLA has made its way online courtesy of the crew at CLAForums.com, and not only does it shed light on the ways buyers will be able to configure the entry-level sedan, it talks specific option pricing. Shoppers will be able to select between the CLA250 and CLA250 4Matic, and the option sheet should offer a number of packages to suit buyer tastes, including a sport package with tweaked fascias and unique wheels. Bi-xenon headlamps and 18-inch alloys may also be had as well as a panoramic sunroof and a collision avoidance system. The CLA will be available with a number of active safety systems on board, including lane departure warning, adaptive cruise control, park assist and blind spot assist, to name a few.

The new sedan comes in 10 colors, including a very dashing purple Mecedes-Benz calls Northern Lights Violet, and there are a total of four interior trim finishes. The automaker hasn't released final pricing of all models just as of yet – we do know from Mercedes' Kate Upton Super Bowl ad that the car will start at $29,900 – but you can check out individual option and package pricing in the gallery. You can also find more information over at CLAForums.com.
---
By Zach Bowman
---
See also: UK workers strand car on island of asphalt to keep working, Mercedes-Petronas AMG W04 launched to little fanfare, lots of pressure [w/video], New details emerge on forthcoming Mercedes-Benz SLC.