2014 Mazda Skyactiv Prototype looks ready for Daytona
Fri, 17 Jan 2014 11:15:00 EST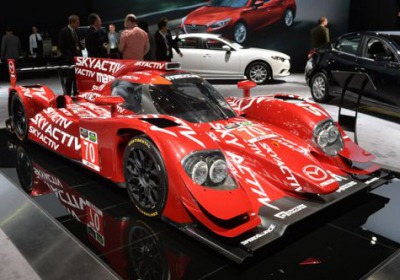 With less than two weeks before the Mazda Skyactiv Prototype makes its race debut at the 2014 Rolex 24 at Daytona, the Japanese Zoom-Zoom brand brought its diesel-powered racer to the floor of the 2014 Detroit Auto Show.

The red prototype marks Mazda's return to prototype racing, and will campaign the inaugural Tudor United SportsCar Championship using a 2.2-liter, SkyActiv-D diesel engine. With 451 horsepower on tap and 580 pound-feet of torque, the racer should stand up well against a field of gas-powered competitors.

Should the Skyactiv win Daytona, it'll be a coup for Mazda. The racer is running an engine with over 50 percent of its parts drawn from the oft-delayed production Skyactiv-D. Head up top for our full gallery of images of the new Skyactiv Prototype. The 2014 Rolex 24 will be run from January 25 to 26.
---
By Brandon Turkus
---
See also: Road & Track to take Miata on million-mile march, Mazda delays US launch of Skyactiv-D engine, Mazda hard at work on Skyactiv 2 engine technology.