2014 Hyundai Equus
Wed, 31 Jul 2013 11:57:00 EST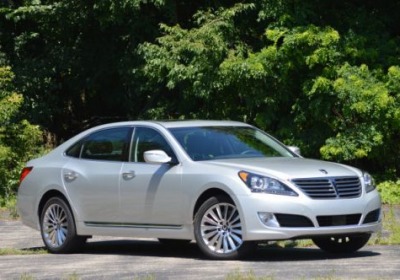 A Lesson In How To Out-Lexus The LS



I think that the new BMW 4 Series is an attractive coupe. The design is a little bit on the wrong side of "fussy" I'll grant you, and I don't particularly care for the look of the scalloped, black-bordered vents on the fender sides – functional though they may be. But for the most part, I find the coupe to be pretty pleasing to look at.

You all, by and large, do not care for the 4 Series. (For the sake of constructing my intellectual argument, I'm going to make the ridiculous statistical assumption that the 140 or so comments on our 4 Series First Drive provide a representative opinion of our readership as a whole.) In the first 24 hours after we published our review of the car, you felt moved to comment that it was "ugly," "REALLY ugly" and "a disappointment" among other, less reprintable statements of ardor.

So clearly we see things a little differently in terms of styling, but what does any of this have to do with the 2014 Hyundai Equus?



In most segments of the auto industry, there are a lot of practical reasons to buy or not buy a car. The fullsize luxury segment, however, would seem to live outside the realm of practicality insofar as almost all of the functions of these cars can be duplicated by non-premium offerings, and for a lot less money. Fullsize luxury cars sell, or do not, based on how they make a driver feel and the image they convey to the outside world. By necessity, a lot of that is tied up in how they look.


To my eye, each competitor has finer exterior styling than the Equus.
I would struggle to call any of the luxury set that competes with the Equus truly beautiful, though almost all of them convey a sense of gravitas and richness. For the record, Hyundai counts the Lexus LS and the Mercedes-Benz S-Class as the primary competition, and the Audi A8, BMW 7 Series and Cadillac XTS as the secondary set. In that group, some of the cars are pretty bold, pretty striking, though none of them is lovely. Still, to my eye, each competitor has finer exterior styling than the Equus, whose model-year 2014 refresh leaves it still looking rather anonymous.

The grille of the Equus has been denuded of some of the 2013 model's chrome accents, but it lacks the forceful demeanor I expect of a big, opulent sedan. The rear of the car is a sort of high-waisted, forgettable rectangle, while the profile view's most commendable feature are the new 19-inch turbine-style wheels.

Of course, we've established that you and I, dear reader, don't always see eye to eye on matters of style. It's possible that my 4 Series-loving peepers simply can't suss out the beauty in the Equus that is apparent to others. So be it.




There's a lot less Hyundai and a lot more Equus in the new car's interior.
On the other hand, the changes that Hyundai has wrought with the Equus interior are quite a bit more impressive than the still-bland sheetmetal. The shape of the dash is far more elegant for the new car, with a larger infotainment screen (9.2 inches, up from 8) better integrated into a swathe of nicer wood and metal. The whole center stack is far less plasticky than before, and the new steering wheel boasts controls that look and feel far better integrated than the outgoing items. The all-digital instrument cluster, which changes its background color based on the selected drive mode, is nice to look at, too. In short: There's a lot less Hyundai and a lot more Equus in the new car's interior treatment.

One area in which Hyundai has actually scaled down the luxury levels for Equus is in the back seat, specifically on the right side, where the "first class" seat of the last model has been eighty-sixed for 2014. Apparently there wasn't as much call for a reclining, massaging rear chair with access to a personal refrigerator as the company had initially envisioned. Just as well, as that setup didn't offer enough legroom when deployed, anyway. On the plus side, both rear passengers still have access to the car's infotainment system via a button-laden central console, and can use the system via twin 9.3-inch monitors that are nestled nicely into the seatbacks. There's also loads of room back there, as you'd expect in a car that's nearly 17-feet long (203.1 inches), with a wheelbase right at 10 feet (119.9 inches).




This 5.0 can seriously hang with the German V8 competition.
The size and weight of the Equus do not translate to a leaden driving experience, as its 5.0-liter, 429-horsepower V8 engine is probably the single most compelling part of this vehicle. The eight-speed automatic transmission allows the big V8 to hum along silently when top-gear highway cruising is the desired mode of transport, yet still kicked down with minimal lag when I asked for some serious acceleration on our route west out of Ann Arbor, MI. The last time I had time in an Equus, it was a 2011 model still powered by the original car's 4.6-liter V8; that motor was adequate, while this 5.0 can seriously hang with the German V8 competition. The Germans are quicker mind you, but not overwhelmingly so. I also really enjoyed the exhaust note of the Equus when I really put my foot down, especially in contrast with the drivetrain's whisper-quiet character most of the time.

Equus also offers up a lovely straight-line ride, especially when the three-mode air suspension is set to Normal (Sport and Snow being the other two). Here high-speed stability is first rate, and swales in the asphalt, grooved sections of highway, Michigan-spec potholes and other surface-based annoyances don't really register inside of the cabin. I dabbled with Sport mode in just a few bendy sections that I drove over, but the change in tuning was subtle enough, and the road mild enough, that the Equus didn't feel transformed into a sporting sedan. I expect that when we have the car for a longer test, we'll have time to detail the at-limit handling of the big sedan a bit better, but my inkling is that this reworked Equus is still at its best when doing 80 miles per hour on the freeway, not tackling switchbacks.

I know for certain that the speed-sensing, electro-hydraulic steering rack won't ply many drivers into taking the back way home. As I mentioned, the car offered plenty of straight-line stability, and the steering doesn't feel overly light when pointed more or less dead ahead, but it also doesn't hint at road feel when the tires load up, either. I'm quite sure that driver feedback is way down the list of core competencies that Hyundai has for the Equus, but it's fair to point out that it didn't surprise me for being vastly improved, either.




Even the decked-out Equus Ultimate model feels like a crazy bargain.
It's fantastic that Hyundai has refined the Equus to this point, creating a car that goes, stops and turns in a fashion that is at least competitive with a vastly more expensive set of established marques. The driving experience is supposed to go hand-in-hand with a phenomenal standard feature set to make the sedan a banging value in the class. To whit, here are just a few of the features that are included in the lowest-price Equus Signature: tri-mode air suspension, 19-inch alloys, Xenon headlamps with loads of LED exterior lighting, four heated (cooled up front) seats that are power adjustable, suede-effect headliner, smart cruise control, power rear sunshade, 17-speaker(!) Lexicon audio, navigation, rearview camera with front/rear parking assist, rain-sensing wipers, three-zone temperature control, etc., etc., etc... That's an awful lot of kit for a car that costs $61,920 with delivery and destination charges paid.

The next model up, the Equus Ultimate, runs $8k more, with notable feature adds like a head-up display and the cool 12.3-inch TFT instrument cluster, dual-screen rear entertainment, power-closing doors and a few odds and ends.

In all honesty, even the decked-out Equus feels like a crazy bargain in a segment whose floor (with two notable exceptions, below) is otherwise right around the $72k Lexus asks for the basic LS460.



Hyundai is especially keen to make the LS comparison, and I can see why. In addition to the Korean company clearly gunning for the budget-to-luxury sales model that has been perfected in Toyota's creation of the Lexus brand, LS buyers are basically the prime targets for Equus conquest sales. Frankly, both cars are dipping into a pool of buyers who are trying to make a 'smart' decision about spending luxury car money, and who probably find Cadillac too domestic (or generally lacking in relevant products until very recently) and European cars too snobbish and/or unreliable.


There are two mid-class competitors, at least, that throw a wrench in the works for Equus.
And, of course, this new Equus is completely geared to make a strong paper argument vis-à-vis the LS460. The Hyundai has more power, more room and costs much less while offering more features. A quick run through the LS online configurator tells me that I've got to spend over $78,000 to get a car equipped roughly to match the Equus Signature – a $16,000 advantage to Hyundai.

Do that same math with the relevant Audi, BMW and Mercedes-Benz products and you'll find that tens of thousands of additional dollars separate the Germans from the stretched Korean. Suffice it to say, despite Hyundai adding $1,750 to the bottom line of both Equus trims after this facelift, the car is still cheap for what you're getting.

Almost. As I alluded to above, there are two mid-class competitors, at least, that throw a wrench in the works for Equus. Both driven by their front wheels, the new Acura RLX and Cadillac XTS offer just about everything the Equus does, save for some legroom in the back section, for mid-$50k to low $60k money. Smaller and front-wheel drive, to be sure (though the XTS can be had with AWD and the all-wheel-drive hybrid RLX is on its way), but doesn't the same practical buyer take a level-headed view of power delivery and a few inches when thousands of dollars are on the line?



I'm not trying to be glib, or go for cheap shots about a former value-branded car company trying to build a singing-dancing luxury sedan. As an object, the Equus is both impressively loaded and nice to spend time with. But I'm not convinced that loads of buyers are lining up to drop luxury car money on sedans with no pedigree, no matter how significantly they undercut the competition. What's more, even if I'm wrong, this weird large-luxury-quasi-value segment is now expanding if you consider the Caddy and Acura to be part of the mix, which I do.


Looks matter in this vanity class of cars. So does brand perception.
Right now, Hyundai's own reporting backs up the fact that premium buyers are shopping traditional luxury brands in far larger numbers. My Equus briefing at the Hyundai Technical Center included a slide that showed 7 Series, A8, LS, Porsche Panamera and XJ (yes, even the Jaguar) all outselling the Equus by a hefty margin last year. The company was trying to point out how its 800-unit sales improvement from 2011 to 2012 was actually a mark of good progress in a flat market for the segment, but the reality is that it shows just how big the mountain is for Equus to climb.

And, as ever, the pitch of that climb to the top is especially steep for cars that aren't that pretty.

The larger point is that looks matter in this vanity class of cars. So does brand perception. Hyundai has been attempting to build a case for its Equus that doesn't rely on the same force of history that propels doctors, lawyers and merchant chiefs to buy Benz and Bimmer models year after year. The company is selling the Equus as a practical solution for large-lux buyers. The trouble is the segment seems to dictate answering an impractical question, namely: What can I drive that will impress people and make me feel good about myself? Surely a $60,000-Equus is a more sensible answer to that question than a $80k+ German super limo, but it still hovers in the unquiet space between the cheaper newbie front-drivers and the default Lexus LS that long ago achieved what the Equus is striving for.


Vital Stats
Engine:

5.0L V8

Power:

429 HP / 376 LB-FT

Transmission:

8-Speed Auto

Drivetrain:

Rear-Wheel Drive

Curb Weight:

4,500 LBS (est.)

Seating:

2+3

Cargo:

16.7 CU-FT

MPG:

15 City / 23 HWY

Base Price:

$61,920

As-Tested Price:

$68,920

Research the 2014 Hyundai Equus »
---
By Seyth Miersma
---
See also: Hyundai shows Walking Dead Veloster Zombie Survival Machine at Comic-Con, Hyundai mulling new small CUV under Tucson, Average new-car fuel economy figures continue record pace.