2014 Hyundai Accent gets updated styling, added convenience features
Fri, 15 Nov 2013 18:30:00 EST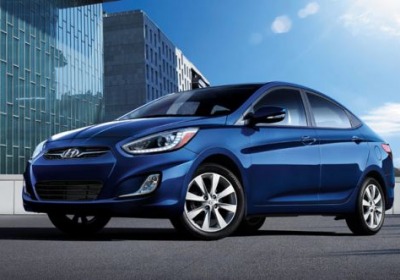 Integrated blind-spot mirrors are hardly a luxury item, but they're one of the simplest yet most welcome equipment developments we've seen in some time, and we're glad to see them beginning to spread throughout the industry's offerings. The 2014 Hyundai Accent is the latest car to get them, along with a host of other new features.

Chief among the changes to Hyundai's entry-level offering are new projector headlamps that combine LED accents with a welcome-light function, along with an available B&M Racing sport shifter on the five-door SE hatchback. Other small-but-useful standard-equipment updates include triple-flash turn signals and sliding sun visors, while uplevel SE models are treated to a tilt/telescope steering wheel, updated audio system with improved ergonomics and voice recognition, auto-up driver's side window and the aforementioned upgraded projector headlamps.

Mechanically speaking, the Accent appears unchanged, with the sole engine offering consisting of Hyundai's well-regarded 1.6-liter Gamma four-cylinder delivering 138 horsepower and 123 pound-feet of torque to go along with its fuel economy ratings of 27 miles per gallon city and 38 highway.

Through October of this year, Hyundai has shifted 48,717 Accents in the US, a respectable figure but well behind class leaders like the Ford Fiesta (61,955), Chevrolet Sonic (76,499) and Nissan Versa (100,161), let alone larger Hyundai models like the Sonata (172,574) and Elantra (209,469).

HYUNDAI ACCENT KEEPS BUILDING ON A PROVEN FORMULA
2014 Accent blends convenience, styling, performance and value into a fun-to-drive package

2014 ACCENT UPDATES AT A GLANCE

New standard equipment includes one-touch triple turn signal, sliding sun visors and driver's blind spot mirror
Standard audio system updated for improved voice recognition and button layout
New stylish projector headlights with LED accents, headlamp welcome/escort function, driver's side auto-up window and tilt-and-telescopic steering wheel added to 5-door SE and 4-door Premium Package models
B&M Racing Sport Shifter now available on 5-door SE model

COSTA MESA, California, November 12, 2013 – Since its current-generation introduction in April 2011, Accent has delivered extraordinary value by blending utility, style, performance and class-above features in a compelling package. Now in its third year of production, the 2014 model-year Accent includes more standard equipment and adds new style and convenience features.

One-touch triple turn signal, sliding sun visors and a driver's blind spot mirror are now standard on all 2014 Accent trims for added safety and convenience. Stylish projector headlights with LED accents join a driver's auto-up power window and tilt-and-telescopic steering wheel on 5-door SE and 4-door Premium Package models. The sporty 5-door SE adds an available B&M Racing Sport Shifter for added performance.

Accent's product success has received attention from automotive and industry experts, being awarded various coveted awards and accolades since its reveal. Along with two designations from Ward's AutoWorld in 2012, Accent was the highest rated subcompact sedan by a leading enthusiast magazine, above Chevrolet Sonic, Honda Fit and Toyota Yaris. This year, it won its second consecutive MotorWeek Driver's Choice Award for Best Subcompact Car.

ADVANCED TECHNOLOGY FOR SUPERIOR FUEL ECONOMY
Selected as one of Ward's 10 Best Engines in 2012, the Accent's all-aluminum 1.6-liter Gamma four-cylinder engine features the latest innovations in engine technology to deliver an unsurpassed 138 horsepower and 123 lb-ft of torque and 27 mpg city and up to 38 mpg highway EPA-estimated fuel economy rating.

The engine's most notable feature is its use of Gasoline Direct Injection (GDI), the first car with GDI technology in the subcompact category. By precisely controlling the injection of fuel, GDI allows for better fuel economy, increased power and reduced emissions. The application of Dual Continuously Variable Valve Timing (D-CVVT) on both intake and exhaust camshafts allows for increased efficiency, improved fuel economy and reduced emissions. Other elements resulting in reduced fuel consumption include an Alternator Management System, an offset crankshaft design, variable induction system and electronic throttle control. To reduce lifetime operation costs and increase reliability, the Gamma features a maintenance-free silent roller timing chain and innovative anti-friction coatings such as a CrN Physical Vapor Deposition (PVD) coating..

Gamma highlights include:

Dual Continuously Variable Valve Timing (D-CVVT)
D-CVVT (intake and exhaust camshaft) camshafts and hydraulic engine mounts provide optimum power, efficiency and refinement. Using CVVT on both camshafts has several advantages when compared to using it only on the intake camshaft including an improvement in performance (increased volumetric efficiency) and fuel economy (reduced pumping loss), and a reduction in hydrocarbon emissions
Roller Timing Chain
Helps increase the reliability of the Gamma 1.6-liter engine
Electronic Throttle Control
This system accurately controls air intake and engine torque, improving drivability, response and fuel economy
Innovative Anti-Friction Coatings
Working together, the complete range of engine technologies produce an engine that offers:

Unsurpassed horsepower and specific output at 86 horsepower per liter
Low emissions with ULEV certification
High reliability backed by a 10-year / 100,000-mile powertrain warranty

Several systems in the Accent contribute to optimal fuel efficiency. The vehicle can be equipped with an available six-speed manual or automatic with SHIFTRONIC manual control, delivering smooth and efficient power delivery. Low-rolling resistance silica tires and a slippery shape (0.30 cd) reduce friction with the road and the air. This aerodynamic shape also includes a kicked up trunk edge, wheel arches which shield the tires and an optimized engine undercover. Finally, the Active ECO system modifies engine and transmission control to smooth out throttle response. By turning on the Active ECO system, drivers can realize up to a seven percent increase in fuel economy.

Low Curb Weight
Despite the additional content, safety features and technology packed into the 2014 Accent, Hyundai has avoided the typical associated penalty of increased weight. A low curb weight corresponds to an improvement not only in fuel economy but all other dynamic areas. In fact, Accent by far offers the best power-to-weight ratio in its class, providing drivers with both low fuel consumption and responsive performance. Highlights that contribute to a low curb weight include the 1.6-liter Gamma GDI engine with aluminum block, monotube shock absorbers, integrated parking brake and a super-flat torque converter.

SAFETY
A long list of safety features is included as standard equipment on all 2014 Accent models. A total of six airbags help protect occupants in the event of a collision, including two front impact airbags, two front seat-mounted side impact airbags, and curtain side-impact airbags for front and rear passengers. Accent's standard front-seat active head restraints help prevent whiplash by automatically reducing the space between a front occupant's head and the head restraint during certain rear collisions and are highly recommended by organizations such as the Insurance Institute for Highway Safety (IIHS). Active front head restraints are not available on Fiesta or Mazda2.

Collision Load Dispersion
The Accent's structure distributes the force of an impact to help maintain the integrity of the cabin. Electronic Stability Control (ESC) and Traction Control work together to help deliver confident handling in virtually all conditions. Vehicle Stability Management (VSM) integrates control of the ESC and motor-driven power steering (MDPS) to provide handling assistance in slippery conditions or in sudden cornering scenarios. The system can deliver counter-steering when required to help assist the driver in maintaining control of the vehicle.

Vehicle Stability Management

Braking System
An Anti-lock Braking System (ABS) featuring Electronic Brake Force Distribution (EBD) and Brake Assist (BA) is also included. EBD apportions the braking force between front and rear axles to help maximize braking performance. In the event of a panic stop, BA ensures that maximum braking force is applied.

SMALL ON THE OUTSIDE, BIG ON THE INSIDE

All Accents ride on a 101.2 inch wheelbase, 2.8-inches longer than the previous generation. The Accent 4-door's overall length has increased by 3.5 inches to 172 inches. Total length of the new five-door version is 162 inches. As a result, Accent enjoys superior interior volume and passenger space. While the car's exterior dimensions are consistent with those of traditional subcompacts, Accent is classified by the EPA as a compact sedan thanks to its interior volume. Toyota Yaris and Ford Fiesta are classified as subcompact cars. In addition, the Accent five-door has more cargo capacity than the Nissan Juke. The Accent has best-in-class front and rear shoulder room, and the five-door also has more cargo volume than many of its compact five-door competitors.

Convenient storage spaces are included throughout the cabin, including bottle holders in the front doors and a storage tray at the base of the center console. A sliding armrest storage console is available, which is a segment first. Split and fold 60/40 rear seats are standard for increased cargo flexibility when transporting longer items. Not only does Accent have multiple storage areas, but it delivers more useable storage capacity while keeping an attractive appearance. Ward's AutoWorld took notice of Accent's thoughtful interior design, placing it on their 10 Best Interiors list in April 2012.

FEATURE-PACKED STANDARD AUDIO SYSTEM
2014 Accent's standard 6-speaker, 172-watt audio system features SiriusXM®, a CD/MP3 player and iPod®/USB auxiliary jacks for ultimate flexibility while available Bluetooth® technology lets drivers stream music, make calls, access contacts and call logs using audio system controls or the available steering wheel audio controls. Voice recognition and button layout have been improved from last year based on customer feedback.

CONFIDENT DRIVING DYNAMICS
The first step toward confident driving dynamics is a rigid structure. To this end, the 2014 Accent employs high-tensile strength steel to deliver a strong, light and stiff body. Increased stiffness allowed Hyundai engineers more flexibility in terms of suspension tuning. The end result is a better balance between handling precision and ride comfort. Accent employs a MacPherson strut front suspension with coil springs and twin-tube gas shock absorbers. The rear suspension is a torsion axle setup with coil springs and monotube shock absorbers.

All Accents have column-mounted, motor-driven electric power steering that adjusts to changing driving conditions while improving fuel economy over a conventional steering system. Accent's turning diameter of 34.1 feet is better than Versa, Fiesta and Fit. The SE five-door model has a unique steering calibration for a sportier feel.
---
By Chris Paukert
---
See also: 2015 Hyundai Sonata confirmed for New York debut, Hyundai twin-charged 1.8L GDCI gas engine expected to be more efficient than 2.0L diesel, China, meet Hyundai's new Mistra sedan.