2014 Honda Civic Coupe
Wed, 20 Nov 2013 16:59:00 EST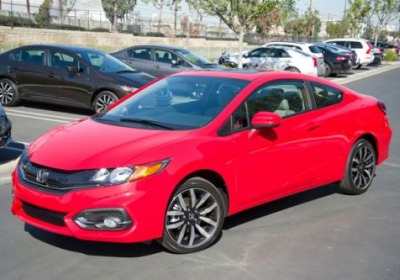 Honda lifted the covers off its refreshed Civic Coupe at SEMA earlier this month, showing off its updated styling and redesigned 18-inch wheels, but didn't unveil its interior or mechanical upgrades until today at the LA Auto Show. Eager to show off its latest arrival, Honda allowed me to check out and drive the new coupe a few weeks ago.

The interior, which was hidden beneath heavily tinted glass at SEMA, features new colors, upgraded seating materials and new technology. The interior themes are now more color coordinated and feature upgraded Tricot soft weave. Black is the standard interior color, with a choice of black or gray seats. A new display audio system is also found on the EX/EX-L trims. The seven-inch capacitive-touch screen, with a matte finish to reduce the annoyance of greasy fingerprint marks, allows users to not only tap once for a function, but to double-tap, slide, flick and pinch - as if they are using a familiar smartphone or tablet. The new infotainment interface not only accepts USB and Bluetooth data exchange, but has also been configured with HDMI for future upgrades. Some of you may have also noticed the exterior mirrors on the SEMA car, as they were fitted with cameras for Honda's blind spot minimizing Lanewatch system. It is now offered on the Civic Coupe for EX trims and above.

Mechanically, the new Civic Coupe rides on an upgraded suspension system that features revised spring rates (front up by four percent, rear up by three percent), a stiffer rear stabilizer (up by 25 percent) and larger 16-inch wheels (wearing 205/55R16 tires). The engineering objective was to improve handling and responsiveness while flattening cornering. According to Honda, the tweaks should give the Civic Coupe better linear steering feel than either the Hyundai Elantra or the Ford Focus.

The most significant upgrade is with the transmission, as Honda has fitted the Civic Coupe with an improved continuously variable transmission (CVT). The new belted gearbox promises improved fuel economy thanks to wider ratios (up 22 percent) and reduced friction. It is also lighter (by 12.5 percent) and its driver interface has been enhanced with the automaker's G-Design Shift control system. The new CVT should give better throttle response and a more linear feel to acceleration. Wheel-mounted paddle shifters (EX and EX-L trims) work in D-range and S-range, the latter simulating a seven-speed gearbox. Lastly, Honda has bumped the output of the 1.8-liter four-cylinder slightly to 143 horsepower and 129 pound-feet of torque (from 140 horsepower and 128 pound-feet of torque) with the help of an exhaust system refinement.

I spent about 15 minutes in the updated and upgraded Civic, driving a big urban loop in Torrance, California where Honda has its North American headquarters.

Driving Notes:
The Civic's interior was significantly updated for 2013 after lackluster reception of the all-new 2012 model sent Honda back to the design studio to improve things. The alterations for 2014 aren't nearly as dramatic - consider them a further refinement. I suspect few will notice the upgraded seating materials, but the new flat-panel infotainment display is a nice addition. Gone is the round volume/power dial on the bottom left and the small joystick on the bottom right, as all of the raised buttons, rockers and dials have been replaced by digital interfaces. After playing around with the system for a few minutes inside the studio, I welcomed the new display and its added functionality but didn't like the touchscreen. I missed the previous-generation physical inputs that were clearly labeled and responded instantly to actuation. In my opinion, and you can call me old-school, capacitive-touch screens that require the driver to remove his or her eyes from the road to precisely position a fingertip on a glass screen are not an improvement in a moving and jostling vehicle.
On the road, the new suspension tuning has transformed the Civic Coupe from a soft two-door econobox to a mildly sporty coupe. While it still has a long way to go before it ventures comfortably around a racing circuit, its "fun-to-drive" quotient has earned a few more points and its driving dynamics are finally where they should have been several years ago. My seat-of-the-pants g-meter was telling me that the two-door seemed to behave a bit better transitionally, and the ride was more controlled when the road surface went south. Instead of bounding over the broken pavement, it felt stable and anything but nervous.
I'm no fan of the CVT gearbox, regardless of the vehicle it is in, as the emotionless transmission fails to stir my enthusiast soul. Yet, I was pleasantly surprised by the refined new CVT in the Civic Coupe. Acceleration was (expectedly) buttery smooth and it responded well when I jumped back on the throttle after coasting. Taking the CVT's many benefits into account, I'd choose it over the five-speed automatic if offered the choice. I didn't have a chance to play with the S-range mode, where the CVT simulates a manual gearbox.
While I couldn't feel the trivial additional horsepower or torque, the Civic moved very well off the line and up to highway speeds. The CVT felt like a good match to the engine's output and power band. It is no Si model, but those in a hurry will find that the two-door effortlessly sprints across intersections ahead of other cars when the light turns green. Not that I tried, of course.
After two consecutive years of improvements, it appears that Honda has finally delivered a Civic Coupe that earns solid marks in terms of styling, equipment, powertrain and economy. Third time's a charm, right?
Vital Stats
Engine:

1.8L Inline-4

Power:

143 HP / 129 LB-FT

Transmission:

CVT

Drivetrain:

Front-Wheel Drive

Curb Weight:

2,800 LBS (est.)

Seating:

2+3

Cargo:

11.7 CU-FT
---
By Michael Harley
---
See also: Honda S660 Concept portends a new kei car for 2015, Honda Vezel is the Fit crossover we've been waiting for, Watch this LSR Honda Insight crash at 190 mph in the desert.