2014 GMC Sierra 4.3L V6 to offer segment-best 305 LB-FT
Mon, 06 May 2013 17:49:00 EST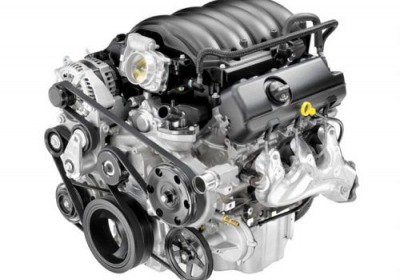 General Motors has released more information on the 4.3-liter V6 available in the 2014 GMC Sierra. The engine will serve up 285 horsepower and 305 pound-feet of torque, with a six-speed automatic transmission, and giving the V6 Sierra a maximum tow rating of 7,200 pounds in regular cab, short bed four-wheel drive configuration. GM claims that figure is 500 pounds more than the equivalent Ford F-150 equipped with a 3.7-liter V6, and 700 pounds more than the Ram 1500 with its 3.6-liter V6. Buyers can expect to see the 2014 GMC Sierra with the 4.3-liter engine start at $25,085 including destination.

While the engine does deliver more torque than either of its main competitors, it falls short on the horsepower front. The 3.7-liter V6 in the F-150 develops 302 hp while the 3.6-liter V6 in the Ram 1500 yields 305 hp. GM says fuel economy estimates for its newest entry will land later this year. Check out the full press release below for more information.

2014 Sierra's New 4.3L Tops in Standard V-6 Pickup Torque

New EcoTec3 engine continues rich GMC V-6 heritage

DETROIT – When the all-new 2014 GMC Sierra full-size pickup arrives this summer, its standard 4.3L EcoTec V-6 it will offer the most torque of any standard V-6 in the segment – 305 lb-ft (413 Nm).

Buyers will choose from three new, advanced EcoTec3 engines – a 5.3L available at launch, followed by the 4.3L and 6.2L versions available later this year. All are designed specifically for the high trailering and hauling demands unique to truck buyers.

Torque is the turning force that generates off-the-line acceleration and confident trailering performance. Sierras equipped with the 4.3L EcoTec3 V-6 will have trailering ratings up to 7,200 pounds (3,266 kg) for a regular cab, short bed, four-wheel-drive model – 500 pounds more than the most capable Ford F-150 3.7L and 700 pounds more than a Ram 1500 3.6L. Sierra's standard V-6 produces an SAE-certified 285 horsepower (212 kW) and is matched with a proven, efficient six-speed automatic transmission. EPA fuel economy estimates will be released later.

Like Sierra's optional 5.3L and 6.2L EcoTec3 V-8 engines, the new V-6 features three state-of-the-art technologies – direct injection, active fuel management (cylinder deactivation) and continuously variable valve timing – that have been proven and perfected through 6 million hours of computational analysis by engineers studying the combustion process. In all, 10 million CPU hours were spent refining and making the most of the Sierra's EcoTec3 engines.

"This is technology no other truck maker can match, and we offer it in every EcoTec3 engines, for every customer," said Jordan Lee, GM Powertrain chief engineer. "It is a standard feature, so our drivers get our best and most sophisticated technology regardless of trim level."

Although they share only a handful of parts with previous Sierra engines, the new EcoTec3 V-6 builds on experience gained from millions of trucks and billions of real-world customer miles resulting from a half-century of leadership in V-6 engine development. In 1960, GMC debuted the first V-6 pickup truck ever and offered it exclusively through most of the '60s.

That engine, offered in various displacements starting at 5.0L, was designed with aluminum pistons, improved cooling and a stout crankshaft and bearings designed for unprecedented durability.

"The family of V-6 engines introduced in 1960 was designed to last, and I've heard of some owners going more than 450,000 miles on the original engine," said Donald Meyer, GMC truck historian. "They had really high torque and pulled loads well. GMC engineers know how to build durable, reliable engines that never quit."

Like the 2014 engine, the 4.3L V-6 introduced as standard equipment for GMC half-ton pickups in 1985 used geometry and engineering from the brand's proven Small Block V-8. As with today's V-6, engineers studied the combustion chamber, developing "Vortec" technology that swirled the air and fuel inside the engine to create a more homogenous mix, improving power and efficiency. That engine was the basis for new generations of engines through the 2013 model year.

2014 Sierra models with the 4.3L EcoTec3 V-6 go on sale later this year with a suggested starting price of $25,085, including a destination charge of $995 but excluding tax, title, license and dealer fees.

GMC has manufactured trucks since 1902, and is one of the industry's healthiest brands. Innovation and engineering excellence is built into all GMC vehicles and the brand is evolving to offer more fuel-efficient trucks and crossovers, including the Terrain small SUV and Acadia crossover. The 2014 Sierra half-ton pickup boasts all-new powertrains and design, and the Sierra Heavy Duty pickups are the most capable and powerful trucks ever built by GMC. Every retail GMC model, including Yukon and Yukon XL full-size SUVs, is now available in Denali luxury trim. Details on all GMC models are available at http://www.gmc.com/, on Twitter at @thisisgmc or at http://www.facebook.com/gmc.
---
By Zach Bowman
---
See also: Next GMC Sierra Denali accidentally leaked on consumer site, GM warning 800,000 owners that their cars may need oil changes more frequently than they say, 2014 Chevy Silverado details continue to dribble out.