2014 Ford Mustang GT
Fri, 17 May 2013 14:58:00 EST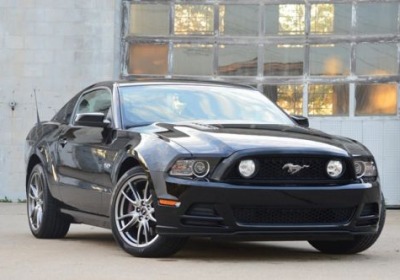 I was more than a year removed from my last experience with the Mustang GT and its delicious 5.0 V8 when this new 2014 example rolled up to my driveway recently. Good weather and a planned road trip across the state meant that I would get plenty of seat time in this conservatively specified example, too. In total, I logged about 400 miles in a week of driving – not a lot for some of you super commuters out there, but quite a lot for this work-from-home journalist.

The basic formula of the 5.0 has stayed the same for 2014. The 2013 model year saw a number of updates to keep the Mustang fresh until it's replaced with an all-new generation for 2015. So, for its bon voyage tour, the fifth-generation Pony Car has seen only a few modifications: a couple of new paint colors (Oxford White and Ruby Read Metallic), trim and wheel revisions and, sadly, the deletion of the Boss 302 from the Ford lineup. However, while the limited-edition Boss is likely to reappear sometime after the gen-six Mustang makes its debut in 2015, the GT Track Package cars like the one I tested provide at least a partial solution for those looking for hot laps.

Driving Notes
The 5.0 V8 never gets old. 420 horsepower and 390 pound-feet of torque are delivered with satisfying linearity, as the Coyote motor spins up to redline far quicker than you'd expect for an engine of this displacement. Sonically rich, with just a hint of a hard edge to the exhaust over 5,000 rpm and a satisfyingly lazy rumble at idle, the soundtrack is pure enthusiast driving pleasure at most speeds. Oh yeah... on the first day I had the car I was reminded that the 5.0 Mustang is fast as all hell, too. Don't let its ubiquity fool you, this is a serious performance machine.
The six-speed manual trans is quite substantial, with a positive, metallic click heard when shifting through the range. The gates are nicely spaced and the throws short. I generally enjoy using this beefy gearbox, though when trying for really fast changes – especially downshifts – a lighter, more accurate action would be appreciated. Clutch action is pretty low effort and progressive, and with so much torque that it's simple to get the GT moving – gently or in a cloud of smoke as your taste and situation dictate.
As I mentioned, the Mustang I drove was equipped with Ford's excellent GT Track Package. For $2,450, the track pack feels like an excellent value for weekend racers or drivers that might want to upgrade their GT substantially down the road. The options group contains a little bit of what made the Boss 302 cool, in a Bossless model year. (Automobile web editor Evan McCausland quipped to me that the test car I had was, "more of an assistant manager" than a Boss, which is about right.) The most noticeable equipment you'll get if you spec your Stang this way are the larger Brembo brakes and the Torsen helical diff with its more aggressive 3.73:1 rear axle. In a week filled with random quick corners and side-trips to back roads, I can attest that all make the GT feel a lot more sports car-like than less-endowed base GTs. For actual track work, the package's upgraded radiator (from the Boss 302) and engine oil cooler should help keep internals cool, as well.
Not part of the track pack, my car also had optional ($1,595) Recaro cloth racing seats. A far cry from the fully stuffed leather chairs I'm used to seeing in media-fleet Mustangs, I ended up falling in love with these Recaros. The fabric they're trimmed with is simple without looking downmarket, and the bolsters help them grip the driver firmly without squeezing too hard at the hips. Even my XL frame was a good fit. I'll admit that after about 150 miles, I was feeling the frame dig into my thighs a little bit – these probably aren't the best road trip seats – but for everyday driving or canyon road bombing, they're superb.
On that same road trip, I should mention that I had no trouble hitting the EPA-estimated 26 miles per gallon on the highway... if I set the cruise right around 70 miles per hour. At a more normal (for me) 75 or 80 mph, the econ drops to about 21 on the interstate. In town I was seeing roughly 11 mpg, though admittedly I was keeping the revs high quite a lot to better hear the exhaust. I think the 15 mph city estimate is doable, if you're willing to blandly shift up into fourth a lot.
Outside of the great seats, this interior is starting to feel pretty dated. With no navigation screen especially, there's no end to the gray and black plastic you seen in front of you. Accessing SYNC via the standard radio's buttons and knobs is an atrocious way to navigate your digitally stored music, and the voice commands feel utterly unwieldy compared to newer systems like Cadillac CUE. (Dan Roth's, Chris Paukert's and Consumer Reports' protestations to the contrary, CUE feels positively visionary after a week with this low-end, touchscreen-less SYNC.) Both iPhones and iPods were randomly spurned as "not recognized" devices; even after working the time before. And even when I could get my music to play, the sound system managed to sound both underpowered and badly voiced. It's a good thing the V8 soundtrack doesn't get old.
Vital Stats
Engine:

5.0L V8

Power:

420 HP / 390 LB-FT

Transmission:

6-Speed Manual

Drivetrain:

Rear-Wheel Drive

Curb Weight:

3,618 LBS

Seating:

2+2

Cargo:

13.4 CU-FT

MPG:

17 City / 26 HWY

Base Price:

$30,750

As-Tested Price:

$37,525
---
By Seyth Miersma
---
See also: Project Ugly Horse: Part VIII, Ford sued over alleged 3.5-liter EcoBoost defects, Ford family keeps special voting rights.