2014 Ford Fiesta ST
Tue, 15 Oct 2013 11:57:00 EST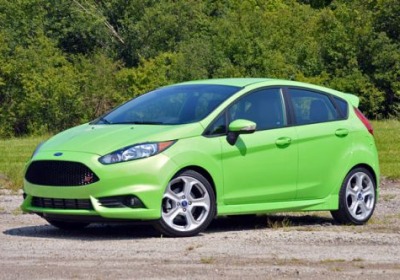 I'm not overly inclined to professional jealousy, as a rule. Sure, I go a bit green around the eyes when Ramsey draws the 911 GT3 trip to Weissach, Harley is tapped-in to drive a completely stunning Porsche 911 by Singer, or, you know, Drew Phillips gets to shoot a Lamborghini Veneno in the middle of a desert like some sort of sheik. I hate you guys...

Honestly though, one of the new car events that dug me the most, was when our Steven J. Ewing got to fling the Ford Fiesta ST around some hot corner of Europe. What goes around comes around, I suppose, as Mr. Ewing himself espoused an envious nature of the Focus ST trip that came before.

The good news in all this covetous intra-office behavior? All the cars mentioned, and specifically the Fiesta ST, are just wonderful to drive. I can say that with more confidence than ever now, having joined Ford for a good bit of Fiesta-flinging myself. In my case, the locale was slightly more pedestrian (Michigan not Portugal), and the car in question was the five-door version of the Fiesta ST that we get here in The States, as opposed to the three-door number they get across the pond.

Driving Notes
Weeeee! Listen, I don't want to come off like an eight-year old on his first roller coaster ride, or that super annoying pig from the insurance commercial, but I'll be damned if this isn't a joyful little beast of a car. Hot hatchbacks have gotten pretty serious in the last years; the Mazdaspeed3 is fast but brutal in terms of power delivery, the Volkswagen GTI continues to get more mature and further from its cheap-and-chuckable roots, and even big brother Focus ST now feels like more like a junior trackday car than a spunky runabout. Fiesta ST is point-squeeze-go fun that reminds me of an era of small, fast, affordable cars I'd thought dead.
Two hundred and two pound-feet of torque are available at 4,200 rpm from this stout 1.6-liter EcoBoost engine, so I highly recommend keeping the tach pinned at 4,500 for the most maniacal results. The 197-horsepower peak doesn't come up until 6,000 rpm, either, but honestly, this doesn't feel like a laggy engine at all. The quick-spinning four-cylinder makes a goodly portion of its power and torque under those optimum figures, so it doesn't even take a fully mashed throttle pedal to get the Fiesta ST moving forward with authority.
And if you're like me, you'll be laying into that throttle just to hear the engine spool up and do its thing, too. There are competitor cars that sound better – the Fiat 500 Abarth comes instantly to mind – but the Fiesta ST song is worth the cost of the gas burned and then some.
Having recently gotten out of the more sedate standard Fiesta, I can say that Ford has waved a magic wand over all of the controls, to the betterment of enthusiast drivers. The hot hatch's six-speed hand-shaker might not be the best manual transmission in the segment right now, but it's far removed from the flaccid action of the five-speed stick shift of the standard car. Meanwhile the brake pedal feel is sharper and steering effort is heftier than in the basic subcompact. After an afternoon being hugged by the Recaro seats, I've learned to love them in spite of the fact they look like ex Power Rangers props. Maybe I can fit some kind of covers...
Ford tells me that the ST weighs in at just over 2,700 pounds with fluids topped up, or a couple of hundred pounds more than the three-door, European car we tested this past March. The car handles so nimbly, however, that I almost can't believe the Fiesta is much over a ton – it drives like a featherweight thing. Turn-in and rotation happen with speed reminiscent of your favorite Mini Cooper S, stiffness mid-hard-corner is phenomenal and the chassis feels like a dancer when executing corners in quick succession.
Already the base for imposing rally cars around the world, I have a feeling that this Fiesta ST is going to make some noise in grassroots motorsport, too. The autocross feels like a natural habitat for the ST, right out of the box.
I think the exterior modifications of the ST package infuse just the right amounts of fun and attitude into an already-attractive Fiesta hatch. I'd have no problem arguing that the Fiesta ST is a much neater looking shape than the slightly goofy one of the Focus ST, too. It's a good thing then that Ford provides for a decent range of paint options for the cheeky Fiesta, ranging from the almost intolerable Green Envy you see here (perhaps the worst $595 you can spend on the car), to far more sedate white, black and silver tones. (I'd opt for Ford's Performance Blue, and call it a day.)
The Fiesta ST starts at $21,400, and the $24,485 out-the-door cost of our tester includes the rather pricey sport seats ($1,995) and the navigation-enabled MyFord Touch system. On a per-content-piece price alone, it's clear that Ford is aggressively going after the likes of the Mini Cooper S and the Honda Civic SI. If you're looking for a hot hatch bargain, not quite as quick but every bit as fun as it's excellent big brother Focus, put the Fiesta ST on your shopping list today.
Vital Stats
Engine:

Turbo 1.6L I4

Power:

197 HP / 202 LB-FT

Transmission:

6-Speed Manual

Drivetrain:

Front-Wheel Drive

Curb Weight:

2,742 LBS

Seating:

2+3

Cargo:

10.1 CU-FT

MPG:

26 City / 35 HWY
---
By Seyth Miersma
---
See also: 2015 Ford Mustang renders reveal look of the real thing, GM already raising prices on 2014 Silverado and Sierra pickups, This is what a 3D-printed liquid metal Ford Torino looks like.