2014 Dodge Durango Ron Burgundy ads already have 2.7M views [w/videos]
Mon, 14 Oct 2013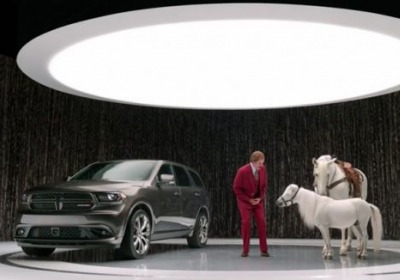 The guy who once made the Dodge Stratus a punchline of sorts is now a spokesman for the 2014 Dodge Durango, and the move appears to be paying off handsomely for Dodge. Will Ferrell, acting as 1970s-era TV news personality Ron Burgundy, has teamed up with the automaker for co-branded advertisements between the refreshed 2014 Durango and Ferrell's new movie, Anchorman 2: The Legend Continues. Like Ferrell's fictional character, the ads are outrageous, flamboyant and a bit random. They're also successful: Automotive News says that more than 2.7 million people have already watched the videos since they debuted on October 5.

Those views are similar to the numbers that AN's top viral video of the year (e.g. Volkswagen's "Get Happy" Super Bowl ad) received, but there will eventually be as many as 70 videos comprising the Burgundy-Durango spots. According to the report, the videos were created primarily as a viral campaign online, although some are airing on television, too. For Dodge's part, the cost of the videos was significantly lower than a usual television campaign thanks to the fact that Ferrell wasn't paid for the spots since they were made in cooperation with promotional efforts for his new movie.

We've already posted a few of the videos in our previous post, but scroll down for several more – and head over to Adweek for a little added background on how these spots came to be.









---
By Jeffrey N. Ross
---
See also: Chrysler readying 20 Moparized vehicles for SEMA, Dodge Durango to stay classy with Ron Burgundy as spokesperson [w/video], Dodge Charger Pursuit nets quickest lap in police car test.