2014 Cadillac CTS Vsport [w/video]
Mon, 16 Sep 2013 11:57:00 EST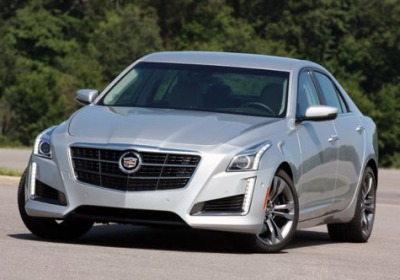 Bridging The Gap With Power And Poise



As you read these words, West Coast Editor Michael Harley is preparing to drive the brand-new 2014 Cadillac CTS along the gorgeous, sun-drenched roads of Southern California. And while I'll wait for Harley's full report before I put words in his mouth, I'm willing to bet he enjoys the hell out of Cadillac's new CTS. In fact, I'm sure of it.

I say this with confidence because, about a month ago, I spent the better part of a day flogging the new CTS Vsport around the 2.9-mile Milford Road Course – a challenging circuit laid out in the infield of an oval test track at GM's proving grounds in southeast Michigan. The MRC was built about a decade ago after Bob Lutz was lured out of retirement to work closely with GM's product development team, and thus, this circuit is known informally as the "Lutz Ring." The main objective of the MRC was to have an in-house facility for engineers to fine-tune vehicle dynamics, without having to constantly schlep cars over to Germany's infamous Nürburgring. (Of course, they still do.)

To drive the new CTS on the very track where it was honed was an incredibly rewarding experience. This Vsport, folks, is something very special.




Because Harley will be filing his report of the new CTS in relatively short order, I'll spare you many of the technical details that he'll no doubt cover in his story. The long and short of it: this 2014 CTS is lower, lighter and leaner than its predecessor, and there's a whole mess of specifications to prove that statement. In some configurations, the new CTS is as much as 250 pounds lighter than the outgoing model, and compared to a BMW 5 Series, the Cadillac is anywhere from 200 to 400 pounds skinnier, depending on engine and trim.


Compared to a BMW 5 Series, the CTS is anywhere from 200 to 400 pounds skinnier.
This massive weight savings comes though the use of aluminum components throughout the entire body, including the doors, engine cradle, bumpers, pillars, instrument panel structure and shock towers. Not only does this reduce weight, but in some areas, it's actually more cost effective, and it has allowed Cadillac to tune the CTS in such a way that it achieves a perfect 50/50 weight distribution. Win-win.

All that lightweight goodness is wrapped up in a package that is, in a word, stunning. The new CTS is a visual treat, incorporating all of the same Art & Science design DNA into something that is modern, elegant and oozes graceful aggression. The front overhang has been reduced, the ever-important dash-to-axle ratio lengthened, and the new body features highly sculpted panels that all work together to form a cohesive shape. In my estimation, it's easily one of the best-looking designs in the class – a design that you really need to see in person to properly understand how all of the little details work together. That large rear overhang still looks a bit lengthy from some angles, and the rear view isn't nearly as powerful as the front, but have a glance of the 2014 CTS next to the 2013 model and, well, the improvement is massive.




The twin-turbo 4.6L V8 of a Mercedes-Benz E550 is actually less powerful in terms of horsepower.
Speaking of massive, get a load of what's under the hood of the Vsport – a brand-new, twin-turbocharged, direct-injected 3.6-liter V6 that pumps out 420 horsepower at 5,750 rpm and 430 pound-feet of torque at 3,500 rpm. That's some serious power for a V6, especially when you consider that the twin-turbo 4.6-liter V8 of a Mercedes-Benz E550 is actually less powerful, at least in terms of horsepower, than Cadillac's new six-cylinder. This new TTV6 engine will find a home in more places than just the CTS Vsport – a detuned version already exists under the hood of the new XTS Vsport, and fitting this inside of the upcoming ATS-V seems like it'd make a whole lot of sense. Here in the 3,952-pound CTS Vsport, this engine is enough to scoot the rear-drive sedan to 60 miles per hour in just 4.6 seconds.

Cadillac has employed electronic sound enhancement in the CTS Vsport, allowing drivers to hear the roar of the 3.6-liter twin-turbo engine at different volumes depending on driving style. This is a sweet-sounding engine, to be sure, and Cadillac's system uses small microphones placed underneath the hood to then pipe-in engine noise through the car's audio system. In Tour mode, things are pretty tame, though you can still hear a nice, pronounced engine note, but in Track mode, the bellowing engine noise is at full volume, and I must say, its rich, deep tones are almost V8-like. On aural delight alone, the CTS Vsport is easily better than anything offered by the Germans without a full-spec M or AMG treatment.




The new Track mode is a key part of the dynamic Vsport experience.
This engine is mated solely to a new eight-speed automatic transmission with a sport mode and steering wheel-mounted paddle shifters. And while I only drove the CTS in full attack mode on the Milford Road Course, this slick new cogswapper never once felt laggy or lazy. Shifts were executed precisely and quickly, and when left to its own devices in Track mode, gears were eagerly held until redline and downshifts under braking were fired off as if I were ordering the changes myself.

The new Track mode is a key part of the dynamic Vsport experience. Cadillac is now offering its fantastic Magnetic Ride Control on standard CTS models, and with the Vsport, this sportiest setting joins the normal Tour, Sport and Snow/Ice modes. Track mode enhances steering weight, and the Vsport's ratio is quicker than lesser CTS models (15.4:1 vs. 15.5 for RWD and 16.2 for AWD models), the right ingredients for a command performance. Track mode also adjusts the Magnetic Ride Control calibrations to allow for the best possible handling experience under extreme situations. In other words, it'll let you have oodles of fun while still keeping the electronic nannies on the sidelines to step in if things get too unruly.




Cadillac chose not to offer 19-inch wheels – available elsewhere in the CTS range – on the Vsport.
But even so, the CTS is easily controllable with light, direct steering and adaptive suspension damping that provides excellent feedback at all times. The car has subtle amounts of body roll in corners, but it's nothing that isn't par for the class – the MacPherson front and five-link rear suspension setups are nicely tuned for what the CTS Vsport needs to offer. On one hand, it should be able to haul ass around Milford, but it also needs to serve duty as a smooth, comfortable luxury sedan on public roads. The whole package feels like a more refined, less-powerful version of the current CTS-V, and turn after turn, the Vsport went exactly where it was pointed with perfect poise. Of course, the Vsport's 245/40-series 18-inch wheels wrapped in Pirelli PZero tires certainly aided things here. Interestingly, Cadillac has chosen not to offer 19-inch wheels – available elsewhere in the CTS range – on the Vsport, saying that the combination of the 18s and PZero tires provides the best possible handling results.

Every corner of the Milford course is designed to test the limits of a car's chassis, and in some cases, you need to purposely do things like brake mid-corner to get the stability control system to flex its muscles. And in every single case, the CTS powered through each turn with good levels of feedback and a direct, lightweight feel that inspired confidence in the driver and made me want to keep pushing harder and harder. I'll need to get the CTS Vsport out onto public roads before giving a final judgment to the ride/handling balance, but on the track, it was sublime. To be fair, GM has the home turf advantage here, having me drive the car at Milford, where the car was tuned. Even so, the whole package feels like a larger, faster ATS, and that's a fine compliment, considering how Cadillac's smaller sedan is wooing critics these days.




On the whole, everything inside the CTS is super nice and comfy.
Shard lineage with the ATS is apparent inside the CTS, as well, with a substantially updated cabin lined with premium materials in a variety of colors, accented with aluminum, wood and faux carbon fiber inlays. Cadillac will even reportedly offer to swap out the accent panels at the dealership level, increasing the overall level of customization possibilities. The testers I drove were all very early pre-production units, so I won't judge things like panel gaps or, you know, exposed wires, but on the whole, everything inside the CTS is super nice and comfy. Visibility from all angles is generally good, and the interior feels familiar, if only because it doesn't stray too far from the ATS' design.

Uplevel CTS models get the full-LCD instrument panel with reconfigurable displays, sort of like what's available in the XTS. On the lower end, though, there are analog gauges like those found in the ATS, and if I'm honest, they look like a cheap solution here. Of course, there's still the love-it-or-hate-it CUE infotainment system rounding out the center stack, with the same haptic feedback controls found below. Thankfully, my day of track testing didn't require use any of the functionality found behind the CUE screen.




If the Vsport is indicative of the CTS family as a whole, we have a real winner on our hands.
Pricing for the 2014 CTS Vsport starts at $59,995, not including $925 for destination, putting it a few thousand bucks below the $63,900 BMW 550i. Spec out the two cars with similar options, and I'll bet the CTS still comes in at a lower price, though the more powerful 550i is also available with all-wheel drive – the CTS Vsport is a rear-drive-only affair, and the twin-turbo V6 is only available in Vsport trim.

The CTS Vsport is really wonderful, and without a doubt will nicely bridge the gap between the naturally aspirated 3.6-liter CTS with 321 hp (or the base-grade 2.0T with 272 hp) and the next-generation CTS-V that's expected to pack more than 560 hp. If the Vsport is indicative of the CTS family as a whole, we have a real winner on our hands. But I'll wait for Harley's full report before making that declaration. What I know right now is that, at the Milford Road Course, the CTS Vsport is damn impressive, and that makes me incredibly hopeful for the rest of the range – especially the upcoming CTS-V.


Vital Stats
Engine:

Twin-Turbo 3.6L V6

Power:

420 HP / 430 LB-FT

Transmission:

8-Speed Auto

0-60 Time:

4.6 Seconds

Drivetrain:

Rear-Wheel Drive

Curb Weight:

3,952 LBS

Seating:

2+3

Cargo:

13.7 CU-FT

MPG:

17 City / 25 HWY

Base Price:

$59,995

Research the 2014 Cadillac CTS »
---
By Steven J. Ewing
---
See also: Cadillac launching crossover-heavy product offensive, Cadillac's new ad campaign to tell you how to get lucky, GM intends to offer semi-autonomous vehicles by 2020.