2014 Buick LaCrosse
Wed, 24 Jul 2013 11:57:00 EST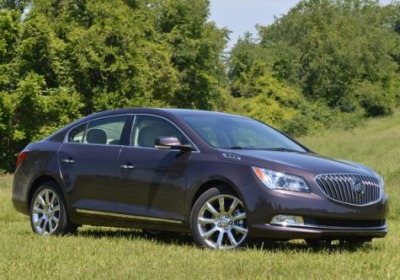 A Nice, New Buick Aims For Middle Of The Road



Any time someone describes some portion of a car or a driving experience as being "nice," I want to either A) throttle them or B) run as fast and as far as I can from that vehicle. "Nice" is among the most insidious words in the English language – at best it's vague, and at worst, it conveys the exact opposite of its literal meaning. Yet it seems to be used with damnable frequency when it comes to verbally illustrating vehicles. "It looks really nice," or "These seats feel nice," or, heaven forefend, "It's got a nice ride," are all windy signifiers of absolutely nothing resembling a concrete opinion. "Nice" is the adjectival equivalent of meekly smiling and nodding your head.

Of course, I'm as guilty as the next person of having thrown English's least powerful descriptor around. There's even a chance that, rant aside, you'll catch me making nice in reviews to come. That's fine, but you should know that when you stumble upon such usage, past or future, that you've found a sentence in which I'm simply applying a bare minimum of effort to the task.

Right, let's talk about the newly updated 2014 Buick LaCrosse.

For better or for worse, Buick is a brand with a history of products that engender the use of the word "nice," with some frequency. On one hand, that's not the worst thing in the world; comfortable-riding, ably powered and generally well-kitted-out sedans like this new LaCrosse certainly don't do much to offend driver sensibilities. On the other hand, I struggle to find anything really superlative about it. Even within the nebulous sub-luxury, super-mainstream set that Buick competes in with Volvo, Acura, Lincoln and kinda/sorta Volkswagen and Chrysler, it's hard to pick just where the LaCrosse clearly excels.



Considering that the updates to the LaCrosse for the 2014 model year consist mostly of in-cabin refinements and appearance upgrades to the exterior, it's fair to say that Buick would like shoppers to focus first on looks and interior comfort. I haven't met a lot of modern Buick owners who rave about tuning potential or autocross times, so that's probably right on.


Buick would like shoppers to focus first on looks and interior comfort.
In terms of exterior appearances, Buick has done a solid job adding visual excitement to the LaCrosse without doing major surgery. The front three-quarters view of the LaCrosse should give you all the information you need to decide if the sedan is fetching or not; designers have doubled down on a larger, shinier grille that dominates the car's face. Headlights have grown in size to match the now-more-gaping chrome grille, too, and are bestowed with a downward rake that adds just a touch of menace. The car in our image gallery wears a set of 19-inch chrome alloy wheels that are one-up from the standard 18-inch rollers on V6-equipped cars, and one-below the 20-inchers that dominate the visage of the all-boxes-ticked front-wheel-drive LaCrosse. (All-wheel-drive cars can only fit 19-inch wheels.) On the backside, you'll find more chrome than on the outgoing model – a strip of the stuff runs the length of the rump now – and a light cluster-enlargement that matches the new headlights in front.

In short: If you liked the looks of the existing LaCrosse, but thought it lacked for chrome, this 2014 joint may just push you over the edge.




The helpful Buick team seemed excited to point out how many fewer buttons this LaCrosse has.
Bigger changes have been wrought inside the cabin of the car, where the helpful Buick team seemed excited to point out how many fewer buttons this LaCrosse has versus the 2013 car. And it is true that if you compare this photo with this one, you'll note almost immediately that the new car has streamlined physical buttons for both radio and climate controls. I'm sort of a button-agnostic, but I'll accept, for the sake of argument, that this is a positive development. Conversely, you'll also note that the button count on the steering wheel has jumped pretty dramatically, new versus old. The LaCrosse now offers an eight-inch digital display in the center of the instrument panel, and the available features for this display must be navigated via those cross-shaped rocker switches on either side of the wheel. Wait, are buttons on the wheel okay then?

I can't tell you if manipulating buttons on the steering wheel is harder or easier, or more or less distracting than fiddling with them on the center stack. I can say that calling either system "intuitive" based on a gut-level reaction to a test-drive is unscientific bullpucky. My full report, for now, is that I had no problem turning the radio on or off, or cranking up the AC on a hot day.




Buick will now sell you an "Ultra Luxury" interior package for $2,495.
The newly sleek LaCrosse cabin certainly presents a pretty substantial upgrade over the outgoing car. That center stack is dominated by a highly customizable IntelliLink touchscreen infotainment system, which I found a lot more pleasing to use and navigate than the display in the instrument cluster. Matte-chrome accents and a legitimately tasteful use of wood help to ornament a wall-to-wall soft-touch-and-leather cabin. Buick will now sell you an "Ultra Luxury" interior package as well, which includes a striking combination of deep red leather and black accents, as well as a suede-effect headliner. The top-line cabin also includes higher-grade leather on the seating surfaces, and runs $2,495. Considering that the standard leather interior feels pretty well stitched-together, I'd say the ultra-lux digs are probably overkill for the target LaCrosse customer, unless he or she is really looking for a way to splurge.

Perhaps overly satisfied with the environment they have wrought inside the '14 LaCrosse, company engineers have done their damnedest to insulate the driver from surrounding environment. On the positive side of the ledger, this means that in-cabin quiet is remarkable, and that it takes some of the worst frost-heaved back roads to upset the placid and steady ride quality on offer. I sampled both front-drive and all-wheel-drive LaCrosse flavors, and found each to be about equal in terms of straight-line stability and suspension performance over bad surfaces. I will add, however, that my sunny, dry and pretty undynamic drive route didn't offer up a lot of information about how well it grips and communicates during hard cornering situations. I'll guess that the AWD car has more stickum in a fast left-hander when you push it, but the fact of the matter is you'll never care to. In the snow, ice and rain, however, the all-wheels-driven system is doubtless the superior arrangement.




Both engines are "standard" with Buick saying its customers should have a penalty free choice between performance or fuel economy.
The 3.6-liter V6 engine, now with 303 horsepower and 264 pound-feet of torque (that's up one horse from last year), offers plenty of power to move the 4,000-pound sedan smartly along. The larger of a two-engine lineup, with the 2.4-liter four-cylinder eAssist hybrid, the V6 doesn't add any cost to a buyer's bottom line. Both engines are "standard," with Buick saying its customers should have a penalty-free choice between performance or fuel economy.

The V6 car is quick enough, and if you floor the throttle, you'll even catch a hint of an exhaust note before the six-speed automatic transmission shifts up, but even its moderate thrust doesn't make the LaCrosse an exciting car to drive quickly. After pushing the puissant-yet-nose-heavy LaCrosse over a few of my pet test roads, I quickly settled into more of a sightseeing pace. The sedan isn't too soft or ponderous to drive hard, but the transmission logic seems programmed for maximum fuel economy, the steering is direct in action but devoid of feel, and I got roughly zero feedback about chassis movement via the seat of my pants, which simply sank deeper into the soft-yet-unbolstered leather chairs as the day wore on.

I was sadly unable to get a turn behind the wheel of the eAssist four-cylinder car, but my guess is that that milder powertrain is actually better matched to the laidback character of this LaCrosse in general. And, considering that the hybrid's fuel economy is substantially better than the thirsty V6 – 25 miles per gallon in the city and 36 on the highway for the eAssist car, versus 18/28 for the V6 – that powertrain adds a lot of credence to the kind of "sensible luxury" ethos the LaCrosse exudes.



If ever there were a "nice" sedan to drive, this is it. Seriously though, thrown into contrast with the excellently differentiated products that will soon share the Buick showroom – Regal, Verano and Encore all build compelling cases in their respective niches – LaCrosse seems less competitive in its corner of the market.


Its most sensible competitive set comes from fully featured, mainstream large sedans.
Buick calls out cars like the Acura TL and the Lexus ES350 as being core competitors of the LaCrosse. And the Buick does fair pretty well against those two, as it's larger than the TL and a better value in terms of equipment than the Lexus, while being competitively priced with both. (Of course, the TL is a far more rewarding dynamic thing than the Buick, the Lexus has scads more brand prestige, and both are far better values when costs-to-own and depreciation are figured in...) But I actually think that the most sensible competitive set comes from fully featured, mainstream large sedans.

The Hyundai Azera, Toyota Avalon and General Motors' own Chevrolet Impala are all fresh faces in the big sedan world. All three offer roughly competitive V6 power, with the Toyota and the Hyundai winning the mpg-per-liter-of-displacement war pretty handily versus the GM products. The alternative trio is also in the same size and weight class as the LaCrosse, which is important in this segment that really seems to value elbowroom. But, of course, the Hyundai, Chevy and Toyota are all considerably cheaper than the Buick, with top-trim models asking about as much as a base model LaCrosse.




The wide world has already spoken about the LaCrosse.
You can make similar arguments to the detriment of luxury brands versus mainstream brands everywhere you look, so what's my point? Typically, when you opt into an Audi, BMW or even a Volvo, you also believe you're buying into a brand that says something ineffable but positive about you as the driver. "This man is smart," or "This woman is attractive," or something along those lines. A subtle message is also sent by Buick-branded products to the wide world, but unfortunately the cultural value associated with the Tri-Shield badge is a lot less positive than it is with most luxury marques. The company's image is moving in the right direction, but it's going to take time to burn off the still significant stockpile of blue-hair jokes.

But who cares what I think. The wide world has already spoken about the LaCrosse; Buick has sold some 500,000 units of the thing since its re-introduction in 2009, and 57K in the US in 2012 alone. And it's true that just a few years ago, this was a needle-moving car for Buick, and a good one in that automotive landscape. But times have changed, and they don't seem particularly favorable to this LaCrosse refresh, despite the good track record Buick has compiled to date. It's an open question if this nice new sedan can keep up that pace.


Vital Stats
Engine:

3.6L V6

Power:

304 HP / 264 LB-FT

Transmission:

6-Speed Auto

Drivetrain:

Front-Wheel Drive

Curb Weight:

3,906 LBS

Towing:

1,000 LBS

Seating:

2+3

Cargo:

13.3 CU-FT

MPG:

18 City / 28 HWY

Base Price:

$34,060

Research the 2014 Buick LaCrosse »
---
By Seyth Miersma
---
See also: Cadillac, Buick and Chevy decisions impacted by worries abroad, Buick celebrates 110 years by naming most significant model of each decade, 2014 Buick LaCrosse to sticker at $34,060*.