2013 Shelby GT350
Fri, 31 May 2013 14:58:00 EST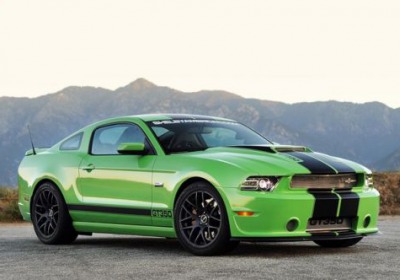 Shelby is a name as synonymous with the Ford Mustang as marshmallows are with campfires. But unlike the short-lived sugary confection that is prepared on a stick, the late Carroll Shelby's name on the placard means added performance and exclusivity. Launched in 1965, the automaker's celebrated early cars were in production for a limited run - today, a mint concours-quality 1965 Shelby GT350 can sell for upwards of $350,000.

To coincide with the 45th anniversary of the original Shelby GT350, Shelby American reintroduced the GT350 in 2011. Like the original, it was only offered in white with blue stripes. Customers were offered a choice between naturally aspirated (440 horsepower) and two levels of supercharging (525 horsepower with a warranty or 624 horsepower without). The manufacturer calls the GT350 a "post-title" package, a term that means it starts out life as a stock Mustang and is modified outside Ford's factory (this is in contrast to the Shelby GT500, which is a standard Ford production car).

As the GT350 enters its third year, Shelby has made several changes. Mechanically, Wilwood brakes replace Baer units and Recaro seats and a tinted glass roof are on the options list. Cosmetically, the vehicle is now offered in most of the Blue Oval's factory colors, new multispoke wheels are available in Satin Black or Bright Silver Metallic finish, and customers can choose between Satin Black, Silver or Gloss White stripes (or Azure Blue Metallic on Performance White or Ingot Silver). Aesthetically, the look of the car has also changed somewhat - keen eyes will note that it actually appears more 'stock' than it did last year.

This particular heavily optioned test car started as a 2013 Mustang GT Premium with a six-speed manual gearbox ($35,454 including destination) and Gotta Have it Green paint ($495). The Shelby GT350 Package ($26,995) and a variety of other options followed. These included leather Recaro seats ($1,595), polished Ford Racing Supercharger - boosting power to 624 horsepower ($8,500), Shelby/Wilwood multi-piston brake upgrade ($2,995), Shelby High Performance Cooling Package ($2,995), Billet Watts Link rear suspension ($1,995) and an OEM Shelby GT500 rear spoiler ($599). While a base no-option Shelby GT350 can be had for $58,540, the as-tested price of our green coupe totaled a rather startling $81,714.

Driving Notes
I didn't waste any time gawking at the GT350's aggressive front splitter, substantial functional hood scoop or massive wheel and tire package. Instead, I jumped into the comfortable Recaro seats, inserted the key and cranked over the 624-horsepower engine. A heartbeat later, the 5.0-liter V8 spun to life with a throaty roar out its twin Borla exhaust pipes. The engine idled with an excitement the standard GT could never match match, and once underway, a stab on the accelerator quickly extinguished all doubts - this Shelby is bloody quick. Under the right conditions (limiting wheelspin is the greatest obstacle), this green beast will effortlessly crack the 60 mph benchmark in under four seconds. Few public roads can tolerate its top speed.
The short-throw shifter proved heavy and mechanical in action, taking a bit of practice to master, but it never felt clunky or not up to the task. Once in gear, throttle response (listen for the telltale supercharger whine) was quick. First gear felt too short for my tastes, and I consistently had traction issues. Third gear was the sweet spot, with the Shelby offering enough torque to pull from just about anywhere on its tachometer.
Few would call any Mustang small and nimble, but the GT350 breaks the stereotype. Once familiar with the coupe's corners (rearward visibility being the most limited), I was able to push the Shelby surprisingly hard in the California's legendary canyons. Hunkered down on its tuned suspension with four sticky contact patches, the Shelby had me relishing each and every corner. Turn-in was good, mid-corner feel was stable and the brakes were always up to the task. This two-door still felt big from behind the wheel, but each of its physical reactions to control inputs told another story - one of sharpness and agility.
If forced to list good and bad attributes, I'd lodge complaints against the mostly stock Mustang interior (when the price climbs this high, it's hard not to expect more) and tacked-on A-pillar gauges, which felt cheap. Yet I would applaud the engine's power, exhaust note, suspension tuning and handling.
The more I thought about it, the clearer it became that the 2013 Shelby GT350 is probably the best Ford Mustang I have ever driven. And, even with a price that more than doubles its donor's cost, history's fondness for Shelby models may someday prove that this car is a worthwhile investment, too. I'll take mine in Ruby Red.
Vital Stats
Engine:

Supercharged 5.0L V8

Power:

624 HP / 536 LB-FT

Transmission:

6-Speed Manual

0-60 Time:

3.7 Seconds (est.)

Top Speed:

190 MPH (est.)

Drivetrain:

Rear-Wheel Drive

Curb Weight:

3,950 LBS (est.)

Seating:

2+2

Base Price:

$58,540

As-Tested Price:

$81,714
---
By Michael Harley
---
See also: Ford Ranger-based 7-seat SUV spotted testing, Roush getting back into sport compact business with Focus ST mods [w/video], Ford F-150 EcoBoost in NHTSA probe for acceleration issue.