2013 Renault Captur features zip-off seat covers, crisper drawer glovebox [w/videos]
Wed, 06 Mar 2013 10:00:00 EST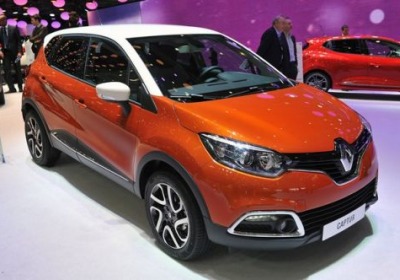 Evidently, Renault's executives in France have not been content to sit idly by as their alliance partners at Nissan have happily mopped up enviable global sales totals with their Juke crossover. We've been hearing about an answer from Renault for some time now, and the production Captur is finally a reality at the Geneva Motor Show.

Packing what it says is the styling and driving position of an SUV, the configurable interior of a minivan and the driving verve of a small sedan, the Captur is hoping to become a big-volume player in Europe's mushrooming small CUV class that also includes cars like the Škoda Yeti. Less boxy than its Czech rival, the Captur's fluid styling is also unlikely to furrow as many brows and wrinkle as many noses as the love/hate Juke. And taking a page from the Mini playbook, Captur will offer a contrasting roof paint color to increase personalization possibilities. Even if it lacks some of the visual charisma (and the butterfly doors) of the 2011 Captur concept, we think it's a very handsome package overall, one we wouldn't mind seeing in North America.

Clever details abound in the interior – check out the videos below – including a large crisper-drawer-like glovebox and trick washable seat covers that zip off and can be changed depending on one's mood.

Renault hasn't spilled all the details yet on the Captur's powertrains – or even indicated whether all-wheel drive will be available – but it has confided that both gas and diesel engines will be offered.





Renault Captur: the urban crossover that will change everyday lives

January 11, 2013

As testified by a record of innovations that dates back to 1898, Renault has never stopped questioning preconceived ideas or challenging conventional automotive thinking by placing the needs of customers at the heart of each new project.

Today, Renault introduces Captur, its first urban crossover that will stand out from the crowd by delivering the best of three different worlds:

• The expressive styling and driving position of an SUV,
• The cabin space and modular interior of an MPV,
• The agility and driving enjoyment of a compact saloon car.

Coming in the wake of Clio's renewal, Captur marks the next step in Renault's design offensive under the leadership of Laurens van den Acker.

"Renault Captur is a compact, unaggressive crossover which is particularly user-friendly. It benefits from Renault genes through and through..." Benoît Bochard, Director, A/B-Segment Product Range

Renault Captur, a crossover on the outside

Renault Captur's smooth, fluid, balanced forms express an assertive yet unostentatious personality. Its robust, status-enhancing look takes its inspiration form the Captur concept car, from which Renault has carried over both the spirit which guided its design, as well its evocative name. The lines of Renault's new crossover are perceived as unpretentious, yet the forward position of its steeply-raked windscreen emphasises its dynamic stance.

The combination of its compact volumes, raised ground clearance, large-diameter wheels and sill guards will enable it to take every aspect of everyday motoring in its stride.

Renault Captur will be easy to customise and notably comes with an original two-tone colour scheme which produces an attractive contrast between the roof and pillars and the rest of the body work.

Renault Captur, an MPV inside

Despite its compact footprint (length: 4m12), Renault Captur exudes a real sense of interior space which is underpinned by the forward position of its windscreen and its generous interior dimensions.

Its exclusive, colourful cabin is warm and relaxing, and this first impression is reinforced by a selection of interior customisation solutions founded on a choice of colours and motifs for the different trim features.

Renault Captur also boasts the appointments and comfort refinements expected of an MPV, such as a high-up driving position, large boot, modular interior and innovative stowage solutions.

The standard Renault Captur will have an equipment specification worthy of that of the next segment up, including hands-free entry, hill start assist and rear parking sensors.

Also available will be the new, connected, in-dash Renault R-Link touchscreen multimedia tablet, plus a system that comprises six loudspeakers, Bluetooth® connectivity, audio-streaming and Arkamys® hi-fi sound.

Renault Captur, the agility and driving enjoyment of a compact saloon car

Renault Captur is based on the same platform as New Clio, acclaimed as a B-segment benchmark when it comes to driving pleasure. It consequently delivers best-level dynamics, from road holding to engine response and agile handling.

The petrol and diesel engines available for the model benefit from the very latest Renault technologies and will return best-in-class fuel consumption and CO2 emissions, starting from as low as 96g/km.

Renault Captur will be manufactured at Renault's Valladolid plant in Spain and will be unveiled at the forthcoming Geneva Motor Show in March.
---
By Chris Paukert
---
See also: Renault Sc'enic minivan crosses over with new Xmod variant, Fiat contemplating sub-brand to compete with Dacia, Datsun, Renault brings Captur from concept to reality with new CUV.