2013 Nissan Pathfinder: April 2013
Fri, 26 Apr 2013 14:58:00 EST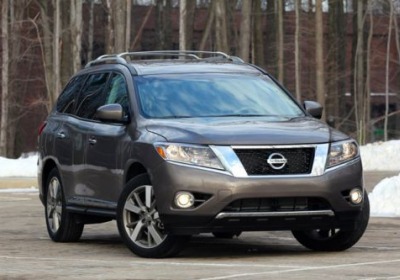 Not Just For Families



Since our long-term 2013 Nissan Pathfinder joined the Autoblog Garage in late December of last year, the only time I've really spent with it has been during the short periods of time between my co-workers' longer loans. Until now, my experiences with our Mocha Stone tester have been limited to pick-ups and drop-offs at various locations around the greater Michigan/Ohio area, not to mention keeping the vehicle clean inside and out, as well as handling our first bit of scheduled maintenance in late March.

I was pleased, then, to actually be able to spend most of the month of April with our Pathfinder, finally giving me a chance to see what everyone else does and does not like about Nissan's new crossover. But here's the thing: I'm admittedly not the ideal person to test a family-minded vehicle. I'm single and in my late twenties, so something like our other long-term car, the 2013 Hyundai Veloster Turbo, is better suited to meet my everyday needs.

But as I found after my stint with the Nissan, there's a whole lot to like about the Pathfinder no matter what your lifestyle demands. Allow me to explain.



The image you see above is what appears on the infotainment display when you shift the Pathfinder into reverse. In addition to a standard backup camera, on the right is Nissan's Around-View Monitor, and it's one of my favorite bits of technology that any company has come out with in recent years. I spend the majority of my time in downtown Detroit, where I often have to negotiate tight instances of parallel parking, and having the ability to get a full bird's-eye view of the vehicle in motion is really helpful for trying to squeeze into smaller spaces. I've used this functionality on several other Nissan and Infiniti vehicles, and though I don't doubt my abilities to park a big vehicle in a small space, having the added assurance from this system is really nice.

In our last update, one of our staffers talked about the Pathfinder's rear passenger compartments from a family point of view, which is something I wouldn't normally get to experience. I don't have children, I have no desire to have children, and thus, sliding second-rows and collapsable third-rows are merely "oh, hey, neat" features to me, aside from the random times I need to carry a big load of cargo.

Good thing, then, that I have plenty of friends who will gladly cram into the back of whatever I'm driving rather than take their own cars when we all want to get together. At one point, I packed the car full of six adults (say hello to Anabel, Darcie, Jennifer and Allison, who all opted to smile for this photo), and not a single one of them complained about things like legroom or headroom while riding in the Pathfinder – not even in the way-back. It's important to note: If you're going to put people in the third row, remind second-row passengers to be courteous and slide their bench forward. There's a huge amount of legroom to be had behind the front seats with the second row slid all the way back, but it seriously cuts out on third-row accommodations. When I didn't have the car packed full of folks, I preferred to just leave the third row folded into the floor with the second row slid all the way back.

Doing this, though, brought up a question: Why no power-folding third row? This sort of feature is available on many six/seven-passenger vehicles, and seems like an odd omission on our Platinum-trim Pathfinder. Still, the third row is simple enough to negotiate from the tailgate, with easy-to-use straps that don't require much effort in order to flip the seats up.

When I did have the Pathfinder loaded full of ladies, I was reminded of an earlier point brought up by editor-in-chief John Neff: this thing feels seriously sluggish when carrying a full brood. To be fair, I haven't driven competitive vehicles like the Ford Explorer or Chevrolet Traverse with every seat filled, but I'm willing to bet it's a similar story.



That said, I really enjoy driving the Pathfinder. It's quiet, comfortable, and all the good things I said about the vehicle during my First Drive experience in California are proving to stand true even after extended use at home. What I like the most, though, and this is sort of contrary to the way I normally feel about vehicles, is the light, open, airy feeling of the interior, a lot of which has to do with the parchment-colored trim that we opted for on our test car. I recently sat in a Explorer, which just felt dark and gloomy by comparison, mostly thanks to the Ford's thick A-pillars and chunky plastic surfaces. The Pathfinder, on the other hand, is simply more comfortable overall, with a much more premium-feeling cabin and better, easier-to-use tech.

I'll soon be handing the Pathfinder out for another series of loans to the rest of the staff, so stay tuned for those updates in the coming months. And after how much I enjoyed having the Nissan over the past couple of months, I just hope it won't take as long for me to get another big stint behind the wheel.
---
By Steven J. Ewing
---
See also: Nissan Leaf all-electric taxis start pilot program in NYC [w/video], Syrena Sport returns as rebodied Nissan 370Z, Dongfeng-Nissan surprises with Viwa Concept EV for Venucia.