2013 Lincoln MKS EcoBoost
Tue, 13 Nov 2012 11:57:00 EST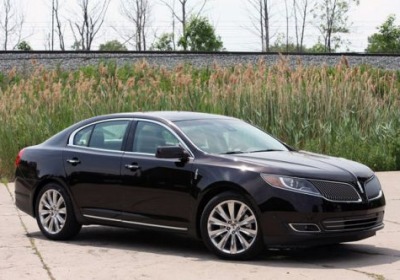 A Bench-Warmer In Waiting

I hail from Cleveland, and that means I'm familiar with sports franchises that are always falling short of championships. The Indians, the Browns, the Cavs – they've all come close, but being a resident of C-Town means learning to appreciate the effort more than a reward that never seems to come. So I can appreciate the situation in which Lincoln finds itself today, one where the past is full of repeated attempts to be competitive, and looming on the future's horizon is the next hope on which everything hinges.

That next hope for Lincoln is not the car you see here, but rather the smaller, all-new 2013 MKZ sedan. Like LeBron James entering Gund Arena for the first time, the MKZ will enter dealerships this fall as the brand's chosen savior, markedly more stylish, advanced and desirable than anything offered by Lincoln in recent memory. And that would make this car, the 2013 Lincoln MKS EcoBoost, one of the other 20 guys whose names I can't remember who played alongside LeBron during his rookie season.

Being in the shadow of the Next Big Thing makes it hard for anybody, or anything, to stand out and be noticed. And yet, those 20 other guys suited up each night next to LeBron, and the MKS will continue as Lincoln's flagship large sedan despite the luster of the new MKZ right next to it. Lincoln, however, has given the MKS some significant upgrades for the 2013 model year, and we're here to see if its off-season adjustments can make a difference to buyers willing to give Lincoln another chance.

The first thing you'll notice about the 2013 MKS is its new uniform. While far from a full redesign, this exterior freshening does include an entirely new front end from the A-pillar forward that's dominated by an updated version of Lincoln's controversial split-wing grille. While similar in shape to last year's grille, the new wings sport slimmer vertical slats, and more of them, for a treatment that's more uniform with less detail than before. The grilles flow up into new high-intensity discharge headlamp clusters, the lower fascia is all new, and the hood that tops it off now features a center spine with a crease on either side that traces a line from the center of the hood's leading edge to each A-pillar.


Does the new uniform work? It's about a wash.
Everything in profile view looks the same, but the rear end of the MKS has received some changes as well, including new LED taillamps, a revamped decklid, different exhaust tips and a new spot for the license plate holder that's lower down in the rear bumper rather than up high in the trunk lid. We also like the new handsome 20-inch 10-spoke wheel design, as well as the demure Kodiak Brown Metallic seen on our tester.

Does the new uniform work? It's about a wash. The 2009-2011 model year MKS looked reasonably attractive already, and the changes made for 2013, particularly the all-new nose, make this large sedan look a little different, but not necessarily better. Some might even say it looks worse. Then why did Lincoln go to the trouble? Our guess is that the answer lies with the new MKZ, which will arrive soon wearing a similar grille and styling elements. What Lincoln has done is not redesign the MKS to make its design more attractive, but rather to bring it in line with the brand's forthcoming new design language that will be led by the MKZ. It's like the swashbuckling-style jerseys that Cavs players wore in 2003 to honor The King's arrival; the other players that suited up were basically the same as the year before, they just looked a little different.


The accommodation of MyLincoln Touch dictated an entirely new dash for the MKS.
The interior of the 2013 MKS, meanwhile, has received substantial changes. The accommodation of MyLincoln Touch dictated an entirely new dash for the MKS, one with a buttonless touch-sensitive center stack, large 8.4-inch center touchscreen, a pair of LCD screens on either side of the analog speedometer and a new steering wheel with joystick controls on both sides to control them. You will be familiar with this setup if you've ever experienced either MyLincoln Touch or MyFord Touch in a vehicle costing over $30,000, and our judgment of it remains the same. The touch-sensitive stereo and climate controls on the center stack are more difficult and distracting to use than actual buttons and knobs, and the user interface of the main screen that controls the Entertainment, Navigation, Phone and Climate systems is more clever looking than cleverly designed.

Upgrades to the MyLincoln (and MyFord) Touch system have polished the graphics and improved response times, but Moore's Law is behind the wheel now, and infotainment systems are advancing quicker than ever before. The CUE system from Cadillac has already outreached MyFord Touch among advanced touchscreen systems, and alternatives available from BMW and Audi continue to make a strong case that a finger isn't the best input device when you're driving. Ultimately, a more straightforward infotainment system with lickity-split response times like the Chrysler Uconnect remains our preference.


The EcoBoost lineup's most powerful player is a jewel of an engine in terms of tractable power.
The rest of the MKS' interior scores highly in the comfort category and has even improved for 2013. The heated and cooled front seats in particular now feature seven computer-controlled air bladders in the bottom cushions and seatbacks that can be manually adjusted or left to their own devices with a massage function. The seats themselves are somewhat flat and lack the bolstering found in most 350+HP cars, but they're eminently comfy and ideal for long trips. Buyers will also appreciate that the steering wheel is now heated, and they might be interested to know that Lincoln is using a new leather provided by the Bridge of Weir leather company, which counts other high-end automakers like Aston Martin, Mercedes-Benz, Volvo, Jaguar and Infiniti among its clients. Our tester's new Light Dune leather color looked particularly sharp and, combined with the Kodiak Brown exterior, creates a unique and attractive palette. The real wood trim, however, looks plasticky with its thick veneer of shiny clearcoat.

As alluded to, our tester is the EcoBoost model with Ford's twin-turbocharged 3.5-liter V6 underhood producing 365 horsepower and 350 pound-feet of torque. While the standard 3.7-liter V6 has received significant power upgrades (+30 hp and +9 lb-ft), nothing has changed here for 2013, including the six-speed automatic to which the engine is mated. That's not a bad thing, as the EcoBoost lineup's most powerful player is a jewel of an engine in terms of tractable power. We still wish Ford would tune the engine note differently, either more quietly so we hear it less or more blustery with a better tone, but no one can fault the motive force the engine offers at nearly all speeds. In fact, the EcoBoost engine's broadly available power does a good job of masking the transmission's gear envy compared with other cars in the segment that offer upwards of eight cogs. Paddle shifters are also still included to offer manual control, but the flimsy flaps feel more like an Xbox controller's bumper buttons than a serious driver's tool. Drive like a normal person and you'll experience the same fuel economy as before: 17 miles per gallon in the city and 25 on the highway.


The effect of Lincoln's CCD technology is largely felt as improved stability.
Lincoln has introduced some new chassis technologies beneath the sheetmetal in an effort to improve handling. It starts with the addition of Continuously Controlled Damping, which changes the suspension's damping rate 500 times per second by using valves to alter the flow of fluid in each damper. Its specs sound impressive, but the industry benchmark for active damping systems, MagneRide, can change damping rates twice as quickly at 1,000 times per second. Found on everything from the Corvette to Cadillac, Ferrari and Audi models, MagneRide has proven its mettle on the most demanding of machines. Here on the MKS, Lincoln's CCD technology claims to be doing a lot behind the scenes, but the effect is largely felt as improved stability for this 4,305-pound sedan, not a greater willingness to be tossed into corners. CCD, however, is good for other things, like making potholes disappear and evaporating the floaty feeling some other luxury cruisers with static dampers exhibit. Its most attractive feature, however, is that it's standard equipment.

As marketers at Ford Motor Company are wont to do, they've packaged up CCD with some other technologies and branded them as Lincoln Drive Control, which is the fancy way of saying the MKS has three drive modes: Comfort, Normal and Sport. Accessing the modes is a bit tricky, as the shifter only provides room for D and S. Using the menu to the left of the speedometer, you can set the system to make D either Normal or Comfort mode and S either Normal or Sport mode. Whichever you choose, you can still access the orphaned third choice through the same MyLincoln Touch menu. Inelegant for sure, this setup virtually guarantees at least one of the drive modes will forever be ignored.

In typical daily use we left the MKS in Drive set to Normal. This mode seemed to operate across the widest range, being comfortable when driving the car like a stodgy old codger and quickening up a bit when the inner teenager in us arose. Sport felt like it would be the most occasional use mode, as the engine revs are kept on boil longer and the sensitivity of the throttle and steering is increased – all great adjustments for pursuits of high performance, but this is not a car in which we naturally found ourselves seeking an apex to clip. Likewise, all-wheel drive is standard and effectively transparent in operation, being more of a foul-weather tool than high-performance system. The MKS even comes with a torque vectoring function of sorts, though rather than directly affect the amount of power sent to each side of the car, the system uses the brakes to drag the front wheel on the inside of a curve and reduce understeer.


Kudos goes to the engineers for listening to feedback about the MKS' braking system.
Kudos, however, goes to the engineers for listening to feedback from critics and customers alike about the MKS' braking system. The mechanicals of the system received a thorough work over, with most of the components like the brake master cylinder, pads and rotors being replaced with larger or more robust pieces. The effect is noticeable in terms of stopping power, though like the latest Taurus, applying the brakes smoothly can be difficult thanks to modulation issues. The steering system, too, was completely overhauled, switching from hydraulic to electric in operation, the new array having the gear itself mounted directly to the front subframe. EPAS systems are being widely adopted throughout the industry as fuel-saving measures, though as mentioned above, fuel economy for the MKS hasn't budged. We experienced fuel economy in the low 20-mpg range, right in line with EPA estimates.

Despite all of this effort spent to improve the handling of the MKS, we wonder how many buyers will actually care or even notice. In our time with the MKS, we found the vehicle's size and weight to be its largest impediments to performance, but those qualities are baked into its DNA and physics can't be entirely fooled with electronics. If handling is what you're looking for in a large luxury sedan, there are better, though often more expensive, options out there.

What the MKS offers that most of those sedans don't is a reasonable price. Our loaded MKS EcoBoost tester couldn't be called cheap with an MSRP of $56,265 including an $875 destination charge, but consider that, along with the comfort and infotainment features already mentioned, it comes with a laundry list of the latest active and passive safety systems like Adaptive Cruise Control, Collision Warning with Brake Support, Active Park Assist, Lane Keeping System (with both alerts and active lane-keeping tech), Driver Alert, and Blind Spot Information System with cross-traffic alert. These are high-end advanced features that many luxury car owners covet, and you're not going to find them all together for so little money from a German or Japanese brand. Indeed, a BMW 535i xDrive sedan starts at $55,400 and offers none of the comfort, infotainment and safety systems of the Lincoln at that price, and it's got 65 fewer horsepower.


If its features, packaging and price were wrapped in a better form than this, we think the MKS would be a much more valuable player.
So why, then, hasn't the MKS broken out as a bigger player? As shallow as it sounds, if not because Lincoln itself is a damaged or forgotten brand, we suspect it mostly has to do with looks. A car must stand out in every category when playing in this league of luxury competitors, and that includes aesthetics. The MKS is at best inoffensive to behold, but it needs the sort of captivating and classically beautiful good looks that communicates the station in life of its buyer. Likewise, the car's proportions strike our eyes as awkward, particularly its height that stands inches above the competition and is further accentuated by a tall beltline, high shoulder and nearly flat doors. If its features, packaging and price were wrapped in a better form than this, we think the MKS would be a much more valuable player.

We think Lincoln knows this, too, as evidenced by the premium placed on style and design in the upcoming MKZ. We can't say for certain if that car will be Lincoln's LeBron James, but even The King couldn't win a championship with the Cavs. Sometimes it's not the man, but his surroundings that make the difference. What we can say is that championships aren't won by one man alone, and turnarounds don't start and end with one car. LeBron needed superstars around him to win a ring in Miami, and the MKZ will need more than a decent car like the 2013 MKS to sustain the turnaround it's planning to start.


Vital Stats
Engine:

3.5L Twin-Turbo V6

Power:

365 HP / 350 LB-FT

Transmission:

6-Speed Auto

Drivetrain:

All-Wheel Drive

Curb Weight:

4,305 LBS

Seating:

2+3

Cargo:

18.7 CU-FT

MPG:

17 City / 25 HWY

MSRP:

$56,265 (as tested)
---
By John Neff
---
See also: Ford tumbles to second worst in Consumer Reports reliability survey, list dominated by Japanese [w/video], Ford's J Mays feels vindicated by Fusion reception, Automakers tussle over owners of 'orphan' makes.