2013 Infiniti QX56 [w/video]
Mon, 24 Jun 2013 11:57:00 EST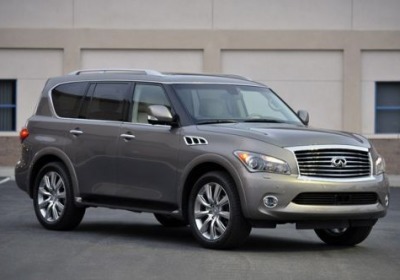 Promising, And Delivering, Bigness



Some things appear much smaller in pictures than they do in person. The Eiffel Tower, Space Shuttle orbiters and the statue of Abraham Lincoln in the National Mall come immediately to mind. The 2013 Infiniti QX56, however, isn't one of those things.

The Infiniti flagship sport utility looks massive in pictures, and it grows to simply colossal when you are standing next to it.

Even at an arm's distance, the QX56 has the physical presence of a Clydesdale horse – its styling cues project power and strength, says the automaker, and the designers apparently made no attempt to downplay the full-size SUV's massive V8 engine and cavernous eight-passenger cabin. There are other passenger vehicles on the road that are physically larger, but none visually cast their mass as well as Infiniti's traditional body-on-frame QX.

We recently spent a week with the heavyweight in an effort to determine whether three tons of substance is overkill or handy to have around. In a nutshell, does bigger always equate to better?




The QX56 is currently the automaker's most expensive SUV offering.
Infiniti launched its QX-Series SUV in 1996, sharing platforms with the Nissan Pathfinder, but the full-size (and arguably more mature) QX56 didn't make its appearance until 2004. That second-generation model was closely related to the Nissan Titan pickup, complete with its body-on-frame architecture and 5.6-liter V8 power. The current third-generation QX56, launched in 2011, abandoned its Titan underpinnings in favor of the Nissan's rugged Patrol platform. For those who found little to like with the first- and second-generation QX models, the current third-generation model is a whole different ballgame.

The QX56 is currently the automaker's most expensive SUV offering in the States (the IPL G Convertible is Infiniti's most expensive vehicle, by a mere $100). But instead of confusing consumers with a handful of models and a range of engines, like most other automakers in this segment, there is only one basic choice: 2WD or 4WD. The well-appointed two-wheel-drive model starts at $62,345 (pricing includes $995 destination and handling), while the four-wheel-drive model commands a $3,100 premium. With the exception of the driven wheels, both are appointed identically.




The bottom line on our seven-passenger SUV was $78,845.
Our test car was a 4WD model with a base price of $65,445. Standard equipment included leather-clad power driver and passenger seats, Tuscan burl wood trim, tri-zone climate control, navigation and a full suite of other goodies. While the base model would satisfy 95 percent of us, our Smokey Quartz over Wheat QX56 was upgraded with the theater package ($3,100), Technology package ($3,000), Deluxe Touring package ($4,650), Tire and Wheel package ($2,450) and a cargo mat/first aid kit ($200). The bottom line on our seven-passenger SUV was $78,845.

Under the hood of the QX56 is a 5.6-liter V8 (VQ56VD, in Nissan speak) rated at 400 horsepower and 413 pound-feet of torque. The all-aluminum engine is mated to a standard seven-speed automatic transmission. Our model featured Infiniti's All-Mode 4WD, with Auto, 4H and 4L modes – the system automatically sends up to 50 percent of the engine's torque to the front wheels when traction is limited. In addition to the three 4WD modes, the driver may also select Snow, Tow or Hill Start Assist mode if needed. When properly equipped, the QX56 will tow 8,500 pounds.




Infiniti's design team made the QX56's cabin nothing short of First Class plush.
The suspension is independent, front and rear, with wishbone architecture. Twin-tube shock absorbers are standard, as is an automatic rear leveling system utilizing air bladders. The Deluxe Touring package adds the Hydraulic Body Motion Control system, which helps reduce body roll in corners with hydraulics that don't compromise the ride. The standard wheels are big 20-inch alloys, and they fill the wells nicely. However, our model was equipped with a set of massive 22-inch forged wheels with 275/50R22 all-season rubber at all four corners – these optional alloys are so big that the 13.78-inch brake rotors almost look small!

Truth is, few owners will look under the hood or beneath the chassis. Realizing this from the outset, Infiniti's design team have made the QX56's cabin nothing short of First Class plush. And, thanks to its aforementioned size, there is generous head, shoulder and leg room for six adult passengers to spread out among the three rows (it technically seats seven, or eight with a second-row bench, but the sole occupant stuck in the middle seat in the back row won't be smiling). While some will take exception with the QX56's exterior, it's hard to complain about the high-grade leather, wood and soft touch surfaces that sugarcoat its interior.

Passengers will be pleased by the number of fixed grab points to assist entry, especially the handles on the B-pillar. And, the simplicity and ease of entering the third row seats – the second row seats tumble on command – makes them much more likely to be occupied on each outing.



The driving position is commanding, with the operator sitting behind a four-spoke wood-and-leather steering wheel and analog gauges. Large windows and big exterior mirrors provide a fair amount of outward visibility without craning, and anything that is missed is captured by Infiniti's Around View Monitor with front and rear sonar and Moving Object Detection (MOD) – now standard on all 2013 models.


Credit the 5.6-liter V8 and excellent gear ratios for its spirited attitude, but owners will pay for that enthusiasm at the pump.
The QX56 feels enormous from the driver's seat (that seems to be a recurring theme here). However, it didn't take but a few miles for us to become very comfortable with its size. By the end of our first afternoon, we were maneuvering in traffic with confidence and eagerly taking on even the most challenging parking situations.

As expected from a premium luxury vehicle, the engine is nearly silent at idle. Yet, despite its quiet demeanor and a curb weight of 5,855 pounds, the QX56 effortlessly jumps off the line when the accelerator is floored. Infiniti doesn't publish acceleration numbers, but various publications have recorded 0-60 times of just over 6.5 seconds – a time that puts this big Infiniti up towards the front of the pack compared to its peers. Credit the 5.6-liter V8 and excellent gear ratios for its spirited attitude, but owners will pay for that enthusiasm at the pump. The EPA fuel economy estimates are 14 mpg city, 20 mpg highway and 16 mpg combined. We saw dismally low numbers around town, but we did observe the aforementioned 20 miles per gallon during a long highway cruise when we allowed its radar-based full-speed range Intelligent Cruise Control to manage the throttle. Shame on our heavy feet.




We'd swear it would out-handle the much smaller Infiniti EX35 if pitted side-by-side.
The QX drives big (there's that word again), but it doesn't stumble when pushed hard. Its wide tire contact patches and flat cornering attitude makes it feel very stable, even zipping around circular highway onramps. In fact, we'd all but swear it could out-handle the much smaller Infiniti EX35 if pitted side-by-side, as its almost sporty undertone gave us plenty of confidence. Infiniti has tuned the steering to be light and numb – it's impossible to judge its curb weight based on steering effort – but it still tracks accurately. The brakes are also impressive, and stabbing them at speed doesn't seem to unsettle the SUV one bit – those electronic safety aids work hard to keep its tonnage in check.

Passengers really enjoy riding in the Infiniti. Throughout our week, there wasn't a single complaint about room, in any row, and everyone felt the ride was comfortable and quiet. The second-row console provided plenty of storage and the dual seven-inch color monitors on the back of the front head restraints were large enough to be seen by all. Several passengers praised the second-row heated seats, even though it was never really cold outside, and everyone liked the easy-to-operate third-zone climate control, with an automatic mode to maintain a preset temperature.



So, what didn't we like about the Infiniti QX56? Not much, actually.

A few of us felt the color of the interior was too light and in need of some contrast. While the off-white interior added to the airy feel, the wheat-colored floor mats, and even the seat bolsters, were easily soiled and stained. Black floor mats, and other dark contrasts (how about some dark contrasting stitching on the seats?) would really improve things. And your author has never been a big fans of Infiniti's infotainment interface.


For the most part, the big flagship seemed to do just about everything it promised quite well.
Yet the only consistent complaint we found during our week was that the optional electronic nannies (included with the Deluxe Touring package) eventually got on everyone's nerves. Our tester was configured with Blind Spot Warning (BSW), Blind Spot Intervention (BSI), Land Departure Warning (LDW), Lane Departure Prevention (LDP) and Front Pre-Crash. Each is overly motherly, and some even wrestle with the control inputs. Thankfully, nearly all are easily overridden by the operator with a quick tap of a button.

For the most part, the big flagship seemed to do just about everything it promised quite well.
Buyers in this segment expect a full-size SUV with room to carry a small army, luxury to keep them comfortable and plenty of infotainment to keep them content. The QX56 wraps all of those qualities into what is an arguably stylish package, plus it offers a slew of technological innovations that makes travel from point A to point B nearly mindless. If you've got the budget, and effortless travel while keeping your many passengers happy is your prime objective, Infiniti has your SUV.


Vital Stats
Engine:

5.6L V8

Power:

400 HP / 413 LB-FT

Transmission:

7-Speed Auto

0-60 Time:

6.5 Seconds (est.)

Drivetrain:

Four-Wheel Drive

Curb Weight:

5,855 LBS

Towing:

8,500 LBS

Seating:

2+2+3

Cargo:

16.6 / 95.1 CU-FT

MPG:

14 City / 20 HWY

Base Price:

$63,750

As-Tested Price:

$78,140
---
By Michael Harley
---
See also: Infiniti gets boiled down to four P's: Performance, passion, precision, provocation, 2014 Infiniti Q50 and Q60 Coupe and Convertible order guides leaked, Infiniti boss ices plan for EV.