2013 Hurst Edition Trans Am
Mon, 13 May 2013 14:58:00 EST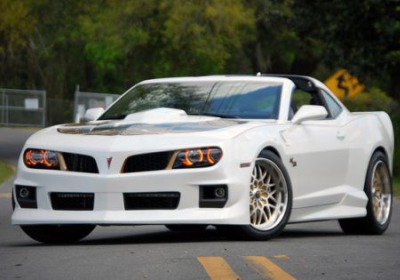 No, you didn't read our title wrong. This is a 2013 model year Trans Am, and yes, that is a Pontiac logo affixed to the front of the car. But don't bother dialing up your local General Motors dealership just yet. This is the new Hurst Edition Trans Am created by the Trans Am Depot located in Tallahassee, FL. Having spent a number of years restoring early Trans Am models, the crew at Trans Am Depot finally did what many Pontiac enthusiasts wish GM would have done – create a modern Trans Am using the fifth-generation Chevrolet Camaro.

As the former owner of a 1977 model, I've been wanting to check out Trans Am Depot ever since I first saw the company have American Choppers build a trio of motorcycles inspired by its Pontiac remakes. So I jumped at the chance to head to Florida's capital city to visit the shop and drive its latest creation, the new Hurst Edition Trans Am. As a collaboration with Hurst, this car made its debut at the 2012 SEMA Show and then popped up again on our radar with a cheesy yet perfectly fitting video back in March.

Driving Notes
For this Quick Spin, I was in the black Hurst Edition SEMA car driving behind the gorgeous pearl white example seen here, and between their audacious styling and killer exhaust notes, people kept gawking at us – ok, the cars – as if we were the buxom, bikini-clad babe seen in the aforementioned video.
From a styling standpoint, this Trans Am is way more than just a body kit. Trans Am Depot has performed extensive changes to the Camaro's body to give it an appearance that closely resembles the 1977-78 Firebird, with unique front and rear fascias that include modern LED headlights and taillights, as well as era-appropriate down-turned quadruple exhaust outlets. Some of the minor alterations include detail work like adding front fender extractors, removing the Camaro's faux rear wheel vents and adding a little length to the tail section to give the Trans Am a flatter, more unique rear end. Hurst Edition cars are only offered in black, white and silver paint with the iconic shaker hood and Screaming Eagle, and the whole look is finished off with 20-inch, gold-accented honeycomb wheels.
As the hood scoop suggests, the Hurst Edition uses the same 6.2-liter V8 as the Camaro SS, and an optional supercharger boosted the power to 575 horsepower at the rear wheels on my test car. There is also a supercharger kit that delivers up to 720 hp, and if that still isn't enough, a twin-turbo kit is available offering 1,100 horses. With 575 hp, the Hurst Edition still has plenty of power to break the wheels lose even with StabiliTrak on, making me wonder how crazy the more powerful versions are. More impressive than the power from this V8 are the noises it makes. Under the hood, a muffled whine hints at the supercharger while the dual exhaust belts out an incredible note under full throttle.
Just like the extensive changes made to the car's styling, Trans Am Depot had done more than just dump a ton of extra power under the hood. A one-inch drop in the suspension helps tuck the staggered-width alloys into the wheel wells, while an Eibach sway bar upgrade should help give the heavy Camaro chassis a little more cornering bite. Sadly, I didn't have the chance to put the Hurst Edition T/A through any challenging handling exercises... it is Florida after all.
Inside, the Hurst Edition also gets an appropriately retro theme with repatterned seats, restyled instrument gauges and, naturally, a cue-ball short-throw Hurst shifter. The black-and-gold color scheme gives the cabin a classic look while carbon fiber accents on just about every surface adds modern panache with finishing touches like the billet sill plates and embroidered headrests.
My biggest disappointment about the interior – and perhaps the entire car itself – is a lack of the sparkly, machined-metallic-look gauge trim found on the dash of the late-'70s Firebirds. To me, this was as defining of an element as the Screaming Chicken for these old Pontiacs. What this car lacks in a single piece of '70s-era trim, though, it more than makes up for with its t-tops. Trans Am Depot used to farm out its T-tops, but has now since up with a proprietary design for improved style and function. GM, take note.
Now, turning your Camaro into a Trans Am is no cheap ordeal. If you have a donor fifth-gen Camaro and eight weeks to spare, Trans Am Depot will turn you out a base Hurst Edition starting at $29,985. This former SEMA queen came with some optional add-ons like the $10,550 supercharger kit and a stiff $7,500 for the t-tops.
While Trans Am Depot is limiting production of the Hurst Edition, it also offers the 7T7 model (on which the Hurst is based) with its '77 Trans Am styling, as well as the 6T9 built to look like the 1969 Trans Am and the 6T9 Goat styled after the 1969 GTO. And if, for some reason, you doubt just how much these guys love powerful Pontiacs, check out their daily drivers sitting out in front of the shop: a pair of rare Pontiac G8 GXP Firehawk sedans.
Vital Stats
Engine:

SC 6.2L V8

Power:

575 HP

Transmission:

6-Speed Manual

Drivetrain:

Rear-Wheel Drive

Base Price:

$29,985 (plus donor car)
---
By Jeffrey N. Ross
---
See also: Check out the official 2013 Trans Am Hurst Edition commercial, NHTSA could add 1M cars to GM recall, Official USPS Muscle Cars stamps coming to a mailbox near you.