2013 Ford Fusion Hybrid
Mon, 01 Apr 2013 11:57:00 EST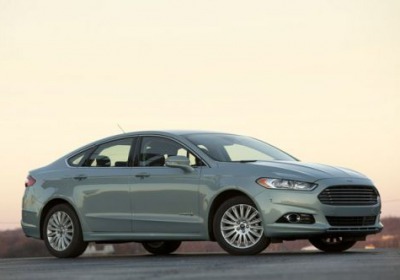 Your Mileage May Vary

As difficult as it is to write this, I was actually excited about the 2013 Ford Fusion Hybrid. With the beautiful looks of the newest midsize fighter from Ford and a fuel economy estimate capable of shaming even the stalwart Camry Hybrid, the battery-augmented four-door seemed like a recipe for unabashed success. But appearances love nothing more than swapping our boundless enthusiasm for cold platters of disappointment. The 2013 Fusion Hybrid gets hobbled right out of the gate with a lofty price tag, and real-world driving keeps the sedan from even approaching those EPA figures.

With so many excellent midsize hybrids on the market, is there any reason to consider the newest Fusion Hybrid? Are sharp aesthetics, a well-executed interior and capable driving dynamics enough to overcome the machine's shortfalls? Not from where I'm standing.


The Fusion Hybrid is content to simply offer buyers the same attractive lines as the standard model.
Even in the I-Bought-The-Hybrid green of this tester, the 2013 Fusion looks great. Yes, the nose isn't so much derivative of an Aston Martin as it is a carbon copy of the former Ford property, but as the old saying goes, if you're going to steal from someone, steal from the best. Designers have integrated the look nicely into the four-door shape. Up front, the floating grille slats, dynamic headlamps and sculpted front fascia all give the Fusion more poise than we're accustomed to seeing in the family sedan segment, let alone the hybrid contingent.

I have to laud Ford for exercising some restraint when it came time to pen the Fusion Hybrid. There are no egregious stylistic gimmicks on hand to differentiate this car from its non-battery-powered siblings aside from some unique wheels and a few badges. While competitors like the Hyundai Sonata Hybrid turned to wild lighting and drastically tweaked valances to announce its drivetrain, the Fusion Hybrid is content to simply offer buyers the same attractive lines as the standard model.

Around back, that translates into a set of wrapped LED taillamps that follow the complex curve of the sedan's trunk lid. Designers also worked in a hexagonal license plate inset, thereby repeating the theme established by the vehicle's grille.

Indoors, the 2013 Fusion Hybrid offers up an attractive cabin with nicer materials than I expected. A leather-wrapped steering wheel greets the driver, complete with the typical passel of buttons indicative of Ford products these days. All told, there are over 22 individual buttons on this tiller. Throw any more at the wheel and it'd be like driving around with a full Qwerty at my fingertips. Likewise, the cabin looks and feels plenty familiar, complete with a nice console-mounted shifter, touch-capacitive climate controls and a large touchscreen for the MyFord Touch interface.


With 12 cubic feet of cargo space, the Fusion Hybrid falls 1.1 cubic feet behind the Camry Hybrid and Sonata Hybrid.
The gauge cluster is clean with an attractive, center-up speedometer and two small user-customizable displays to each side. While the left screen handles a variety of vehicle data, the right can be configured to display information from MyFord Touch. As with other Ford products, song titles, navigation instructions and the like are but a glance away. Meanwhile, handsome and comfortable leather seats are all part of the party thanks to the $2,000 Luxury Package. The extra coin nets buyers those heated 10-way power adjustable buckets as well as auto dimming mirrors and a leather-clad steering wheel and shift knob.

There's ample room for passengers all the way around with plenty of space for legs and heads, but with 12 cubic feet of cargo space, the Fusion Hybrid falls 1.1 cubic feet behind both the Toyota Camry Hybrid and the 2013 Hyundai Sonata Hybrid. That's a decent chunk of volume, but likely not enough to sway a buyer out of the Ford and into a competitor.


The drivetrain never feels taxed despite lugging around 3,615 pounds worth of sedan.
Under the hood, the Fusion Hybrid features an Atkinson-cycle 2.0-liter four-cylinder engine with 141 horsepower and 129 pound-feet of torque paired with a 118-horsepower AC electric motor. A 35 kW, 1.4 kWh air-cooled lithium-ion battery serves up electricity. Combined, the electric motor and internal combustion engine can work together to deliver a maximum of 188 hp, and the drivetrain never feels taxed despite lugging around 3,615 pounds worth of sedan. Power gets put to the front wheels via a continuously variable transmission, and while I typically recoil in either genuine horror from any gearbox with bands instead of gears, the transmission does its job just fine. Surges in engine RPM, vibration and noise are all kept to a minimum.

It should come as no shock to hear the Fusion Hybrid makes use of an electronic power steering system, though Ford has put in the hours to make sure this bit of electromechanical wizardry doesn't feel as over-assisted or numb as the kit found on the Camry Hybrid. Engineers have also reworked the vehicle's regenerative brakes, and as a result, the hardware can now recapture up to 95 percent of the energy that would otherwise be wasted when the four-door scrubs speed. While the stoppers aren't as progressive as traditional brakes, they are better than some regens I've had my feet on in the past.


Under normal use, the Fusion Hybrid managed closer to 37 mpg.
Get underway and the 2013 Fusion Hybrid delivers a competitive drive. The electric motor provides quiet, confident acceleration until the four-cylinder engine takes over, and the handoff between the two is smooth enough that noticing the transition takes some focus. The cabin is nicely quiet even at highway speeds, and the chassis feels solid enough, but buyers who wind up laying down their cash for a midsize hybrid primarily care about something else altogether: fuel economy. The EPA says the sedan should return 47 miles per gallon in both city and highway driving, and thus 47 mpg combined.

That's a big number, and it bests the Camry Hybrid by a whopping 8 mpg city and 4 mpg highway, or at least it would if I were able to get the Fusion anywhere near those estimates. During my time with the Fusion Hybrid, the best I was able to accomplish was just over 40 mpg, and this isn't a case of me driving with the soles of my boots buried in the carpet. After a few days of disappointing returns, I began actively courting better fuel economy with lower speeds and gentler throttle inputs to click past the big four-oh. But that's not how most owners are going to drive this car. Under normal use, the Fusion Hybrid managed closer to 37 mpg.


Technically, you can scoot out the door with a Fusion Hybrid for $27,200, plus a $795 destination fee.
It doesn't take a math degree to come up with a 10-mpg difference between what we observed and what Ford says the hybrid should yield. Had I laid down my family's cash for the car only to see fuel economy short of the advertised estimates by some 22 percent, my local dealer would have a fun time extracting the entirety of this car from the dark recesses of his body.

Speaking of dollar bills, our tester tipped the scales at $34,770 thanks to additions like the Luxury Package, SE Technology Package and electronic bits like navigation, adaptive cruise control and a Driver Assist Package. Technically, you can scoot out the door with a Fusion Hybrid for $27,200, plus a $795 destination fee. Even so, that puts the car north of its competitors by a decent spread. The Camry Hybrid will hit your wallet for $26,140 plus destination while the Sonata Hybrid comes in at $25,650. I've never had any trouble hitting the EPA figures for those models, either – even if they are lower.

While the 2013 Ford Fusion Hybrid is a gorgeous creation outside, the mechanicals can't back up the company's big fuel economy claims. Combine that fact with a price tag that's north of the competition and there's little reason to wind up with one of these in your driveway.


Vital Stats
Engine:

2.0L I4 / 1.4 kWh Li-Ion

Power:

188 HP (net)

Transmission:

CVT

Drivetrain:

FWD

Curb Weight:

3,615 LBS

Seating:

2+3

Cargo:

12 CU-FT

MPG:

47 MPG City / 47 MPG HWY

Base Price:

$27,200

As-Tested Price:

$34,770

Research the 2013 Ford Fusion Hybrid »
---
By Zach Bowman
---
See also: Ford recalling select Taurus, Explorer and Lincoln MKS models over fuel tanks, KBB 2013 Brand Image Awards has some obvious and oddball winners, Ford faces class-action lawsuit for selling vehicles without brake override systems.