2013 Dodge Challenger V6 recalled for fire risk, owners asked not to drive
Sun, 17 Mar 2013 21:20:00 EST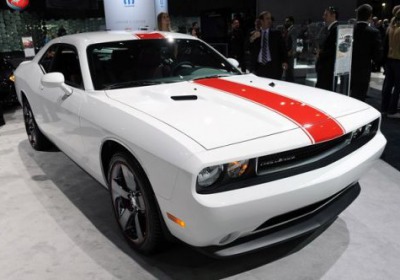 Chrysler has issued a recall for the V6 version of the 2013 Dodge Challenger (as pictured above in 2012MY) over the possibility of a wiring harness that could short circuit and lead to a fire. Owners of these V6 Challengers built from November 2012 through January 2013 are being urged to contact dealers immediately and, in the meantime, not to drive their cars or park in or near any buildings.

Chrysler estimates around 2,500 potentially affected Challengers are in owners' hands, while another 1,900 are still sitting on dealer lots. The total number of recalled vehicles is 4,459.

So far, Chrysler says that seven fires have been reported – none resulting in injuries. The company is instructing vehicle owners to contact their dealer to find out if their vehicle is included in the recall, but owners can also find the build date information of their vehicle by checking the label in the driver's door jamb.

Statement: Wiring Issue

March 17, 2013 , Auburn Hills, Mich. - Chrysler Group is recalling approximately 2,500 model-year 2013 Dodge Challengers now in customer hands to address a potential short-circuit.

This condition could cause a wire harness to overheat and possibly lead to fire. Chrysler Group is aware of seven such incidents. None caused injury.

Affected owners are being contacted directly – by telephone and by mail. They are being advised to immediately refrain from driving their vehicles and to contact their dealers. Loaner vehicles will be provided, free of charge, until repairs are complete. Chrysler Group further advises affected owners not to park their vehicles in or near any structures.

Customers who are uncertain if they are affected should take the above precautions and inquire with their dealers.

This action affects only 2013 Dodge Challengers assembled with V-6 engines during an eight-week period ending Jan. 24, 2013.

The total recall population is 4,459 vehicles, of which approximately 1,900 are in dealer hands.
---
By Jeffrey N. Ross
---
See also: Chrysler slows minivan production, hasn't built VW Routan this year, 2013 Dodge Charger SRT8 Super Bee, Small number of 2013 Chrysler 200 and Dodge Avenger models recalled.