2013 Cadillac ATS Premium 2.0T 6MT
Wed, 06 Feb 2013 15:00:00 EST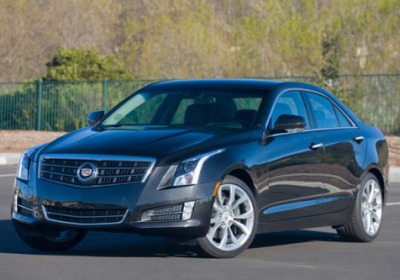 The new Cadillac ATS is an impressive sport sedan, often considered one of the most serious threats to the BMW 3 Series. Unlike GM's previous attempts, this four door brings aggressive styling, commendable chassis dynamics and class-leading handling to the highly competitive battle. And, like its daunting German foe, Cadillac offer several powertrain choices.

I recently spent time with the ATS 2.0T Premium on my home California turf. Fitted with a turbocharged 2.0-liter four-cylinder engine mated to a six-speed manual gearbox with a limited-slip rear differential, my tester was lightly optioned, with only a paint upgrade and a cold weather package. That brought the as-tested price to $46,305, configured the way I imagine most enthusiasts would prefer. This meant I fully expected to enjoy a week with a tossable sport sedan that boasted "fun-to-drive" as its middle name, but all was not well...

Driving Notes

The ATS' stiff chassis, strong brakes and upscale interior were my favorite attributes. A close second would be the extraordinary styling that manages to be sporty and bold, yet classy and timeless at the same time.
Cadillac's innovative touchscreen CUE interface with haptic feedback may work well in the showroom, but at least for this journo, its application in a bouncy and vibration-laden automotive environment is a mistake. In addition to being slow to respond and frustrating to use, it is a hair-pulling experience trying to steady a pointer finger to touch the proper real estate whether that is a capacitive touch volume bar or greasy fingerprinted flat panel display. Cadillac actually provides a microfiber cloth in the glovebox to wipe it clean, but isn't that admitting a preexisting flaw (would you have confidence in an automaker who provided an oil drip pan with each new it car sold)?
I am a huge fan of GM's magnetic ride control suspension, but I didn't like its tuning in this ATS. When pushed hard, the rear tires seemed to skip over imperfections in the pavement, meaning the rubber wasn't staying in contact with the undulations in the road. The two-mode damping was almost too firm in default setting and then harsh when configured to sport mode (the console-mounted button must inexplicably be pushed twice to toggle the suspension change).
This segment is embracing 2.0-liter four-cylinder engines for their excellent combination of power and fuel efficiency, but I found little to like with the turbocharged engine in the ATS. It felt and sounded buzzy, with nothing but racket coming from under the hood. Plus, it ran out of steam well before redline and fuel economy on my enthusiastically driven watch was not spectacular (16 mpg around town and 26 mpg on the highway). While it did provide decent power, especially in the thick of its torque band, it desperately needs a sporty exhaust note to bring a bit more excitement to the game.
I generally prefer manual transmissions, yet the traditional six-speed gearbox in the ATS didn't impress me one bit. Its gearing is too short (60 mph requires a shift to third) and its throws are very mechanical in feel. In execution, the shifts cannot be hurried as it only results in a rubbery response from the driveline. Many of my peers say the 3.6-liter V6 mated to a six-speed automatic (as we reviewed in our First Drive) is a much better powertrain choice. The driver in me finds that a bummer.
Vital Stats
Engine:

2.0L Inline-4

Power:

272 HP / 260 LB-FT

Transmission:

6-Speed Manual

0-60 Time:

6.0 Seconds

Top Speed:

149 MPH

Drivetrain:

Rear-Wheel Drive

Curb Weight:

3,464 LBS

Seating:

2+3

MPG:

19 City / 23 HWY

MSRP:

$44,895 (base)
---
By Michael Harley
---
See also: Cadillac rushing update for laggy CUE infotainment system, Cadillac V-Series Academy comes to Las Vegas [w/video], 2013 Cadillac XTS [w/video].