2013 Buick Enclave
Mon, 29 Oct 2012 11:57:00 EST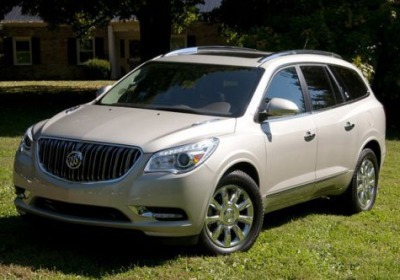 GM's Flagship Lambda Is (Still) A Smooth Operator

Consumers shopping for a domestic full-size crossover have heard all about GM's triplets. The Chevrolet Traverse, GMC Acadia and Buick Enclave are a very appealing and talented group of siblings. Entering their fifth year of production, albeit middle-age in the automotive industry, each is attractive, well-rounded and very capable on the paved dance floor. While all share nearly identical base DNA and the same basic running gear, subtle physical differences and unique personalities emerge between the trio when one digs a bit deeper.

The most polished of the threesome, without question, is the Enclave from Buick. Fresh off a mid-cycle update (as are its siblings), the flagship of the platform boasts a facelift, innovative new features and an upgraded demeanor for the new model year.

But are the improvements enough to make it the Lambda most worthy of a long-term relationship? And, if it is the best of its breed, is it good enough to secure the segment? We spent an afternoon with the enhanced 2013 Buick Enclave to find out.

Of the closely related crossovers still in production, the Buick Enclave was first out of the womb. It debuted as a concept at the 2006 North American International Auto Show before going on sale as a 2008 model the following year. Its birth order was deliberate, as GM would make the Enclave its chosen child, loaded with all the bells, whistles and appointments necessary to be the company's family-hauler flagship. The sibling pecking order is unchanged today, especially when base pricing is factored into the recipe.


The Buick Enclave sits up front in the family portrait wearing the nicest duds.
GM's volume Lambda is the Chevrolet Traverse, with an entry fee of $31,165 (all prices include GM's $825 destination charge) securing a front-wheel-drive crossover riding on steel wheels in base trim. The GMC Acadia, better appointed and with standard alloy wheels, comes in with a base price of $35,700. The Buick Enclave, sitting clearly up front in the family portrait and wearing the nicest duds, has a base price of $39,270 for the 2013 model year.

Those who knew the Enclave last year will instantly recognize its new front fascia and bold new grille bookended by more aggressively contoured headlamps and a newly sculpted hood. More scrutiny reveals fresh black-chrome accents and LED daytime running lamps up front. Gone is the two-tone paint treatment, replaced with a tasteful accent of bright trim contrasting the standard monochromatic hue. The rear of the Buick has also gone under the knife, with updated styling including freshened LED taillamps and a new exhaust treatment. The Enclave, as a whole, has moved even further upscale while taking on a more strapping appearance.


The Enclave has moved even further upscale while taking on a more strapping appearance.
Inside the cabin, the instrument panel has been redesigned with a basic layout, with instrumentation, vent and infotainment locations unsurprisingly matching its Lambda siblings. To deliver a more premium experience, the Enclave features very high quality materials with blackened-chrome accent rings around the vents and other switchgear clusters. The steering wheel is leather with real wood at the top and bottom, while faux wood is used to warm up the rest of the upper dash and door panels. At night, occupants will also note ambient lighting.

Other enhancements sure to please those riding within the seven- or eight-place cabin, includes a standard premium audio package with AM/FM/HD/Sirius XM Radio, Bluetooth, USB, CD player and AUX input configured through Buick's IntelliLink seven-inch color touchscreen infotainment interface. Also new is a rear vision camera system (with optional Side Blind Zone Alert and Rear Cross-Traffic Alert).


The Enclave can tow up to 4,500 pounds – 700 pounds less than the Traverse.
On the safety front, and again mirroring its siblings, the Enclave gains a center side airbag that is designed to inflate between the front seat passengers. The front seats are also fitted with new articulating head restraints, as found on the Acadia and Traverse.

For the most part, the powertain is unchanged. All Buick Enclave trims still arrive with a direct-injected 3.6-liter V6 with continuously variable valve timing rated at 288 horsepower and 270 pound-feet of torque. A traditional Hydramatic six-speed automatic is again the sole transmission, but it has been upgraded with next-generation software to improve smoothness, response and shift feel. Front-wheel drive is standard, with all-wheel drive optional. As the system is designed primarily to improve traction in inclement weather, there is no low speed transfer case (when properly equipped, the Enclave can tow up to 4,500 pounds – 700 pounds less than the workmanlike Traverse). Burning regular unleaded fuel, the EPA-estimated fuel economy is a respectable 17 mpg city and 24 mpg highway on FWD models and 16 mpg city and 22 mpg highway on AWD models.

One other notable mechanical change offered on the Enclave (and Acadia Denali), are new dual-flow dampers on the front suspension. Working hand-in-hand with the revised rear dampers, the revised suspension is designed to provide a smoother ride and improved handling.

The 2013 Buick Enclave will be offered in three different trim levels: Convenience (1SD), Leather (1SL) and Premium (1SN). Our test model was the range-topping Premium (bundled with all of the equipment in the Leather Group, 19-inch alloy wheels with a chrome finish, articulating headlamps, Bose premium audio, cooled front seats, power-folding side mirrors and a power tilting/telescoping steering column). It was also configured with all-wheel drive and navigation, features that pushed its sticker price to nearly $51,000.


Buick is targeting some heavy seven-passenger hitters including the MDX, Q7, JX, MKT and XC90.
That's quite a bit of coin. But then again, Buick is targeting some heavy seven-passenger luxury hitters including the Acura MDX, Audi Q7, Infiniti JX, Lincoln MKT and Volvo XC90 – in that grouping, 50 large is not exactly sticker shock.

Strapped into the driver's seat, we found the Enclave's upgraded interior to be very nice. Material, fit, finish and overall execution are subjectively superior to its two siblings – the cabin of the Buick is uncommonly warm and inviting. We really liked the dashboard, even with its faux stitching, as it will have everyone convinced it is real leather. On the other hand, we didn't like the mismatch of the grain between the real wood on the steering wheel and the synthetic wood (plastic) used extensively on the rest of the dashboard and doors.

Passengers in the second and third rows (go with the captain's chairs unless you frequently tote around eight passengers) will find riding inside the full-size crossover comfortable, spacious and accommodating, too (Buick says its third row is larger than that of its competitors). But, like the other Lambda vehicles, the short relationship between floor and seat cushion may have tall occupants (like your author) sitting with their knees raised awkwardly.


It isn't tuned to be sporty, but the Buick holds its own when pushed to moderate levels.
We were hard pressed to notice any difference with the new dual-flow dampers, especially without a back-to-back comparison on the identical drive route, but the Enclave rode impressively well on all but the harshest surfaces. It isn't tuned to be sporty, but the Buick holds its own when pushed to moderate levels – passengers will scream long before the standard all-season tires do (they were 255/60R19 sized Michelins on our sample, with a treadwear rating of 600!). Noise levels within the cabin were low, and the ride was smooth and comfortable on the 19-inch wheels (expect a bit more harshness on the optional 20-inch alloys).

Acceleration was also pleasantly adequate, with the 288 horsepower V6 propelling the Enclave to 60 mph in an estimated 8.5 seconds. We'd prefer more torque down low, as that is what today's latest turbocharged engines are delivering, but the six was smooth and relatively efficient at cruise. The remapped six-speed transmission shifted smoothly and smartly, without the unnecessary hunting for gears that is common on the seven- and eight-speed gearboxes that seem to be in vogue these days.

Overall, the Buick performed very well and left us with little reason to complain. Our drive also reinforced what we have felt for years – the Enclave is our favorite of the three Lambda siblings in terms of style, comfort and luxury equipment.


Even in the face of stiff competition, many have discovered that the Buick makes a good argument for itself.
However, we aren't the ones marching into showrooms with a fistful of hard-earned cash or comparing the Enclave to the MDX, Q7, XC90, MKT, and JX. Those upscale buyers are seeking the same things we like, but they also consider value, fuel economy and after-the-sale support. In that regard, the most serious threat to the Buick is probably the new Infiniti JX (and its slightly less luxurious sibling, the Nissan Pathfinder). The Infiniti may not have stirred our enthusiast souls during our first drive, but it does appear to deliver a family-perfect formula with its efficient CVT, more upscale standard equipment, a stronger warranty and aggressive pricing.

Yet even in the face of stiff competition, many have discovered that the Buick makes a good argument for itself. The automaker points out that its full-size CUV is doing very well, with its sales growing each year (Buick sold a record 57,783 Enclaves in 2011, making it more popular than the three-row crossovers from Acura, Audi and Lincoln). Plus, conquest sales are strong, as nearly half of all Enclave buyers switched from non-General Motors brands into the flagship Lambda. Those are the types of statistics that keep challengers up at night.

Our conclusion is that the refreshed 2013 Buick Enclave is good – very good. We'll stop short of calling it a segment leader, but we do suggest you put it near the top of your test drive list.


Vital Stats
Engine:

3.6L V6

Power:

288 HP / 270 LB-FT

Transmission:

6-Speed Auto

0-60 Time:

8.5 Seconds (est.)

Drivetrain:

All-Wheel Drive

Curb Weight:

4,922 LBS

Towing:

4,500 LBS

Seating:

2+3+3

Cargo:

24.4 / 116.4 CU-FT

MPG:

16 City / 22 HWY

MSRP:

$39,270 (base)
---
By Michael Harley
---
See also: Opel Cascada is Europe's Buick convertible [w/video], GM recalling 250,000 SUVs over door electronics, Opel Insignia OPC getting facelift. Will the Buick Regal GS see it, too?.