2013 Bentley Continental GT Speed Convertible
Thu, 25 Apr 2013 11:57:00 EST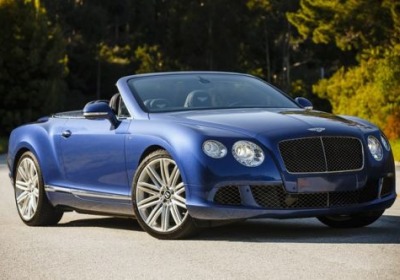 Loses its Head, Keeps its Bespoke Cool



This is the 10th anniversary of the Bentley Continental GT, the 5,500-pound shim that pried open the market for bespoke luxury at $150K. We're into the second generation of the supercoupe that is still – and we think unfairly – derided as a grossly exaggerated Volkswagen, which to us is like saying the Hulk is just Bruce Banner in a tizzy. There are credible grounds for both statements, but in neither case do they accurately convey the chasm between the alpha and the omega.

Nevertheless, checking off the list of updated models brings us to the Bentley Continental GT Speed Convertible, the moderately augmented version of the non-Speed GTC. Back to the notion of unfairness, it's probably just that to say the GT Speed Convertible is only "moderately" changed. It did, after all, take Bentley three years to engineer the changes that separate your 'basic' Bentley from the Speed variant, and although they might be imperceptible, they are numerous.

We were invited to drive the world's latest and fastest four-seater convertible for two days from Las Vegas to San Francisco. In a twist we never would have expected, it turned into a desperate hunt for thrills.




It has the Bentley of tops: fabric, seven layers, massively engineered, looks gorgeous up or down, takes 25 seconds to stow.
There are so many experiences we wish we could say we had during our drive of the Bentley Continental GT Speed Convertible, but we can't, because the drive route refused to offer them. We could wax factual about the convertible's details, but frankly, you've already read most of them – it's the same car as the GT Speed that our own Zach Bowman drove to heart-stopping and brake-mashing exhilaration last year, except this has a convertible top. Not just any top, of course, but the Bentley of tops: fabric, seven layers, massively engineered, looks gorgeous up or down, takes 25 seconds to stow.

The stolidity of that top and a bodyshell stiffness of 22,500 Newton-meters/degree – just 500 Nm/deg less than a Lamborghini Gallardo coupe – eliminates the jittery compromises usually faced when opting for less enchanting convertibles. Oh, and there are neck warmers beneath the headrests, and it has independent climate control settings for when the top is up or down.




It is called the world's fastest four-seat convertible by virtue of its top speed: 202 mph.
After that it would be reworked press release material, and even Bentley's own PR spends maybe 250 of its 2,202 words detailing items exclusive to the convertible. There's a 6.0-liter W12 rocking two turbos and making 616 horsepower and 590 pound-feet of torque, a ZF eight-speed transmission that can 'block' downshift up to four gears at a time, 15-percent better fuel economy, a stouter suspension with better reflexes that's lowered 10 millimeters versus the non-Speed version, and the whole thing sits on 21-inch wheels, matrix mesh treatments up front and rifled exhaust pipes in back. Inside are turned aluminum trim bits and the Mulliner Driving Specification, standard, for an "Oooooh, this is nice!" reaction from just about everyone, including us.

It is called the world's fastest four-seat convertible by virtue of its top speed, the palindromic 202 miles per hour. Terminal velocity runs with the top down, so that the speed cameras can get a better view of your tanned visage, max out at 195 mph. Bowman got to do 165 mph in the GT Speed when the Autobahn was his playground and caravaning VW Jettas were his nemeses. Sadly, we got nowhere close to that.




How do hours in a straight line at 55 mph in a Bentley feel? Awesome, because hey! You're in a Bentley!
See, the route from Las Vegas to San Francisco traversed mostly straight two-lane roads and highways, the kind where you looked forward to a curve 89 miles ahead, and trekked through national parks like Death Valley and Yosemite and desperate towns with lonesome names, all of which featured strict speed limits and bored police officers. Our loins were meant to quiver with "the sensory pleasures of roof-down luxury touring." Instead we spent 55 mph, and sometimes 65 mph, for hours at a time headed in one cardinal direction, waiting for anything to happen. There were the ruins of the Harmony Borax Works and the Alien Brothel and Bar, straddling the kinds of roads from '70s films upon which drug-dreaming protagonists in topless Pontiacs unknowingly drive into shattered hopes and gruesome deaths.

How do hours in a straight line at 55 mph in a Bentley feel? Awesome, because hey! You're in a Bentley! Those who complain about having to do 55 in a GT Speed Convertible should be handed the keys to something off the Rent-A-Wreck lot. With ten years of incremental improvement of a car that was already a pretty big deal in the Creamy Ride Department, you're never going to lose placing bets on a butter-smooth commute inside The Flying B. With the top up, there's more bustle inside Oxford's Bodleian library than inside the GT Speed Convertible's cabin. With the top down, you'll get more wind in your hair if you stick your bottom lip out and blow on it yourself. The steering is light but accurate. Cows beseech their bovine gods for immortality as one of the quilted and perforated leather hides that covers everything that isn't metal or thick carpeting. The seats have been approved by the Pope. Sans rear passengers, there is enough room up front for the knees and the egos of the statuesque and the supercilious. At 5,500 pounds on 275/35 ZR21 rubber, it will take something with a Peterbilt or Kenworth badge hauling something with a Terex badge to blow it off course. It is as relaxing as a mani-pedi, but your feet don't get wet.



It's awful though, too, because hey! You're in a Bentley! When you're trying to discern the voodoo and wizardy in the latest jitney, 55 is painful in a Ford Fiesta. Such limitations in a Bentley are diabolical. We would have given a kingdom for an alpine ess. Hell, we'd have given a kingdom for just one alp, or just one ess. We know the masterminds in Crewe didn't skip their English breakfasts and evening pints building a contrivance to be sampled at a steady 55. And did we mention that Bowman got to do 165 mph?! What's that about?! Now excuse us while we pound our fists and wail, then spit up on our bib just before someone shoves a pacifier in our mouth. And yes, we'll take those Rent-A-Wreck keys now.


It weighs 194 pounds less than a Chevy Tahoe, but it would take a lot of work to get the Tahoe to perform like the Bentley.
The issue is that we've tested everything in the Continental range, we know what it can do and we were excited about doing it again. No, we can't tell much difference between the regular GTs and the Speed versions, and we don't care, we'll take either. If someone's handing out keys, though, we'll take the Speed because the spec sheet says it's better, and better is always... better. Mind you, a Supersports would be best.

Some of our colleagues, while respecting what the Continental GT can do, regret that it must battle its own largesse in order to do it. Physics has a big head start when it's given nigh on three tons to play with, coming up with the software and mechanicals to overcome it – well, almost all of it – we still think is a grand achievement. Bentley has a car that expanded, to use the photographic term, the dynamic range of motoring. There is no other car that lives this close to the Rolls-Royce end of the spectrum around town and, when things get curvy and sweepy, "has more than enough talent to make owners of other supercars check their rearview mirrors." Until the Ferrari 458 Italia came along, we called the Continental the best combination of huge luxury and huge handling. With the 458 out there, the Bentley is still the best combination with four seats. Put another way, the GT Speed Convertible weighs 194 pounds less than a 2013 Chevrolet Tahoe LS 4x4. It would take a lot of work to get the Tahoe to perform like the Bentley, and you'd still be missing out on the satiny ride, the top speed, the top down, the top-down sound, that sovereign's cockpit and all that cowhide. The Tahoe does get better gas mileage, though.




Issuing a verdict on the car is like asking us if we like the look of some supermodel's identical twin sister.
So all right, we did get one alp, and we did get a thrill coming down it. We awoke in Mammoth Mountain to snowfall and would spend part of the day, on our way to San Francisco, descending through hours of the white stuff. At some points, it came down so hard that mile markers were replaced by cars hapazardly drifted into ditches. Testing out the permanent all-wheel drive in the GT Speed Convertible – with no chains on the tires – not only did we not have a single problem, but we could hop into the barely used left lane, joining the line of four-wheel drive SUVs and Subarus cruising by the plodders while other drivers eyed us with looks that said, "Um... what?" That's one side of Bentley we've never experienced before, and it was rather special. We never once had anything approaching a scare. Not once.

As for what we think of the GT Speed Convertible, what else could we think? It's the hardtop GT Speed without the roof. Which is to say, it's brilliant. No, we didn't get to experience much of it on this trip, so you'll just have to trust us, this apple didn't fall far from the superformed-aluminum and wood-veneered tree. Issuing a verdict on the car is like asking us if we like the look of some supermodel's identical twin sister.

The answer to that is yes. Twice.


Vital Stats
Engine:

6.0L Twin Turbo W12

Power:

616 HP / 590 LB-FT

Transmission:

8-Speed Automatic

0-60 Time:

4.1 Seconds

Top Speed:

202 MPH

Drivetrain:

All-Wheel Drive

Curb Weight:

5,500 LBS

Seating:

2+2

Cargo:

9.18 CU-FT

MPG:

12 City / 20 HWY

Base Price:

$238,000
---
By Jonathon Ramsey
---
See also: Bentley poised to join four-door coupe game?, New Bentley Supersports coming in 2014, This is not how you tow a Bentley convertible.