2013 BMW X1
Tue, 23 Apr 2013 11:57:00 EST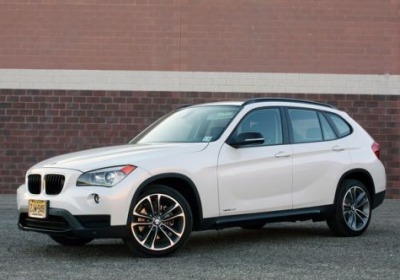 A Tasty Bit Of Old School For The New School



Against the backdrop of fervent hand-wringing from brand purists, BMW is on the cusp of finally offering front-wheel-drive vehicles. While that's a shock to the constitution, many are pointing to the company's fine-handling Mini offerings as an article of faith that it can get this drivetrain paradigm shift right. That may be true, but there's an even more important lesson that Mini has taught the decision-makers in Munich: how to make real money on small cars.

Before Mini came along, BMW – along with seemingly every other premium European automaker – never really figured out how to coax big dollars out of American wallets without developing cars that had large footprints, at least those other than sports cars. While the automaker really got rolling in America on the strength of little bantamweights like the 2002, it veered away from small cars sometime in the '80s. BMW subsequently crashed and burned with the cut-and-shut 318ti built off its E36 3 Series and, good as it is, the 1 Series hasn't given the company meaty volume or profits, either. Among other brands, the Audi A3 has never rung up big numbers, and the less said about the painful sales figures of the Volvo C30, the better. But Mini has beat the odds, blazing a more affordable and evidently compelling trail. As of late, the company's Countryman softroader has been a massive hit worldwide. No surprise then that BMW has reconsidered bringing over its smallest softroader, the X1, to the US.

The X1 originally went on sale in Europe in 2010, and after a solid launch on its home continent, the little crossover was introduced in small-car-friendly Canada for 2012, only going on sale here in the US fresh off a minor facelift for 2013. To be clear, the X1 shares no design DNA with the even-smaller Countryman. Their engineers don't even use the same washroom – whereas the Mini is based on a front-drive chassis, the X1's architecture is a variant of the aforementioned rear-wheel-drive 1 Series, itself derived from the old E90 3 Series. Exactly none of this is bad news.




It's 4.4 inches shorter in length than a Mazda3 five-door and only a couple of inches taller.
Available in both rear- and all-wheel-drive formulas, the Stateside X1 is powered by BMW's torque-rich N20 2.0-liter turbocharged four-cylinder engine or the company's 3.0-liter N55 six-cylinder – the latter being an engine you can't even get in Germany (Deutschlanders, take heart – you have an array of lovely diesels verboten to us Yanks). In the case of our N20-powered sDrive28i tester, that amounts to 240 horsepower at 5,000 rpm and 260 pound-feet of torque from 1,250 to 4,800 rpm. If that's not enough, the N55 returns 300 horses at 5,800 rpm and as many pound-feet from 1,200 to 5,000 rpm, but it's only available with AWD. In either case, that's a lot of sausage stuffed into a small casing.

How small? At 176.5 inches long, 70.8 inches wide and just 60.8 inches tall, the X1 is a spicy little hot link of a thing. Yet because of the aesthetic similarities to its much larger X3 and X5 brethren, it's hard to see how the X1 measures up on the road in isolation, let alone on your computer screen. To help put those figures in perspective, note that the X1 is a full six inches shorter than the current 3 Series and only four-and-a-half inches taller, yet it's only fractionally narrower and has a similar wheelbase. More to the point, it's actually significantly shorter in both length and height than another notable tweener, the Infiniti EX37, which stretches a whopping 5.8 inches longer and stands an inch taller. Using a more common yardstick, it's 4.4 inches shorter in length than a Mazda3 five-door and only a couple of inches taller. If all of that reads to you like the X1 looks more like five-door hatchback or a little sportswagon than a conventional crossover, you're picking up what we're putting down.



If you've experienced the aforementioned Infiniti, you're probably figuring that the X1 has a cramped cocoon of a cabin, with next to no rear seat room and negligible cargo capacity. Yet somehow, that isn't the case – BMW's wizards have imbued this vehicle with perfectly generous front seat room, surprisingly decent second-row quarters and 25 cubic feet of cargo space (56 cu-ft with the 40/20/40 split seats folded). If you're expecting solid second-row long-haul comfort from a footprint this small, you'll want to issue yourself a reality check, but overall it's a space-efficient design. It's for this reason, smart packaging, that we can see the X1 selling in the sort of volumes that the otherwise perfectly attractive EX37 could never dream of.


The overall aesthetic is a bit bull-nosed and not entirely attractive.
Aesthetically, the X1's look is standard-issue modern BMW, which is to say its visage is dominated by wide, oversized kidney grilles and swept-back dual-element headlamps. With minimal bumper protrusion, the overall aesthetic is a bit bull-nosed and not entirely attractive. The profile reveals a high-waisted look, with a shallow greenhouse and slightly asymmetric wheel arches subtly outlined in flat black plastic to project a subtle off-road-ready look. The rear glass is also fairly small and steeply raked, reinforcing the almost hatchback-like appearance.

The cabin itself is also stereotypically BMW, which is to say it contains materials of generally high quality logically screwed together in a somewhat solemn fashion. That's particularly true in our tester's black color scheme, an aura mitigated only by our Sport Line tester's contrasting red stitching on the seats, door panels and steering wheel. There's really no escaping BMW's fiddly e-gearshift lever these days, but everything else – including this latest generation of iDrive – is pretty straightforward. Seats are firm yet supportive and the dials are all business and easy to read. Being thirsty Americans, we can't help but note that the center console has but one cupholder – if your front seat passengers want their own drink, they'll have to plug in the auxiliary receptacle that intrudes on their legroom, just as it does in the Z4.




The X1 is essentially a brand-new three-year-old car.
If we don't love BMW's gearshift, at least it's connected to a nice piece of work, ZF's increasingly omnipresent eight-speed automatic, a transmission that provides a wide ratio spread while being well tuned here for both smooth acceleration and quick responses. While the gearbox will try to get into the tall gears quickly under partial throttle for improved fuel economy, there isn't the occasionally delayed hunt-and-peck delivery we experienced in early X3s. Even without a manual transmission available, the X1 is fun to run through the cogs with the +/- gate, but a set of BMW's wheel-mounted paddles would go a long way toward increasing driver engagement. Official estimates call for 0-60 in 6.3 seconds in this xDrive28i model – the rear-drive model being a tenth quicker. The xDrive35i is a full second quicker to 60 despite an automatic with two fewer ratios, but both qualify as unusually rapid for the compact utility class – we'd save our money and go with the four banger.

The X1's other driver inputs – throttle, brakes and steering – are also positive touchpoints. The pedals are well placed and brake feel is very good. There's pleasing heft and accuracy to the steering wheel, too, and it emanates something approaching actual feedback. That's at least partially because the X1 is essentially a brand-new three-year-old car, meaning it still relies on hydraulic power steering instead of the electric units increasingly employed to save fuel. Heck, there's even a proper pull-it-your-damned-self handbrake. Being based on an older architecture has its benefits – just ask your mother.



With stiff damping, a short wheelbase and hard-soled runflats (225/45/18 all-season Pirelli Cinturato P7 radials), the X1 offers an atypically firm ride for a CUV, but it never feels nervous or jiggly – there's far less headtoss than in something like a Land Rover Range Rover Evoque. If you hit a pothole or thwack a jagged freeway expansion joint, the tires' short and stiff sidewalls can make you think you've just fragged an alloy, but otherwise the springy bits are nicely calibrated.


Handling is closer to that of a hot hatch than the crossover archetype.
Unsurprisingly, handling is closer to that of a hot hatch than the crossover archetype. At over 3,700 pounds, the xDrive28i is not quite light on its feet, but with an all-but-ideal 50.6 / 49.4 percent weight distribution, accurate steering and good-sized contact patches at all four corners, it is at once more fluid and engaging to drive than its rivals on winding roads. If you want to kick some weight to the curb, save some money and get even closer to hot hatch territory, there's the sDrive28i, but sadly it picks up electric power steering in the transition to rear-wheel drive.

Fuel economy is about where you'd expect for a vehicle offering this kind of performance – our xDrive28i carries EPA figures of 22 miles per gallon city, 33 highway and 28 combined – and there's a decently sized 16.6-gallon tank to ensure that you aren't stopping for premium fuel all the time. For green-minded city slickers, there's a standard start/stop feature on four-cylinder models, but after experiencing its occasionally rude machinations, we got in the habit of turning it off every time we got in the car. A dealer tech can disable it on a more permanent basis.




Through March, BMW has sold more of the X1 in North America than the 1 Series, 6 Series and Z4 combined.
Speaking of dealer items, it's best not to give in to your salesman's coaxing when it comes time to speccing out your X1. The xDrive28i starts at a reasonable-sounding $32,350 (plus $895 for destination), but in true BMW fashion, it's only too easy to bloat the bottom line. Exhibit A? Our tester's Ultimate Package that ropes together a bunch of option groups (salient points: panoramic roof, navigation, keyless entry and pushbutton start, power seats, etc.) to the groan-inducing tune of $6,650. The car also featured the Sport Line package (handsome 18-inch wheels, leather-clad sport seats and black trimmings) for $1,900, a $1,200 lighting group (Xenons with auto high-beams plus ambient lighting), $700 cold weather pack (heated front seats and wheel, headlamp washers), a $250 Servotronic variable-rate steering system and $550 for Mineral White Metallic paint, among other items. Total MSRP as delivered? $45,095. Our take? Less is more – we'd be tempted to take the Sport and Lighting groups and call it a day, but we fear that the $2,500 tech package with nav and voice command is a necessity for most buyers because – rather ridiculously – it's the only way you can get Bluetooth and USB connectivity unless you want to go the aftermarket route.

Through March, BMW has sold over 5,400 copies of the X1 in North America – more than the 1 Series, 6 Series and Z4 combined. More importantly, it's not far behind the much better-established X3, which suggests that the company is on to a good thing. Perhaps the X1 is selling just because it's the most affordable new vehicle you can buy with a Roundel on the hood, or maybe it's just by dint of its membership in a white-hot segment, but we'd rather not be that cynical. We prefer to think that the X1 is finding an audience because in many ways, it's a holdout that reminds buyers of the driving virtues held dear by BMWs of yore while still being a pretty useful little package. Either way, the idea of more small Bavarians inundating our shores suddenly sounds like a pretty appealing prospect.


Vital Stats
Engine:

Turbo 2.0L I4

Power:

240 HP / 260 LB-FT

Transmission:

8-Speed Automatic

0-60 Time:

6.3 Seconds

Top Speed:

127 MPH (limited)

Drivetrain:

All-Wheel Drive

Curb Weight:

3,726 LBS

Seating:

2+3

Cargo:

25 / 56 CU FT

MPG:

22 City / 33 HWY

Base Price:

$33,245

As-Tested Price:

$45,095

Research the 2013 BMW X1 »
---
By Chris Paukert
---
See also: BMW brings burlesque, Warhol, M1 and 6 Series Grand Coupe to Paris Photo LA, BMW X4 hatches its fastback shape in Shanghai, BMW 2 Series shows us its insides.