AUTOMOBILES

Slightly Pre-Owned Car/SUV

| | |
| --- | --- |
| SCHERF | Over 1200 years of History ... |



Executive SUV

EXTRA NICE 2012 GMC TERRAIN SLE
Exterior: Gold Mist Metallic (2012) / Champagne Silver Metallic (2013) ;
Interior: Jet Black Sport Cloth with GMC red stitching
Mileage: approx. 21,950 Miles
(No snow ever! ... and only a couple hours of rain total)
VIN# 2GKALMEKXC6314753

▀ FACTORY WARRANTY! ONE OWNER! Fully loaded!
▀ 6-Speed AUTOMATIC with switch to sport manual shifting function
▀ 2.4 Liter 4-Cyl. 16-Valve DOHC, Flex Fuel engine
▀ Rearview Camera; Touch Screen Information Center;
▀ Reliable, super economical with approx. 32 mpg;
▀ Alloy Wheels, Steering Wheel Controls; Bluetooth; USB port;
▀ ONStar; Most power options! Executive SUV!
▀ Non-smoker, no kids, no pets, no accidents, no dents, no scratches!
▀ Interior still smells like new!
▀ Always parked in Garage! Perfect CLEAN CARFAX!
▀ A great price for a really excellent SUV!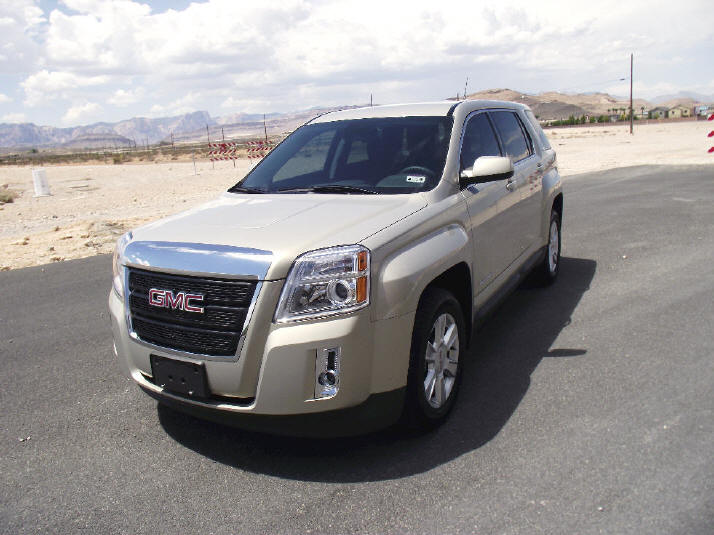 Really Nice 2012/13 GMC TERRAIN SLE Automatic
This is a very reliable, super comfortable, spacious and
economical SUV (approx. 32 mpg)
Executive owned SUV!
VIDEO - Walkaround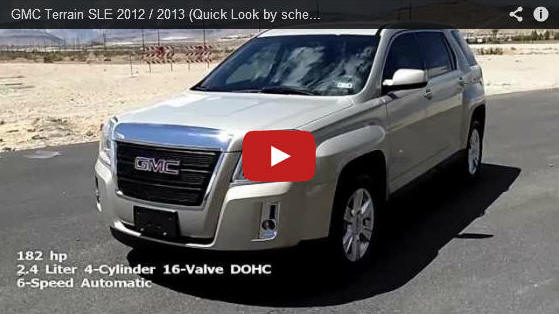 https://www.youtube.com/watch?v=W9zZOhhwKX8
This particular GMC Terrain was the SUV
used for the official GMC "Summer Heat" campaign
from the "American Icon" photo shoot by Dietmar Scherf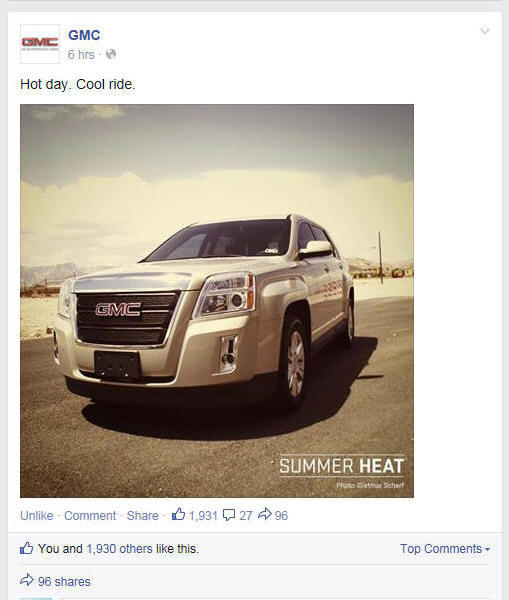 "American Icon" by Dietmar Scherf
Official GMC "Summer Heat" Campaign
(August 2014)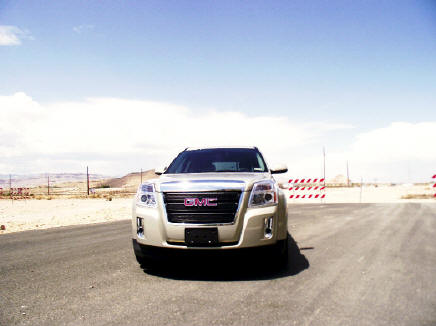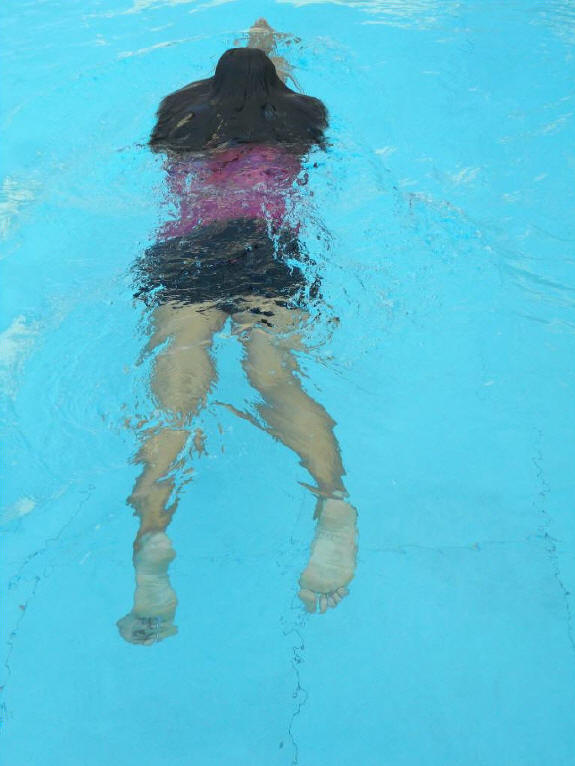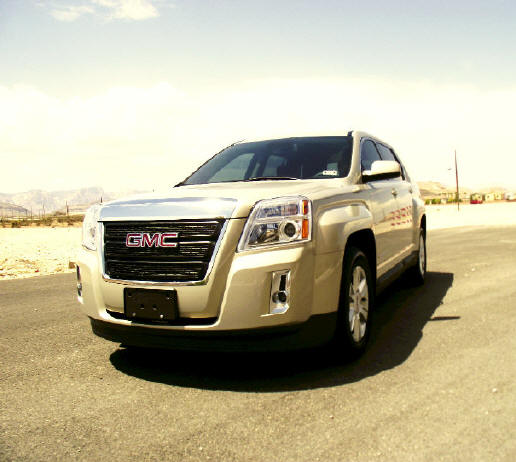 + To Enlarge click on Thumbnails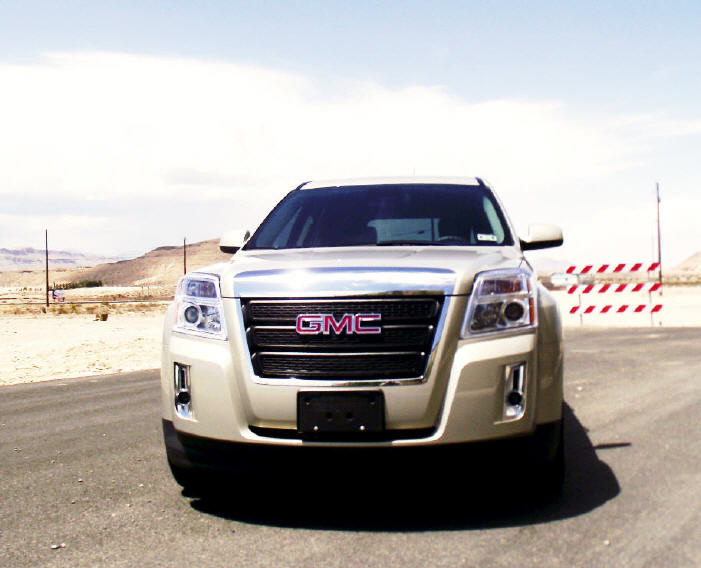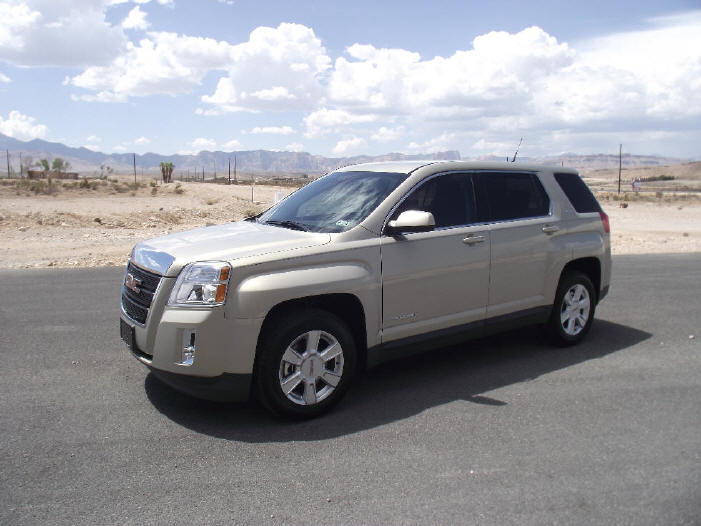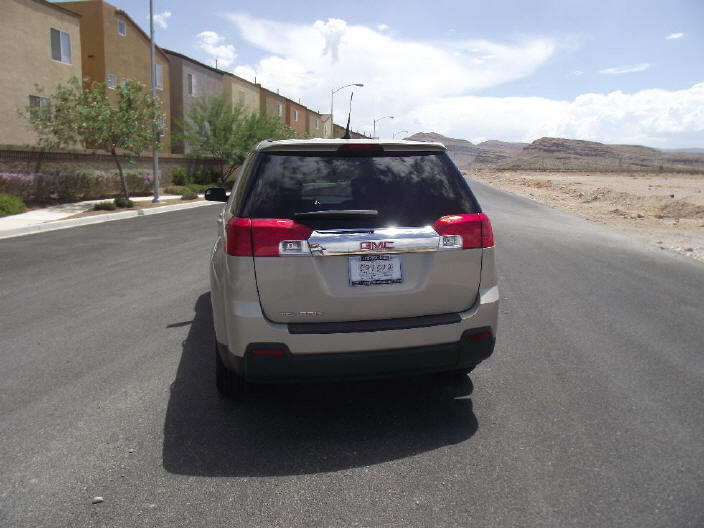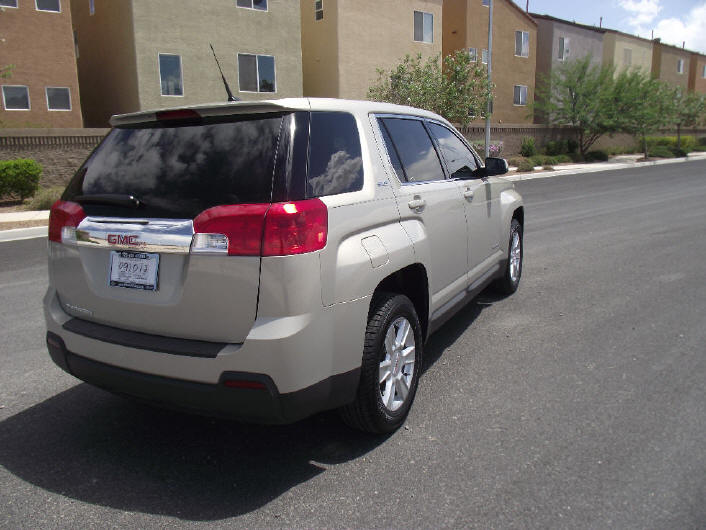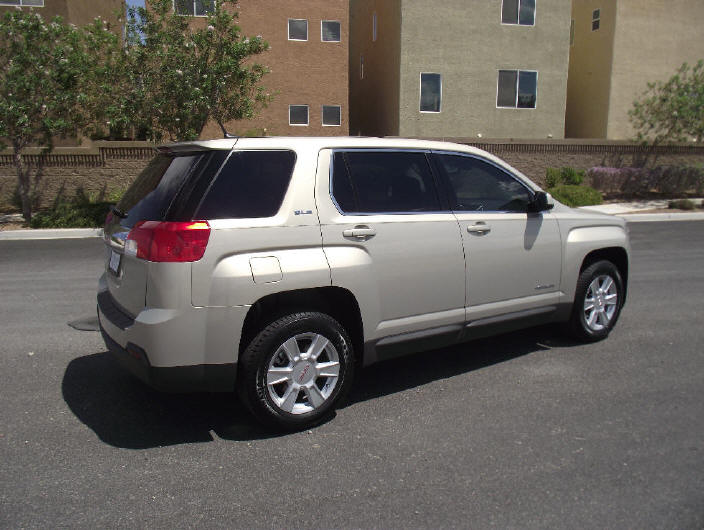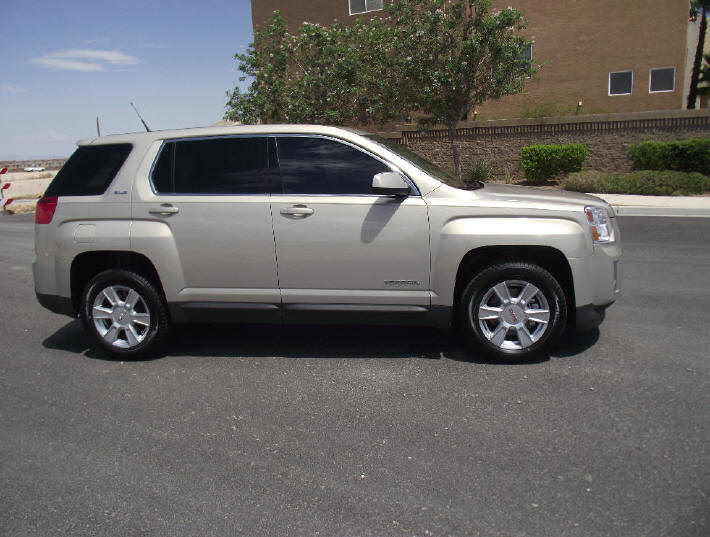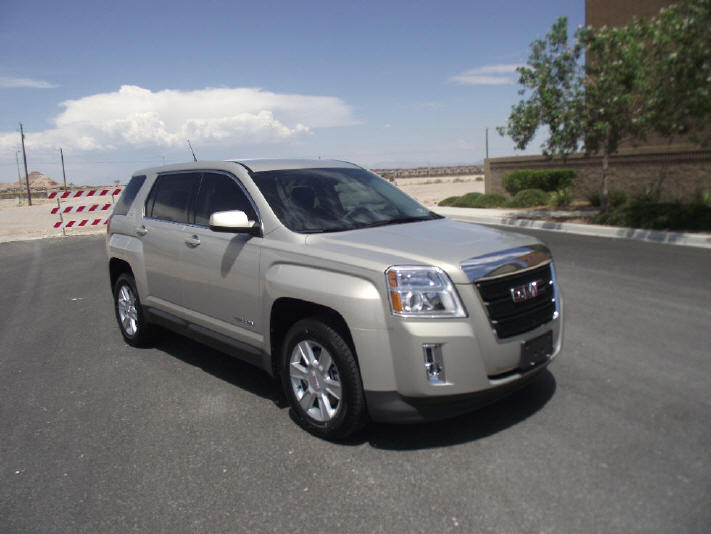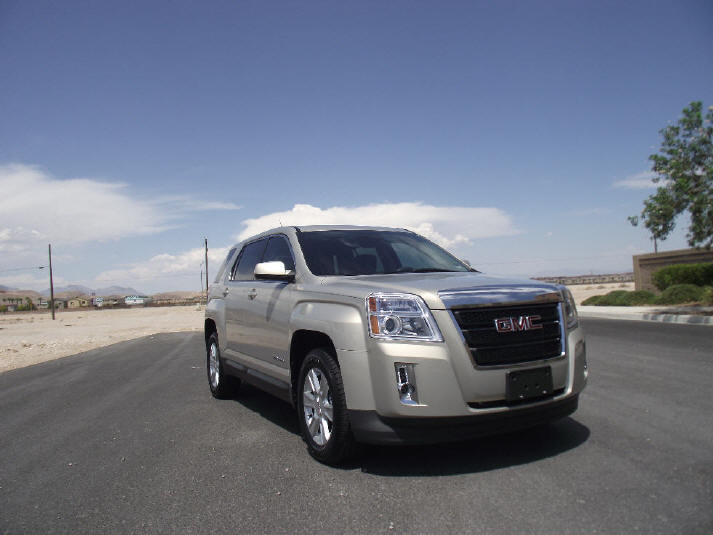 + To Enlarge click on Thumbnails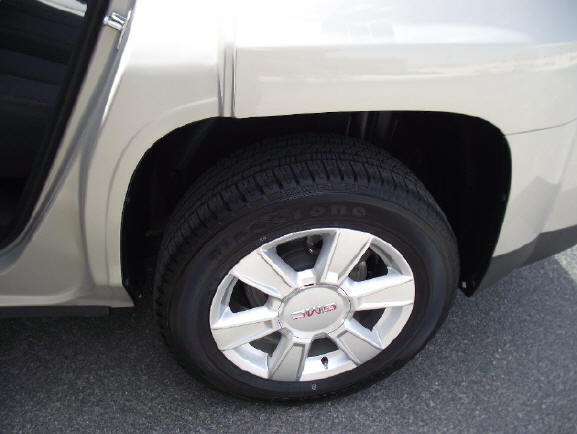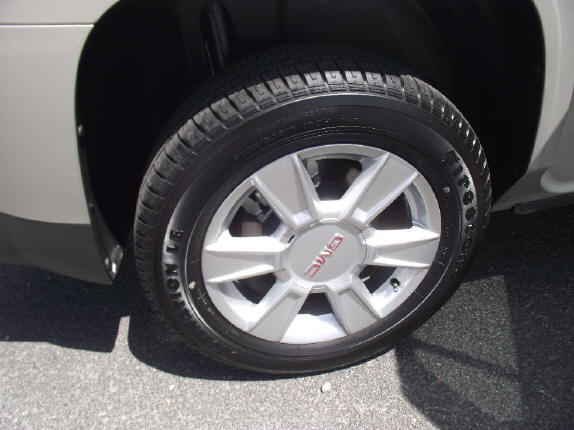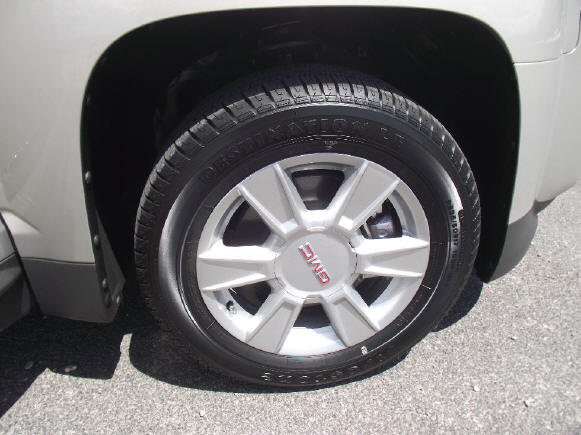 INTERIOR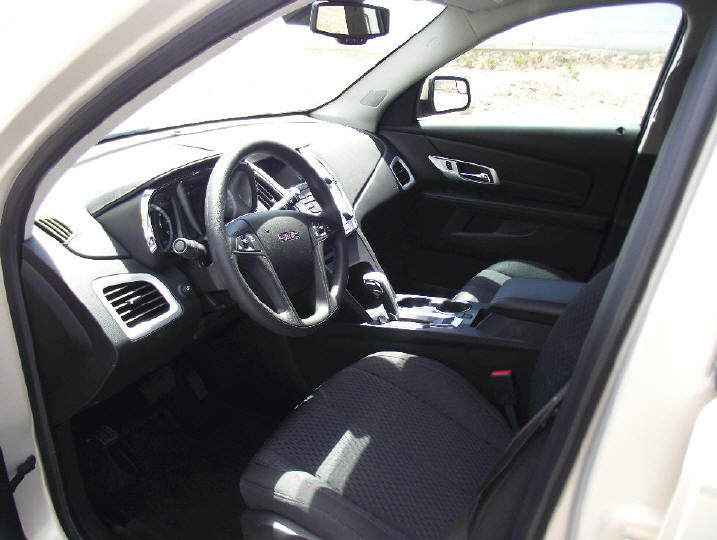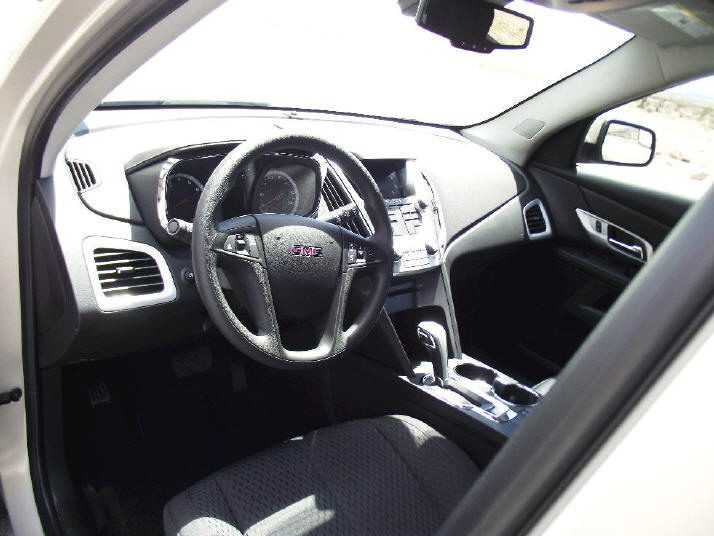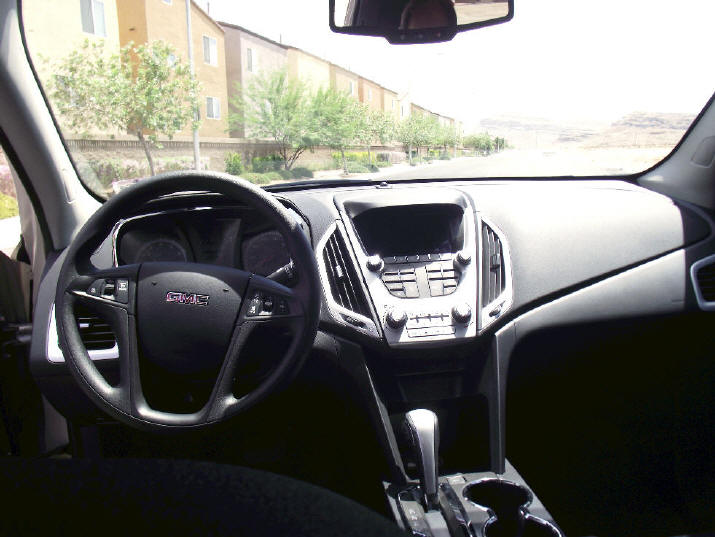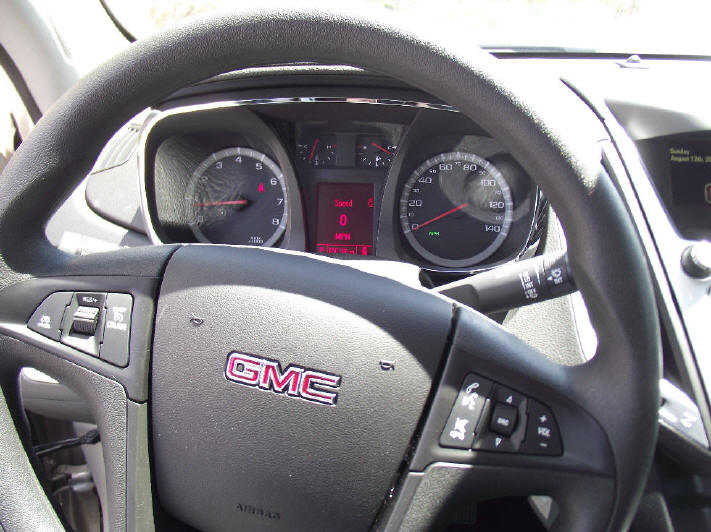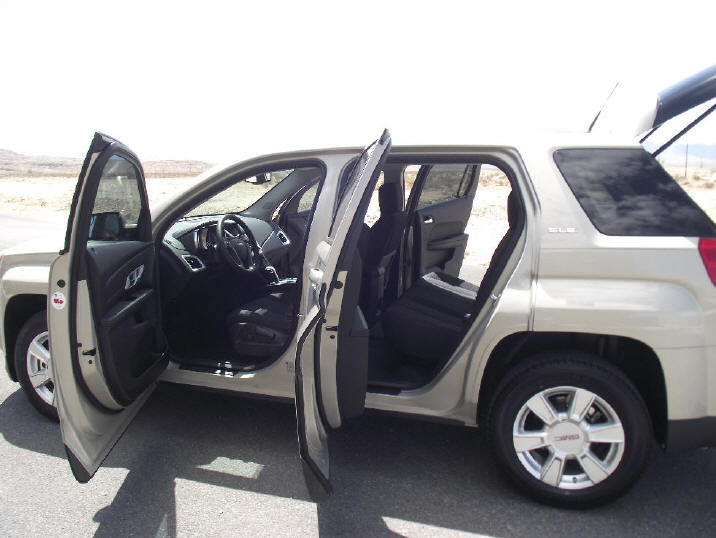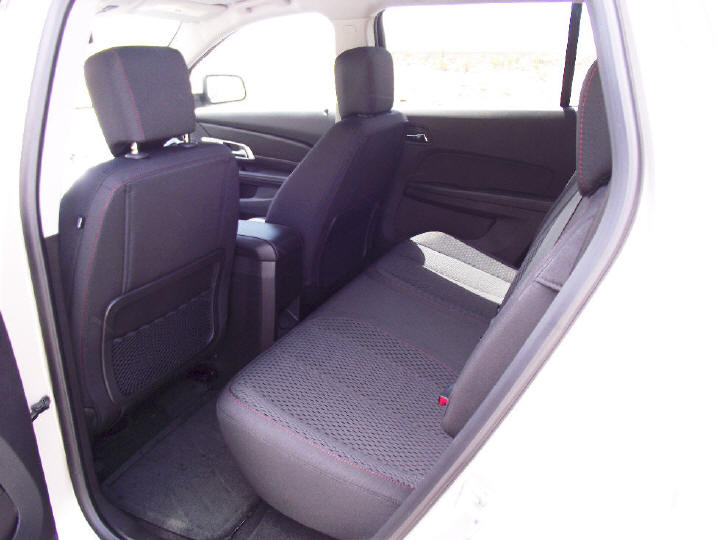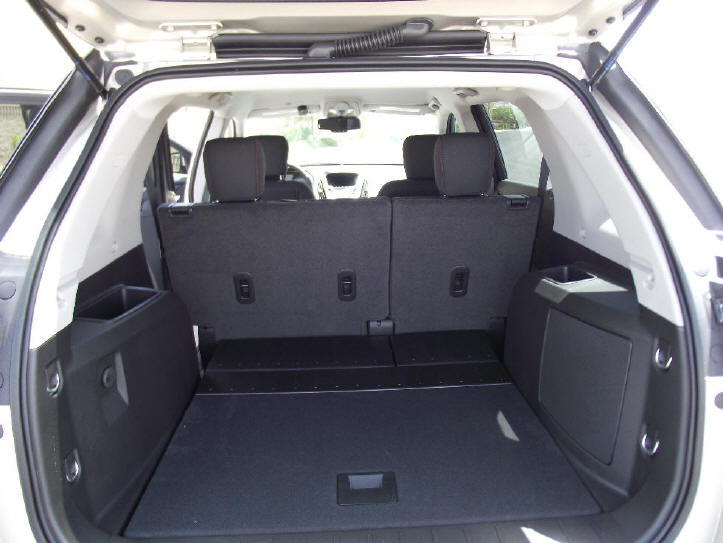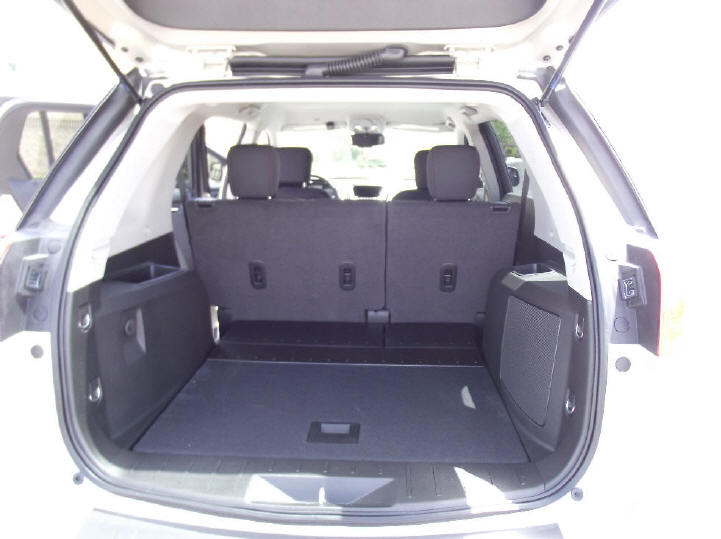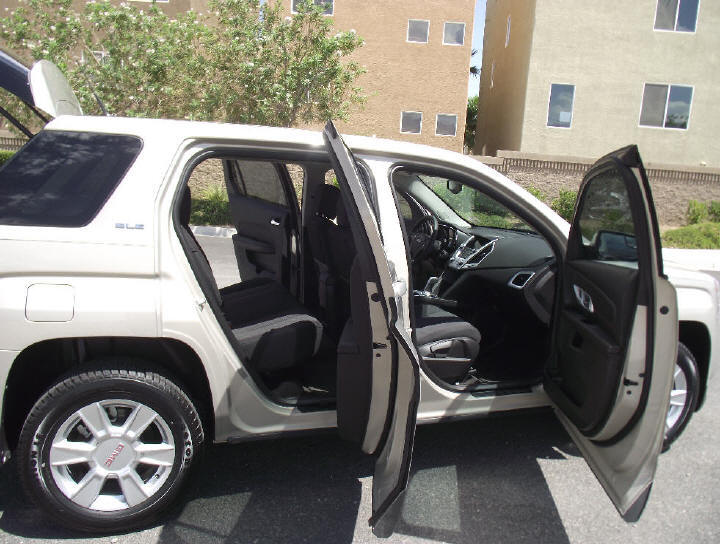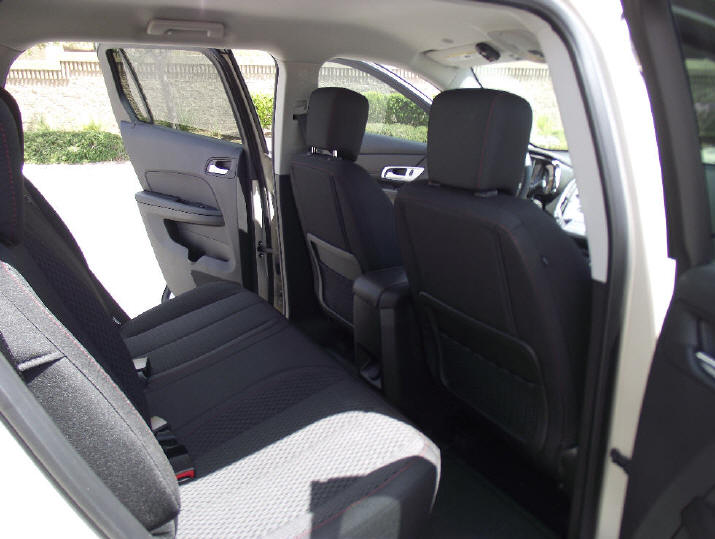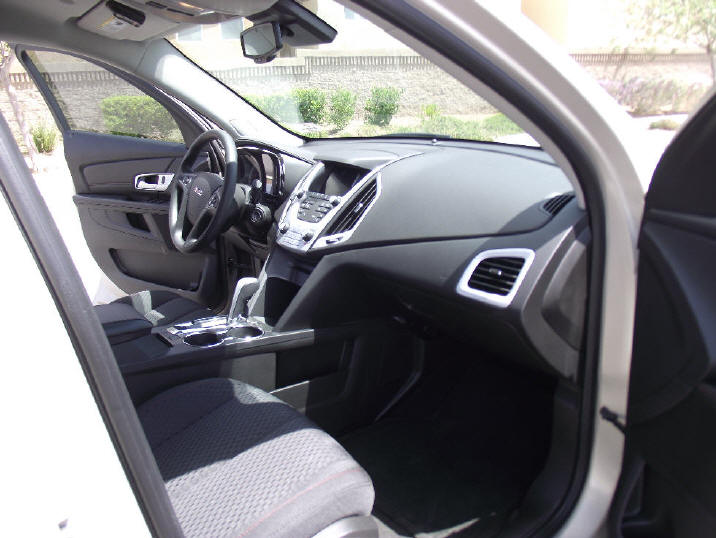 ---
VARIOUS PICS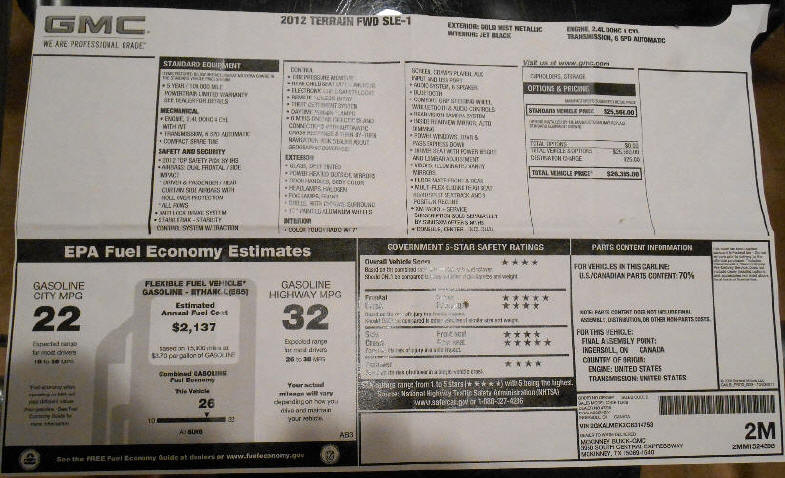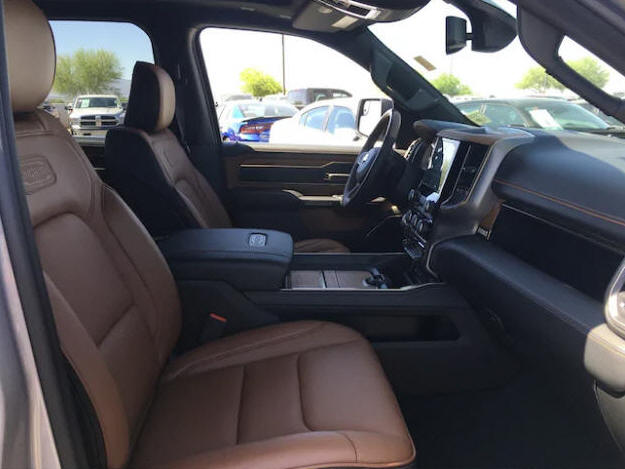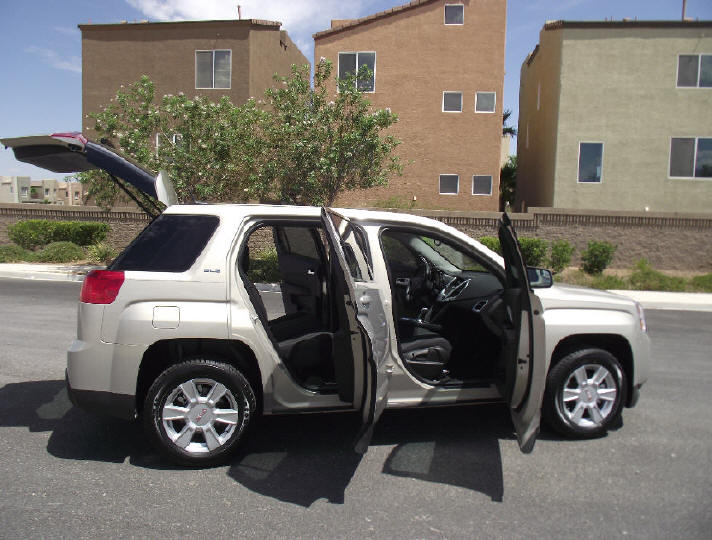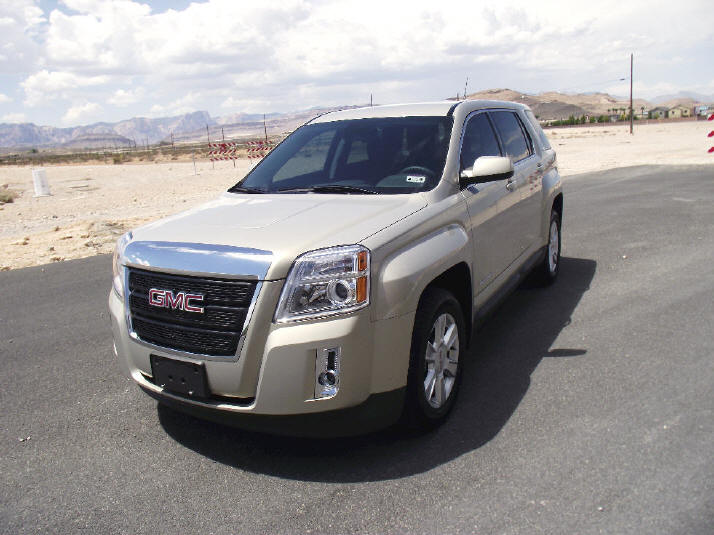 VIN# 2GKALMEKXC6314753
Really NICE
2012 GMC TERRAIN SLE
The approx. 21,950 miles are the actual miles (car is driven a few miles daily, so may have a few more miles if you wait til' the end of the auction instead of Buy-It-Now). SUV was mostly driven Interstate/highway around the Las Vegas/Southern Nevada area. This SUV is not only super comfortable, but is also absolutely reliable (and it was regularly serviced according to recommended GMC service/maintenance schedule at the authorized GMC dealer), and it is also very economical with gas mileage of approx. 32 mpg highway.
The technical condition of this SUV is excellent, ... everything works as it should (power windows, power seats, power mirrors, automatic rearview dimming mirror, power lumbar support, etc.) it's a daily driver. Also, the appearance looks luxurious, classy and just sharp. This SUV has been always garaged. Tires are 4 matching Firestone tires which all have very good tread.
This exceptional GMC Terrain SLE has an absolutely Clean Carfax and Clean Autocheck. Just like the exterior, also the interior is extra nice and clean, and really looks almost like new (hardly any use of the passenger seat and the back seats, these also look virtually like new).
SUV has been serviced at the authorized GMC dealer:
This GMC Terrain has been regularly serviced at an authorized GMC dealership.
All fluid changes were done, the engine runs very smooth as it should and the transmission shifts perfectly as it should throughout all gears. The car looks and drives extra nice and is quiet and there are no rattles, no noises, etc. ... it's just a very nice SUV.
Everything works on this car as it should. All power options are in perfect working order including the keyless remotes (car comes with 2 keys which have integrated remotes), CD Player, Steering Wheel controls including cruise control and audio controls as well as telephone bluetooth controls. There are no leaks and the AC is ice cold and the heater works also perfectly.
The Carfax and Autocheck are clean and perfect.
(All original books/manuals are on hand in the glove compartment).
VIN# 2GKALMEKXC6314753
For all questions, please contact me (Mr. Dietmar).
---
This is a 1-Owner car and we're only selling this SUV as we replace our executive cars every two years. I hate to see it go though because this has been an exceptional nice and reliable and efficient SUV. It's so much fun to drive.
COME TO fabulous LAS VEGAS to PICK UP YOUR COOL GMC TERRAIN:
Visit our other Auctions on Ebay.

---
2012 GMC TERRAIN SL
E
Gold Mist Metallic
(2012)
/ Champagne Silver Metallic
(2013)
1 Owner
1
00% ACCIDENT FREE CLEAN CARFAX & AUTOCHECK!
Read about all the many great Features below.
The exterior color looks majestic and the color combination with the black sports cloth with the GMC red stitching looks really sharp.
This car is in excellent like-new condition, both inside and out, and it is loaded with features. As you see in the photos, the paint has a nice finish, and since only a driver sat in a seat, the other seats are virtually unused. There are NO dents, NO scratches, NO imperfections, etc., ... just like the day it rolled off the showroom floor.
The engine and transmission operate very smoothly with plenty of power and torque.
All four wheels are in great condition (no curb rush, etc., ... all wheels are in like-new condition) and they have 4 matching Firestone tires.
Feel free to inspect the car before the end of the auction or have any third party inspection service
(at your expense)
come and inspect the car. You will not be disappointed!
You have the option of picking up the car in person here in fabulous Las Vegas (Nevada) or I can assist you in having the car shipped to your home.
I've personally driven this GMC Terrain prior to listing it for sale here
, and it is an exceptionally nice example of a well maintained American-made SUV.
W
e've provided many detailed photos and the walk-around video to give you a sense of the condition of this FINE AUTOMOBILE. Please contact me if you have any questions about this vehicle. The buyer will not be disappointed and the car is offered at a very price for its condition. It's definitely a great buy ... please feel free to compare.

Thanks!
---
BID & BUY WITH CONFIDENCE!


scherf.com has a high customer satisfaction rating/feedback as we've served thousands of customers at great low Prices for top quality and luxury products for well over a decade.
Exterior

Glass, Deep Tinted
Power Heated Outside Mirrors
Door Handles, Body Color
Headlamps, Halogen
Fog Lamps, Front
Grille, with Chrome surround
17" Painted Aluminum Wheels

Mechanical

Engine, 2.4L DOHC 4 Cyl 16-Valve DOHC with WT, Flex Fuel
Transmission, 6 Spd Automatic
Compact Spare Tire

Safety & Security

2012 Top Safety Pick by IIHS
Overall Vehicle Score: 4 Stars
Source: NHTSA
Frontal Crash
Driver: 5 Stars
Passenger: 4 Stars
Side Crash
Front Seat: 4 Stars
Rear Seat: 5 Stars
Rollover: 4 Stars
Airbags: Dual Frontal / Side Impact;
Driver & Passenger / Head Curtain side Airbags with roll over protection;
All Rows
Anti Lock Brake System
Stabilitrak - Stability Control System w/ Traction Control
Tire Pressure Monitor
Rear Child Seat Latch Anchors
Electronic Child Safety Locks
Remote Keyless Entry
Theft Deterrent System
Daytime Running Lamps
Onstar: Subscription available for Directions and Connections with Automatic Crash Response & Turn-by-turn Navigation

Interior

Color Touch Radio w/ 7" Screen, CD/MP3 Player, Aux Input and USB Port
Audio System, 6 Speaker
Bluetooth
Comfort Grip Steering Wheel w/Bluetooth & Audio Controls
Rear Vision Camera System
Inside Rearview Mirror, Auto Dimming
Power Windows, Driver & Pass Express Down
Driver Seat with Power Height and Lumbar Adjustment
Visors, Illuminated Vanity Mirrors
Floor Mats Front & Rear
Multi-Flex Sliding Rear Seat 60/40 Split Seatback and 3 Position Recline
XM Radio with available SiriusXM Radio Subscription
Console, Center - incl. Dual Cupholders, Storage

---

Great Price!
This GMC has only been driven by one person and virtually never anyone in it besides the driver. It was only driven on a few trips and it still smells like new inside. These very desirable GMC Terrain SUVs hold their value very well, but we make this 2-year old GMC available at a very attractive price. Clean Carfax! And remaining Factory Warranty! This is a privately owned vehicle and this is a private sale.

Any Questions?
For all questions, please contact us (Mr. Dietmar).
Check out our excellent Feedback and please feel free to view/inspect this car before end of auction here in Las Vegas (if you prefer to do so send us an E-mail or Ebay message to arrange an appointment to view/inspect this car).

The buyer of this GMC Terrain will be very happy and satisfied with this vehicle.

---
Additional Notes:
This SUV has the remainder of the original Factory Warranty until August 2015 and/or the mileage limits as offered by the manufacturer, whatever comes first. An extended factory warranty might be available from an authorized GM dealership before the expiration of the original Factory Warranty.
The buyer is responsible to verify all details/options of description as well as condition of vehicle before end of auction. This is a used car with approx. 21,950 miles (car is driven daily and therefore miles may be slightly higher until purchase is finalized). Although this SUV is virtually like new, don't expect a brand new car. Mechanically and technically the car appears to be in perfect working order in every aspect and there are no strange noises, no warning lights, etc. This SUV was always maintained at an authorized GMC dealership according to the official GMC Maintenance Schedule.
I've driven the car very carefully! NON-Smoker car! NO pets either and NO kids!

There are 2 keys with built-in remotes for this car.
The Title is Clean. Note: Banks hold the title as collateral and it may take up to 21 days after payoff for the bank to release the title. Title will be sent to buyer immediately upon receipt of title from the bank.

Although we've tried to give an extensive overall condition report, there might be one or the other item that we may have overlooked or not discovered when we looked through the SUV and therefore in such a case this would not be mentioned in this description. We may not have mentioned all the features of the vehicle, so there might be additional features/options that we have not mentioned here in the description. This will make a really nice, efficient and fabulous SUV for someone who is interested in saving a lot of money on a nearly new and/or like-new vehicle vs. a brand new vehicle from the dealer showroom. This SUV has has been extremely well cared for and maintained and which has also plenty of the remaining factory warranty on it.
Don't miss this opportunity to own this luxurious SUV at a great low price! The high bidder will own this vehicle!!! You only pay the High-Bid price ... NO doc fees!!! ... so again you save a lot !
Fly into fabulous Las Vegas and drive this excellent SUV home, even across the country, ... and you'll enjoy it very much, ... or we can also assist with shipping at buyer's expense and final arrangement for pickup here in Las Vegas by transporter.
---
---
Visit our Ebay Art Auctions
Check out Dietmar Scherf's Artworks, the "Parking Lot Series" with cool automobiles: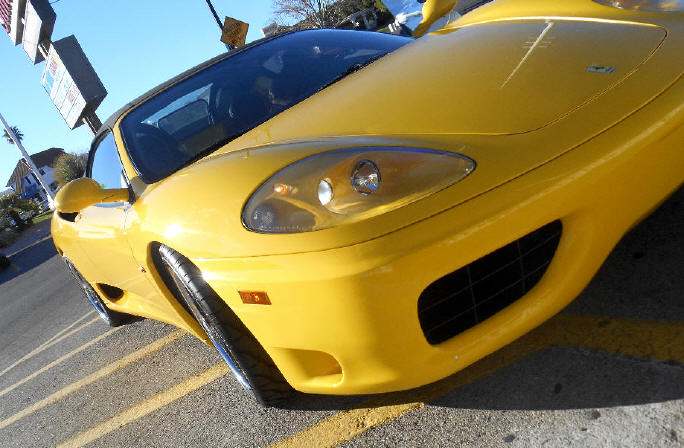 ---
---
PAYMENT & SHIPPING INFORMATION | Terms & Feedback

PAYMENT >

Bank Wire Transfer or Cashier's/Certified Check (drawn on a Bank in the U.S.A., receipt of funds will need to be verified before car is released); PayPal is for deposit only and payable to Scherf Corporation
(Street address for FedEx, UPS, etc. for overnight deliveries and Bank Wire Information will be indicated to High Bidder in E-mail at closing of auction.)

DEPOSIT/DOWN PAYMENT OPTION: If you don't pay the full purchase price within 72 hours of end of auction, at least a non-refundable $1,000 deposit/down payment must be received within 24 hours of end of auction (via PayPal, Bank Wire, or send Cashier's/Certified Check via FedEx, UPS, USPS Express Mail; If we don't receive this deposit/down payment within 24 hours we reserve the right to sell the vehicle to someone else and in such a case the high bidder will be liable to pay a $1,000 cancellation fee!)

Note: Full payment must be received at our office within 3 days of end of auction! We need to hear from you at the latest within 24 hours after end of auction to let us know your name, street address and the type of payment you'll use for this purchase. Make sure you have all funds available to pay for this purchase before you bid! All sales final! No cancellations accepted! No bid retractions allowed! Car is sold "As Is" / "Where Is" with no implied or offered warranties and/or guarantees, although this vehicle is in excellent condition and has remaining Factory Warranty. Please use Bank Wire Transfer or the Online PayPal payment service for your deposit/down payment or Bank Wire Transfer for full purchase price payment right after end of auction! Thank you!. (Street address for FedEx, UPS, etc. for overnight payment deliveries and Bank Wire information will be indicated to High Bidder in E-mail at closing of auction.)

SHIPPING >
(Delivery!)

We're available to help with shipping, but Buyer is responsible for all shipping charges and to O.K./make final shipping arrangements! Full certified payment must be received before we can release the vehicle to the shipping company. Many professional vehicle transportation companies offer great rates and services which are listed e.g. at movecars.com.
OR:
PICK UP YOUR CAR here in fabulous Las Vegas! Enjoy a great drive home. If you like, we'll be glad to pick you up from the Las Vegas (LAS) airport. Las Vegas is always a great place to visit, especially cruising in your new GMC Terrain.

TAX >

We do not charge sales/title tax on this vehicle. You'll be responsible to pay any such taxes and registration fees in your state of residency where you title/register this vehicle. We don't charge a documentation fee either - you only need to pay your High Bid amount as this is a private sale. Banks hold vehicle title for collateral. It may take up to 21 days to receive the title from the bank after payoff. We will forward the title immediately to the buyer upon receipt of title from the bank.

TERMS >

All sales final! Car/Vehicle sold "As Is"/"Where Is" and to our knowledge it is perfectly working order, and it also has remainder of the Factory Warranty. Do not bid if you've received negative feedback within the last 6 months unless it was unjustified/unfair (we reserve the right to contact certain bidders for verification and to cancel bids according to our own discretion without any reason). Please understand that your bid is a legal contract and you're bound by applicable laws to follow through with payment for your purchase according to the terms stated herein. No cancellations accepted! No bid retractions allowed! We reserve the right to sell or relist this vehicle if we have not received full payment for your purchase within 3 days of end of auction. You must specify your payment within 24 hours of end of auction and you must provide a non-refundable deposit/down payment of at least $1,000 within 24 hours! Although it is very rare, we do reserve the right to close the auction early without any reason as the car may also be made available for purchase locally. This is really a great deal on an excellent SUV!

FEEDBACK >

We'll leave positive feedback to all bidders who pay in a timely manner and who leave positive feedback for us. For Non-paying bidders we'll leave negative feedback and we'll have to file Non-paying bidder alerts, etc. to recoup some of our auction fees.
---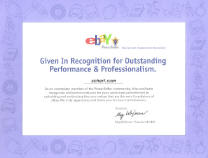 eBay Recognition awarded to scherf.com for
Outstanding Performance & Professionalism
© COPYRIGHT
SCHERF CORPORATION · ALL RIGHTS RESERVED.
---